The 11 light installations at North London's Wembley Park Winterfest
Artists from all around the world descended on Wembley Park to create 11 light installations for the Wembley Park Winterfest light trail, in impressive and immersive display in the 2020 London borough of culture Brent. Most newcomers associate this part of London with Wembley Stadium,  but the Borough of Brent is far more than the home of the national stadium; Shopping, dining out, the largest Hindu temple outside of India the  BAPS Shri Swaminarayan Mandir (also known as Neasden Temple) and Wembley Park and much more.
The nearest tube station to this is Wembley Park. The view you get over the bridge to the stadium already glows. Wembley Park Winterfest is on 20th November to 3rd January 2020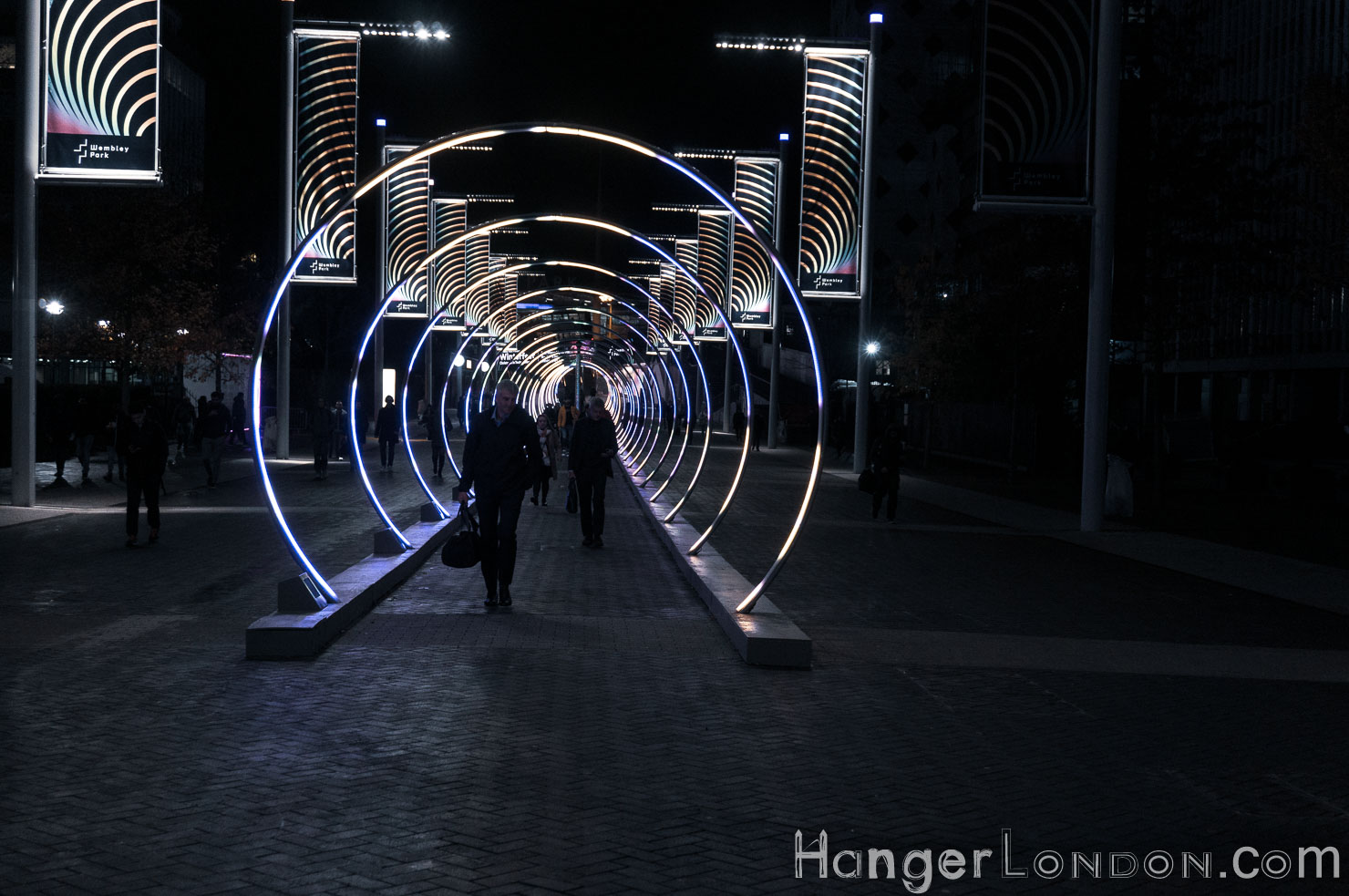 Crossover
Commissioned by Quintain. Lighting technology by Spiers and Major. Light installation by Light Lab, Major, works by Dixon Jones Architects.
This permanent artwork feature in the subway under the Bobby Moore Bridge, that runs onto Olympic way. The installation is by Miriamandtom. Miriam Sleeman and Tom Sloan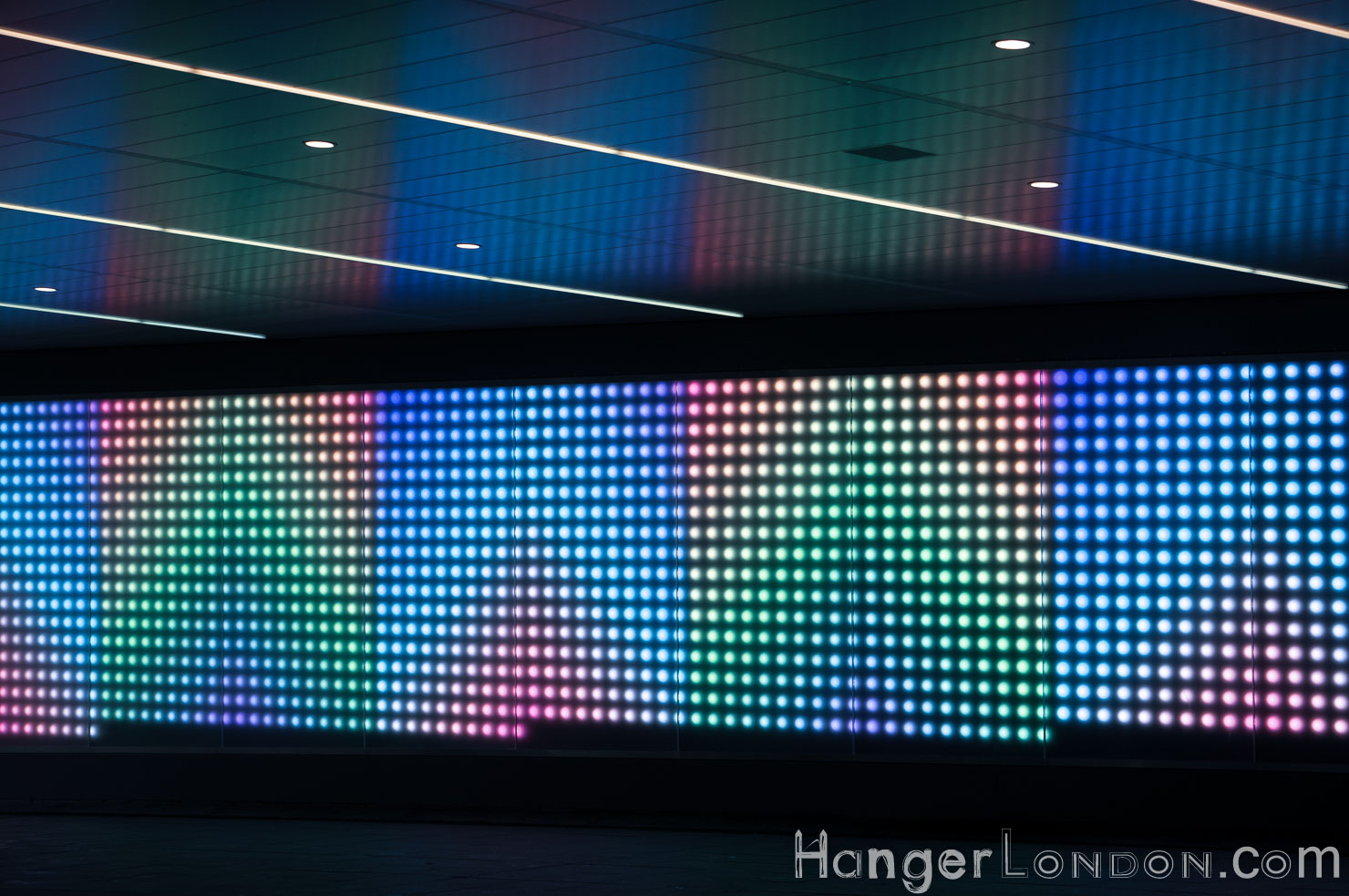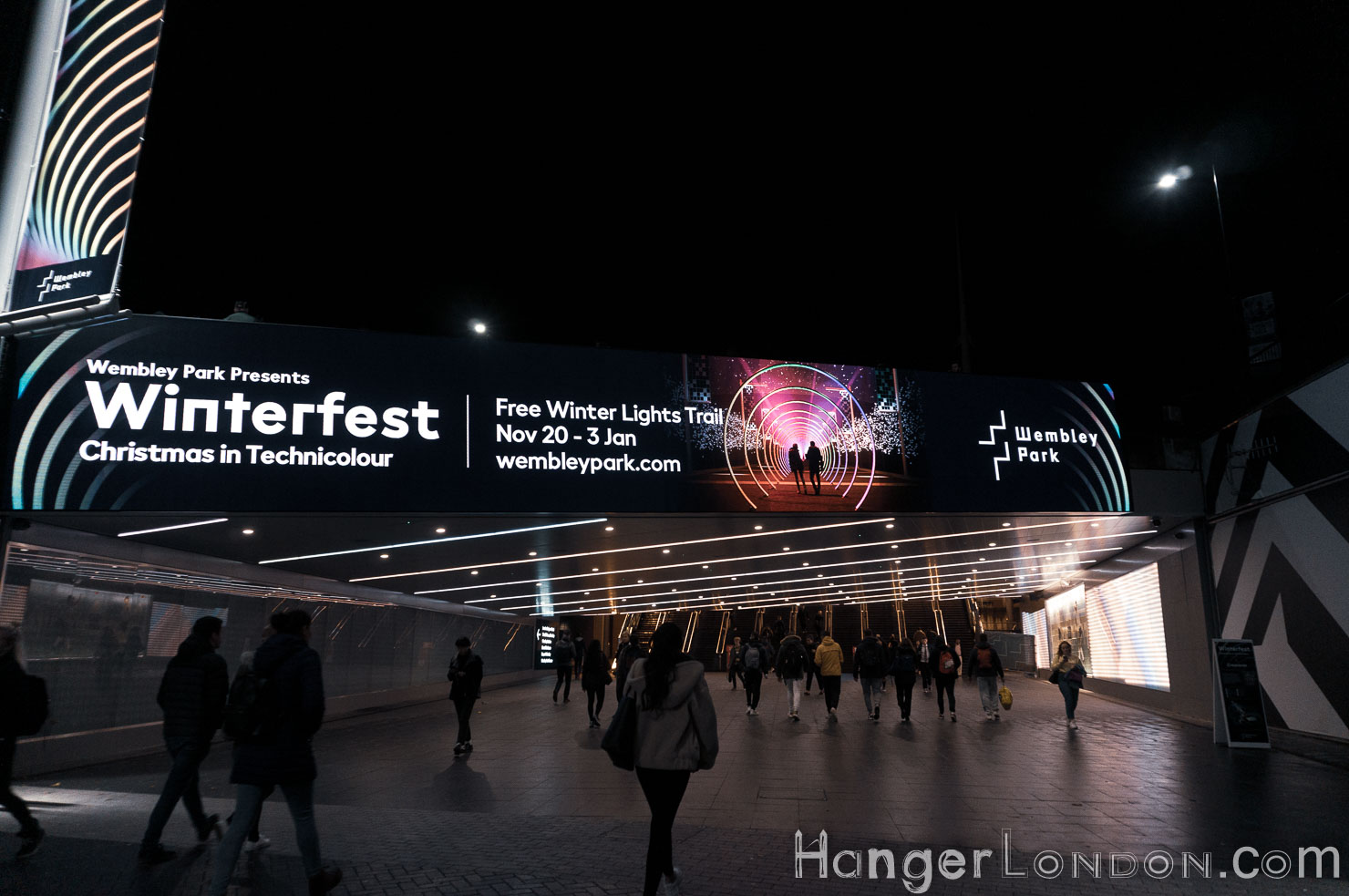 The design is thought to contrast the architecture and reflect the environment the energy and diversity of visitors and locals arriving or departing from Wembley Park.
The changing shapes and colours reflect the diversity of visitors and the celebration aspect of when people enter the stadium park area or when departing back to the tube after a memorable event.
The dynamic duo Sleeman and Sloan are part of this collective of designers, architects, developers, planners, entrepreneurs process of collaborating with a team of people to create spaces of engagement and encourage civic change.
Dynamic duo have had experience of creating projects for some large spaces and big names ranging from Nike, BBC1, 02, Siemens for the 2012 Olympics, Westfield London, Great Ormond Street Hospital, Veuve Cliquot, Established and sons,  hospitals, kings cross public artwork, the science museum, councils, public and private spaces. Both in the UK and abroad.
Miriam Sleeman is an external examiner and design tutor for top establishments like Central St Martins school of Art and Design, Westminster University, Bartlett School of Architecture.
Tom Sloan, co-founded Blood Mountain Foundation. A charity based on a cross diversity of people making up a curatorial team looking at central European themes past present and future.
This is a subway formed under the road bridge that allows pedestrians to travel down the tall flight of stairs from the tube station to the runway that leads you to the stadium.
SONIC RUNWAY
Large lit up spiral is known as Sonic Runway beckons you to follow its length and explore the trail. It's the first time the installation has been in Europe. The lights pulsate change colour and move with the speed of sound that it receives from music being played into its structure.  People can walk along the outside or through it like a tunnel. It was part of the Burning Man Festival in the USA.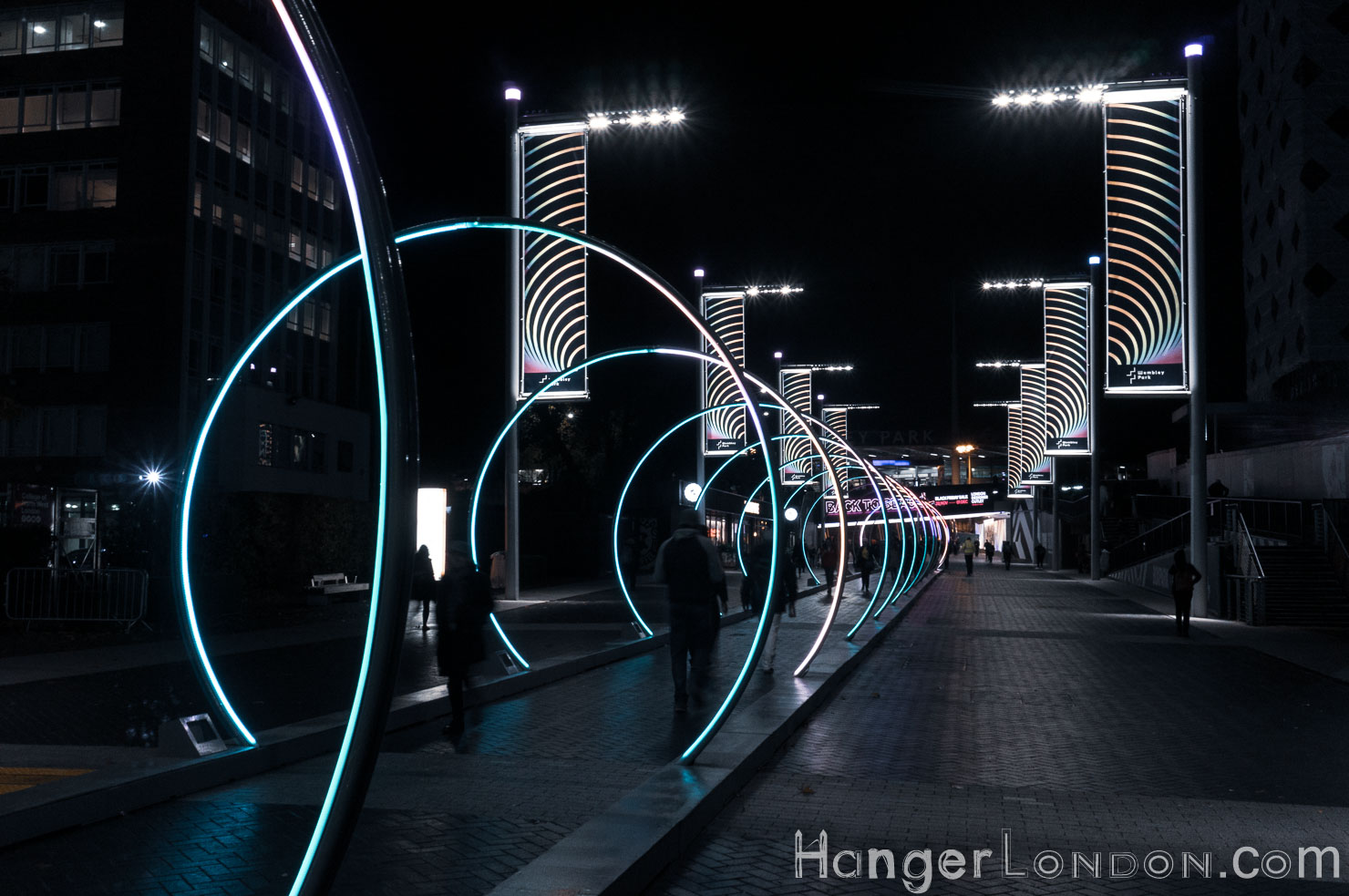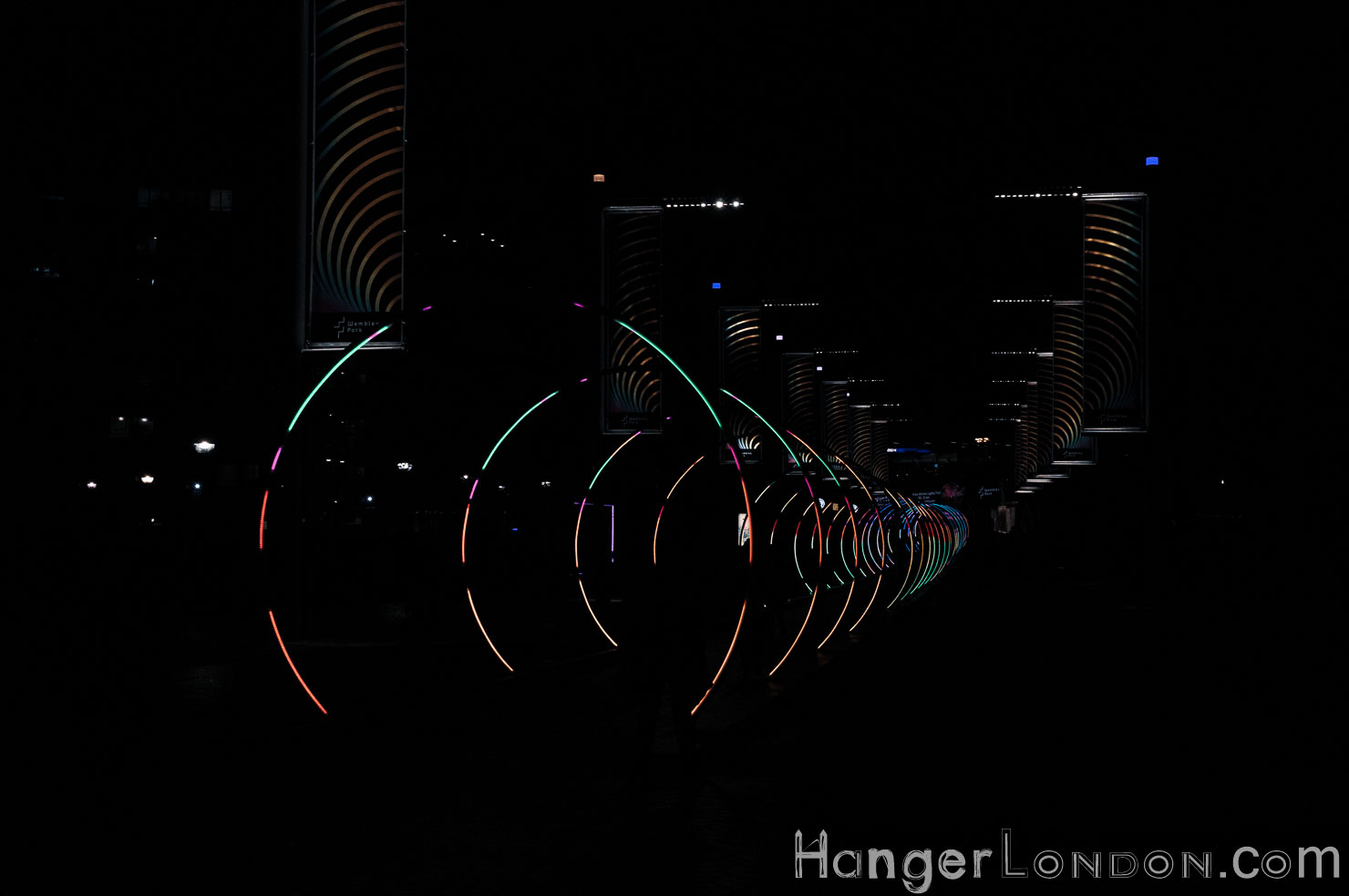 They used the sonic runway during the sportswear company Asics advertising campaign, Moving London with our Sonic Runway #imovelondon.
Murmuration of Hopes
These are illuminated banners over the walkway and lit up trees, which were newly planted for the festival. This was designed by.
The theme was inspired by the patterns and sounds birds make when they flock and fly in a formation. The lights form a similar pattern over the walkway among the trees and night sky.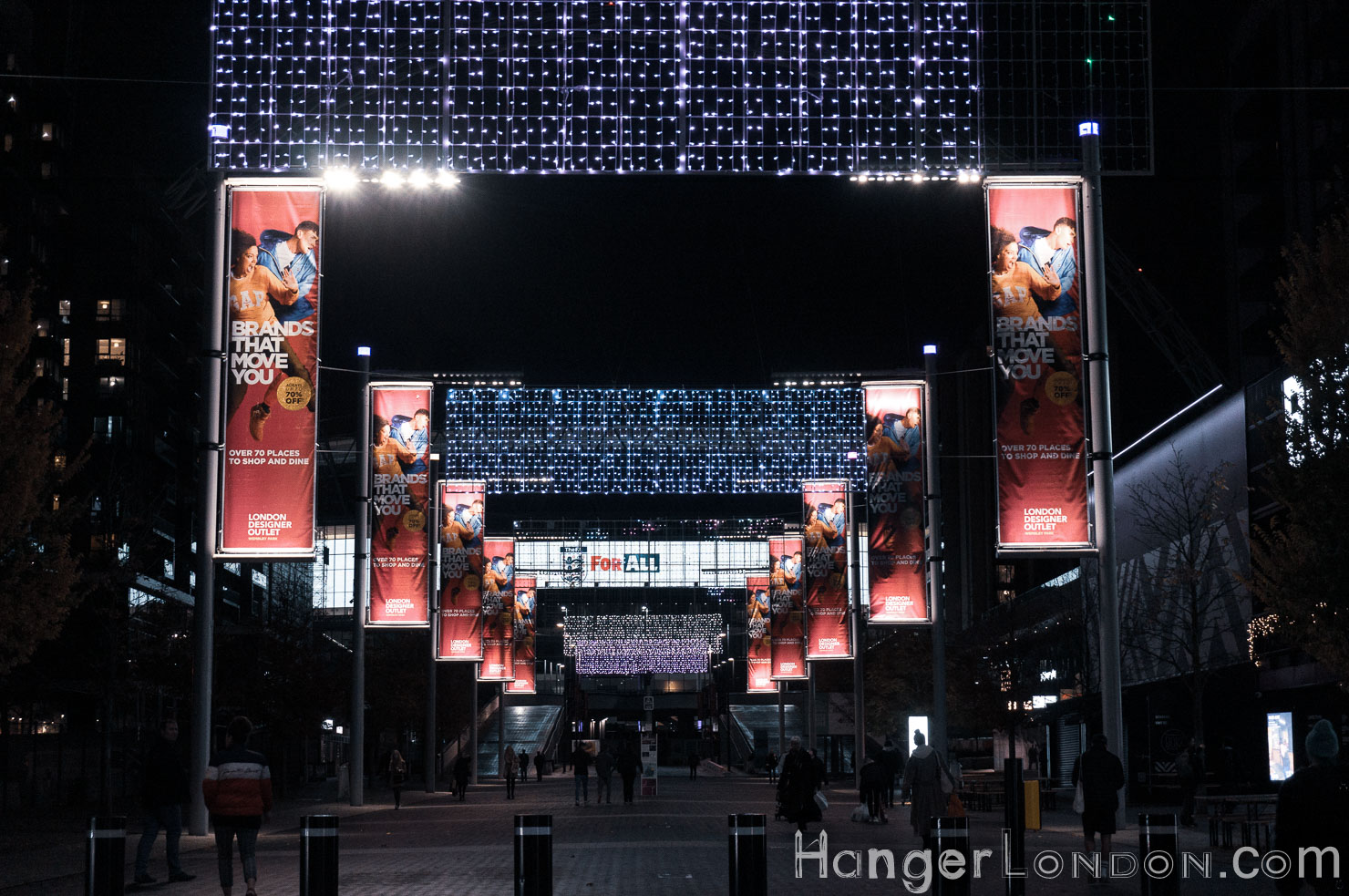 Illumaphonium Halos
Rods with halo shaped discs of neon light that glow with an ambient sound being played. They stand in front of a vista where you can see the Stadium arc behind which is not lit up In the photo. Nearby is a Sainsbury's local and one entrance to Wembly Library.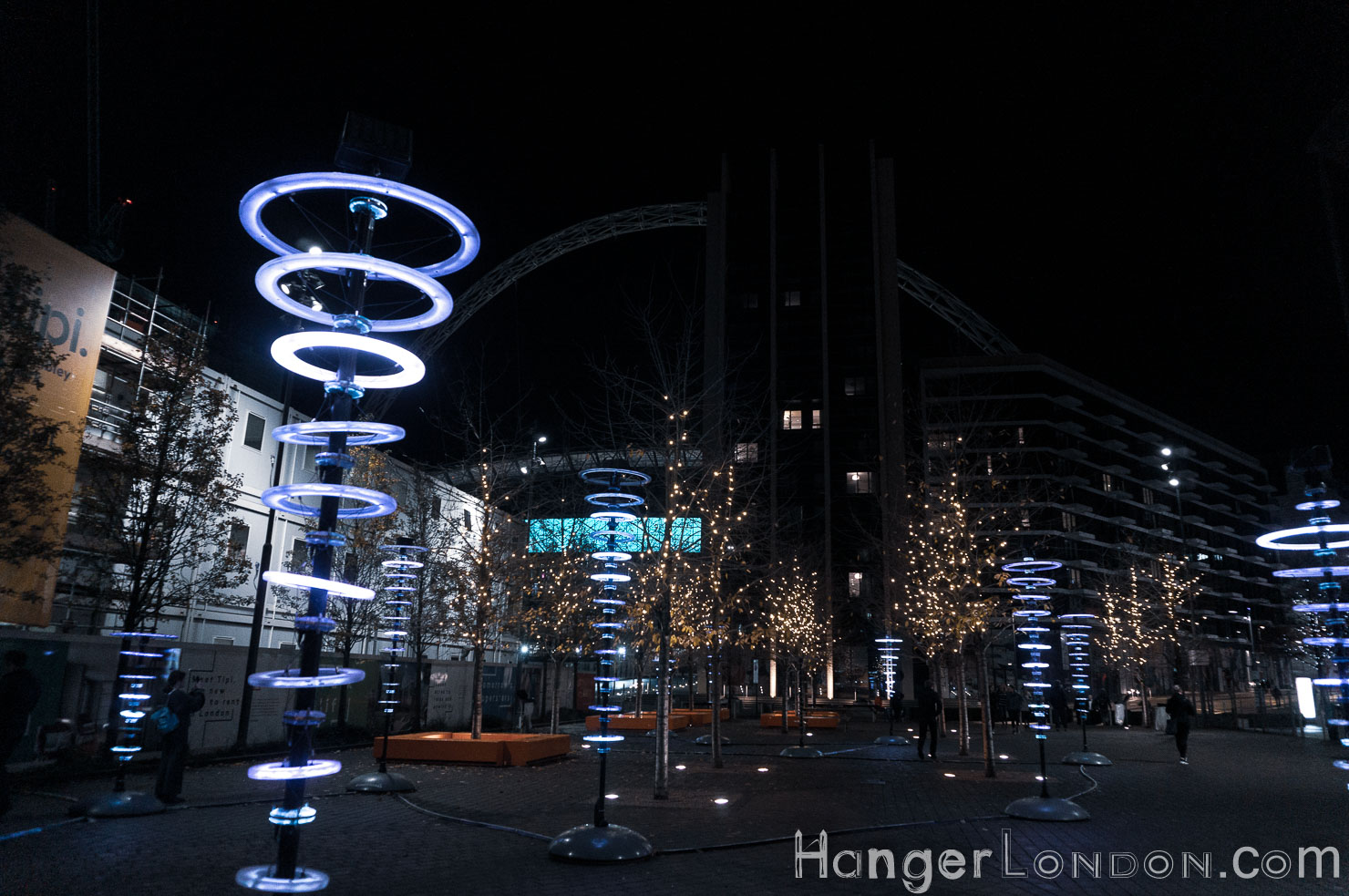 Starbox
A box in the shape of an open gift box with a star shape opening glows with golden glamour. Its buy an ambient waterfall slab of stone.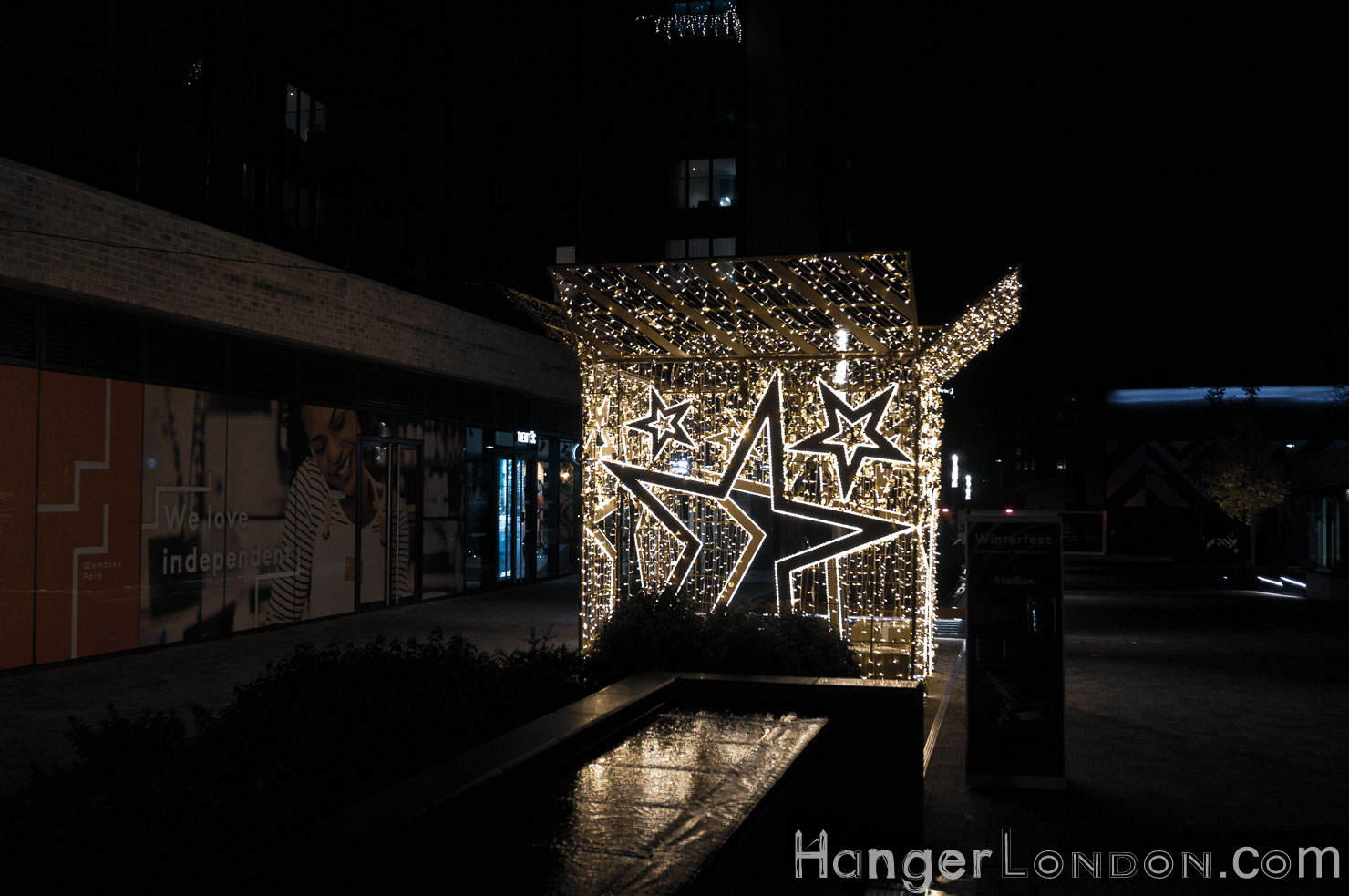 Love spot
An illuminated red heart sculpture that people can pose next to when taking selfies. In the background, you have Wembley Arena and its fountains and Brent Civic centre. Follow the trail ahead.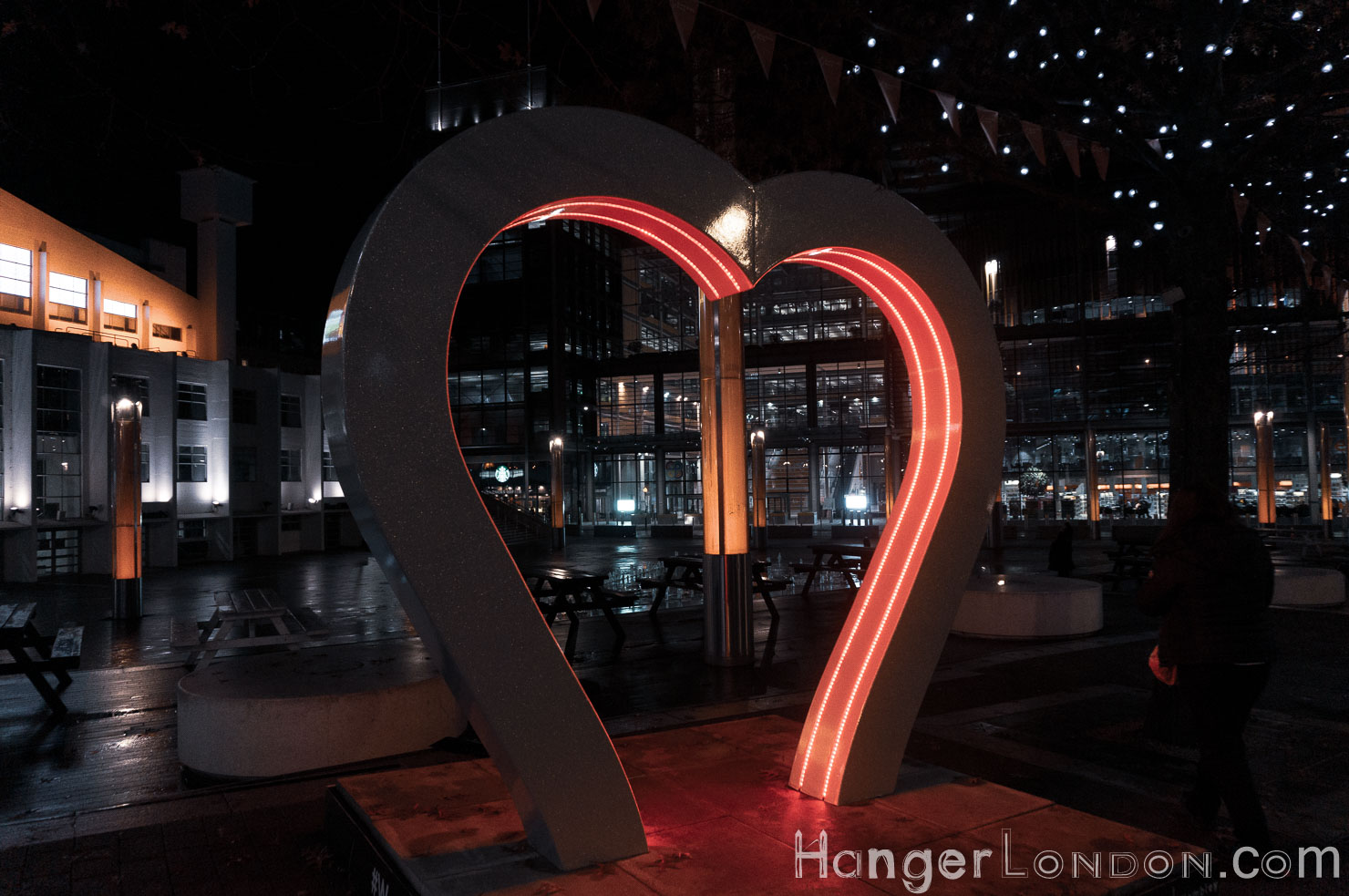 Saturation Surge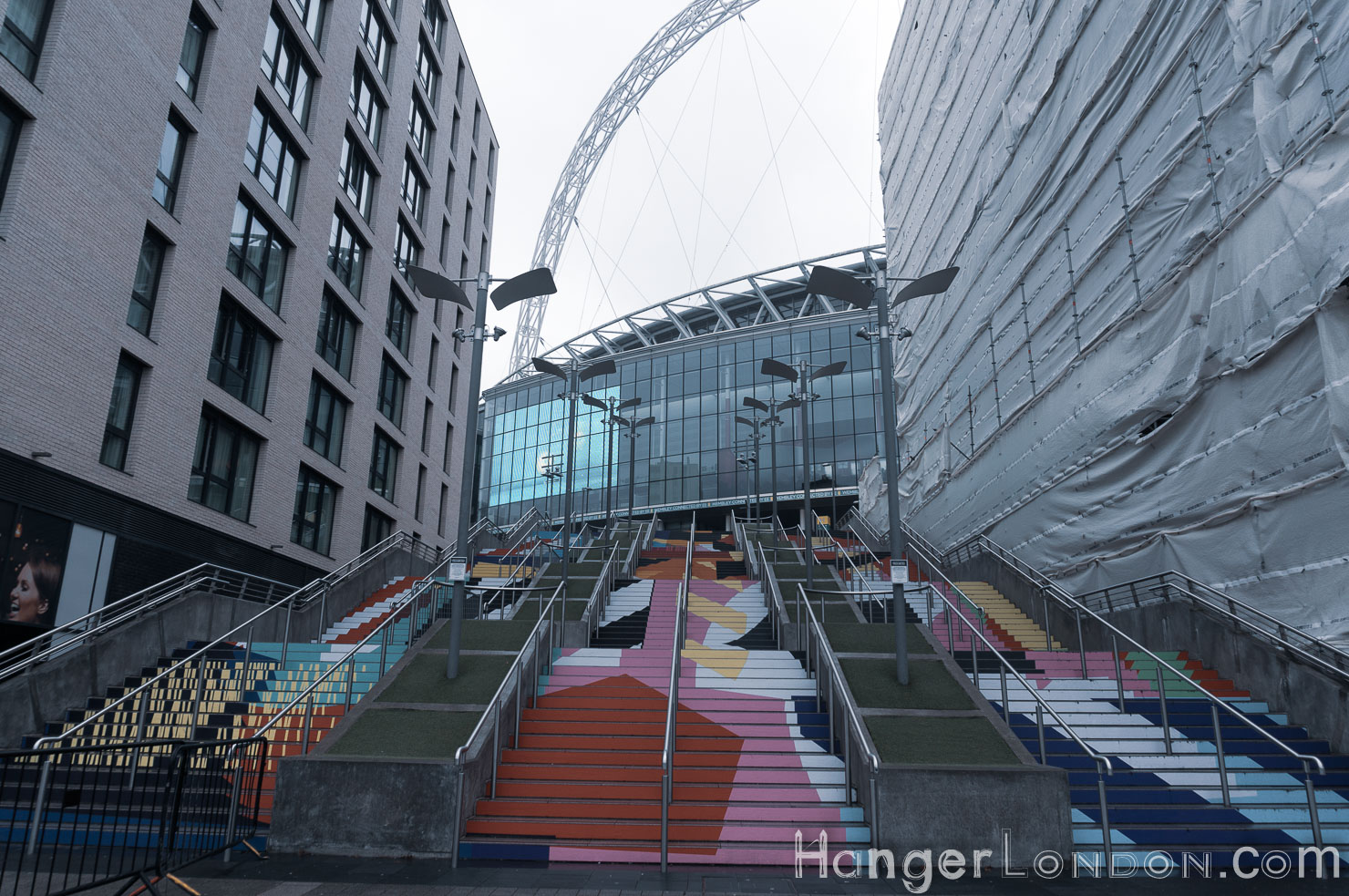 Iconic looking steps on the way to the stadium, decorated in geometric patterns.
The hopeful Tree
By Elyne Legarnisson an experiential artist and architectural designer. The Designer looks at storytelling past future virtual spaces and physical environments. Looking at multi-sensory aspects of how humans interact with buildings and spaces to create "spatial experiences ".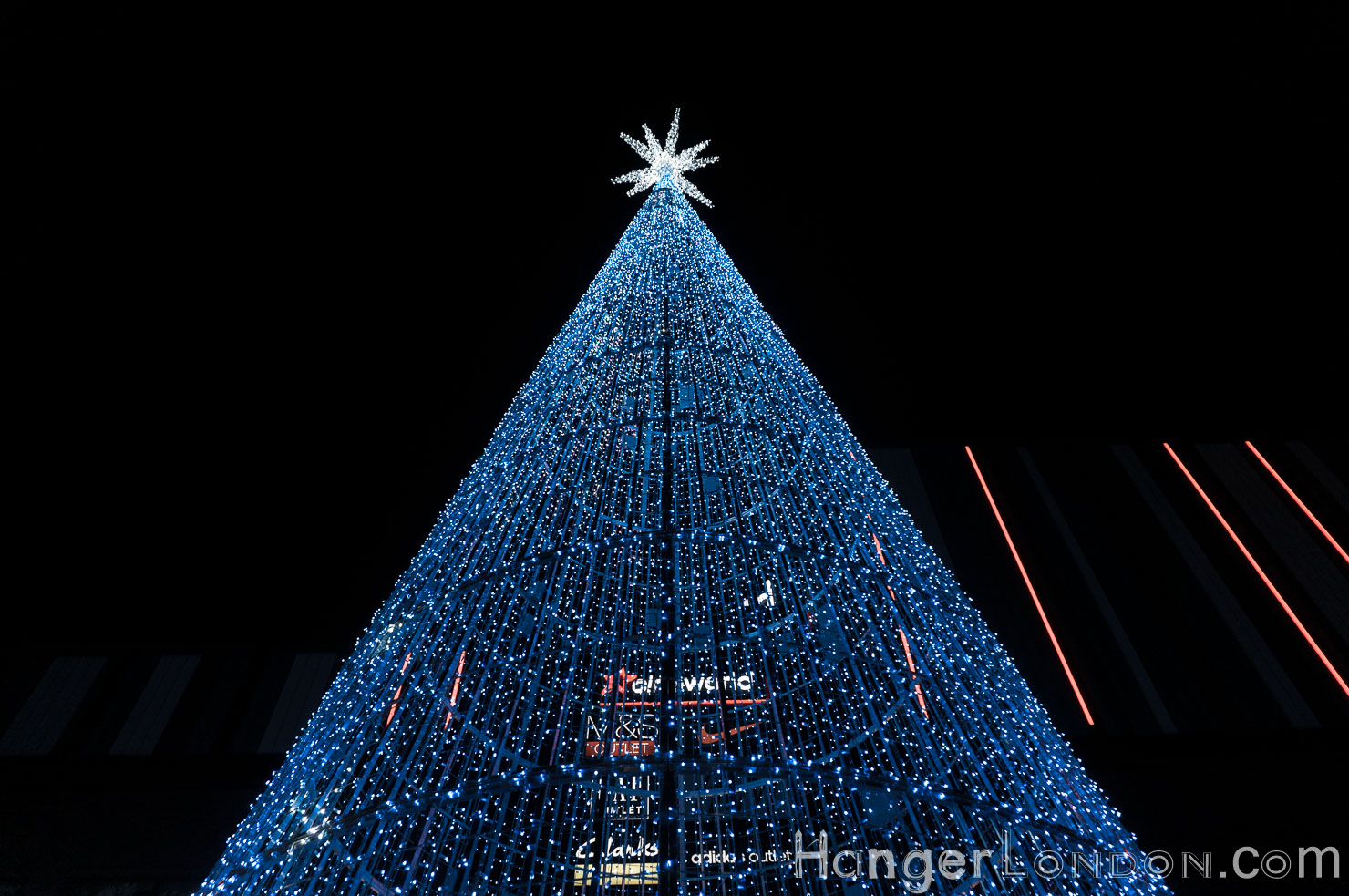 Client list; NHS, Microsoft, Tableau Software, XTX, Acrylicize, Ars Electronica Festival, New movement dance company, interactive Architecture, HKS architects, Burning Man, Gensler.
The hopeful tree is London's tallest LED Christmas tree. It is 25 meters high with over 100, 000 low energy lights.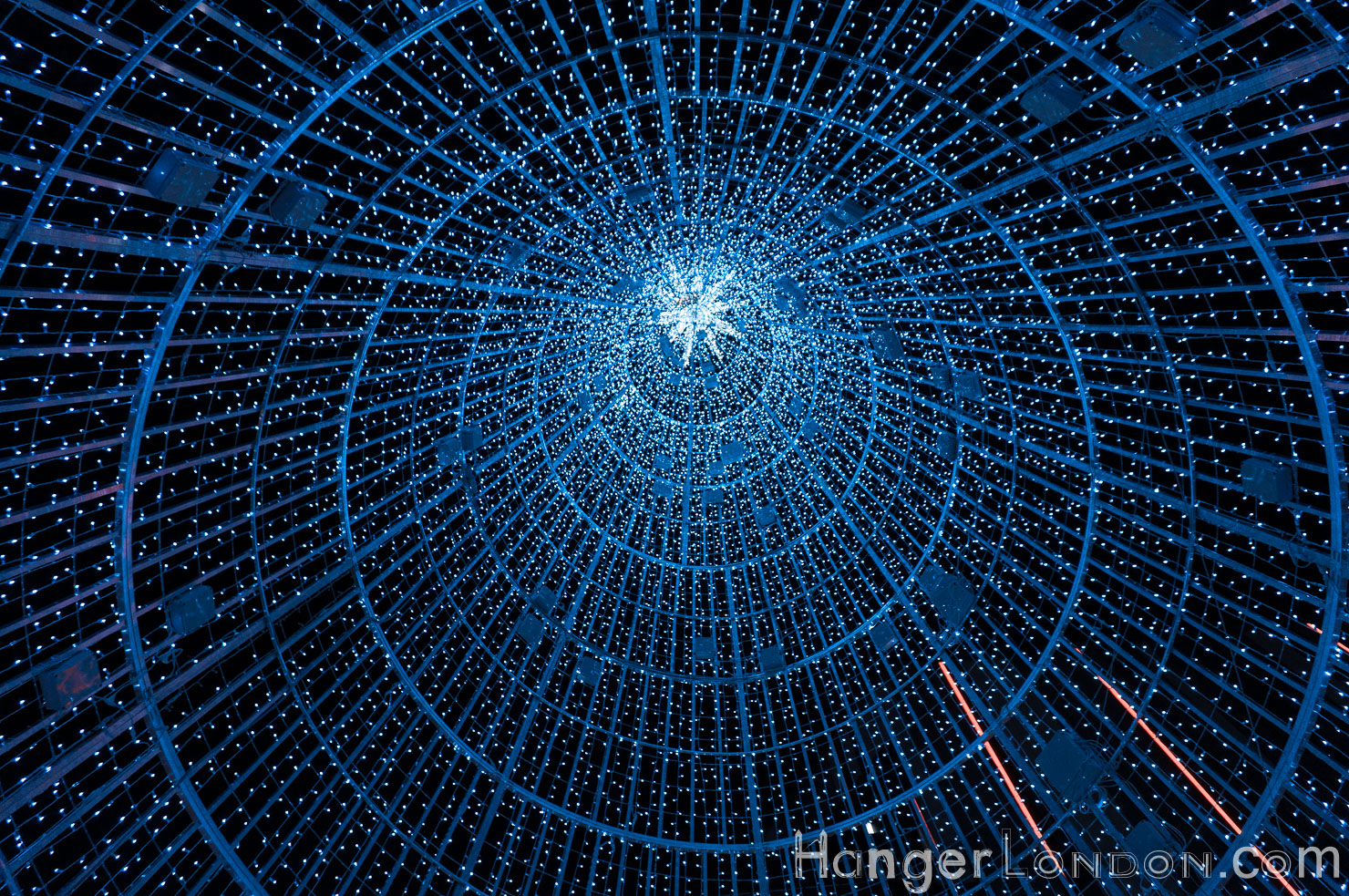 Shadow Wall
Silhouettes of people passing by the light-sensitive walls by the royal route underpass symbolising the coming and going of crowds that enter Wembley Park.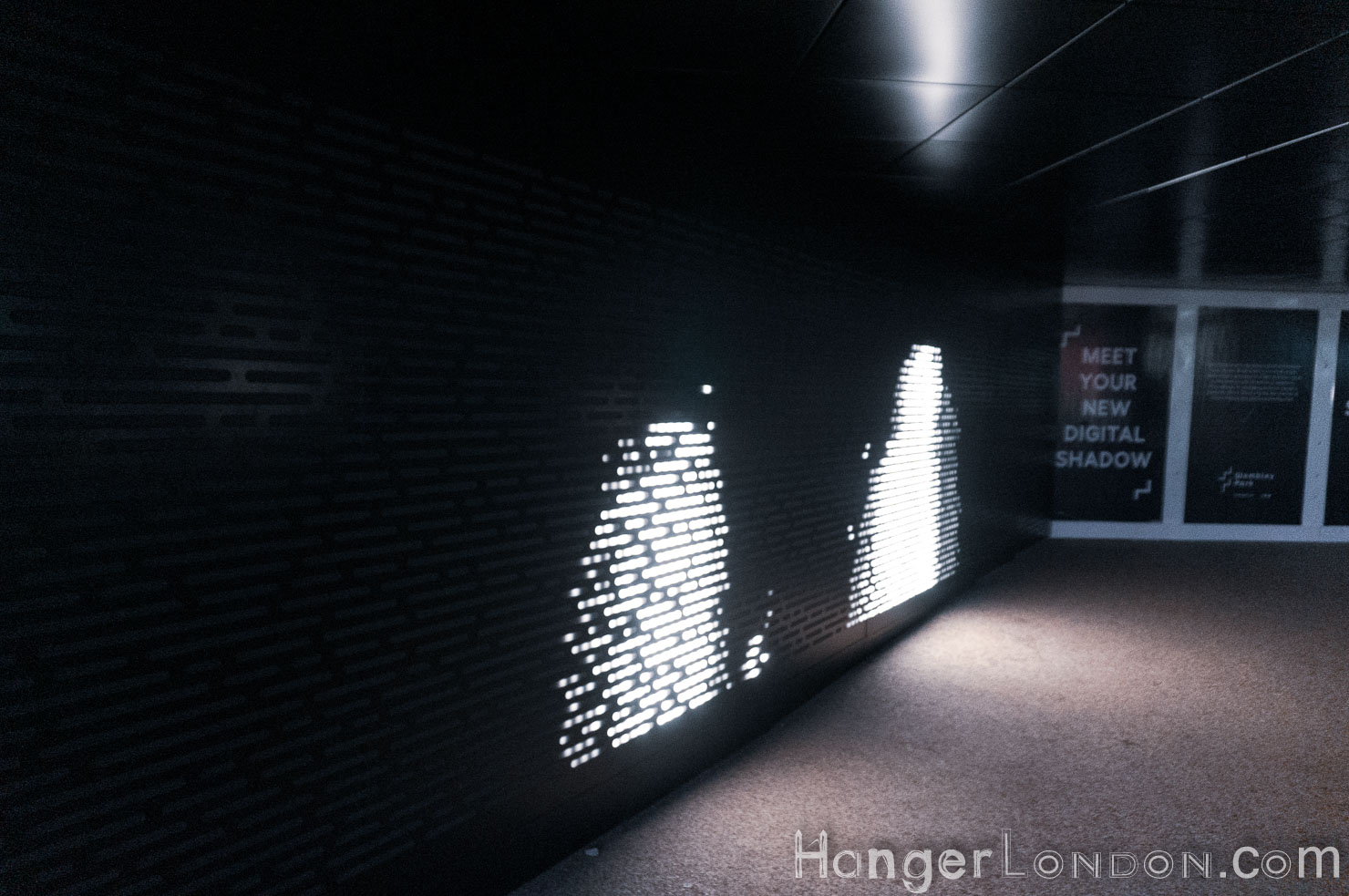 Royal Wave
Royal Route underpass has its balustrades give a digital touch of art magic by Jason Bruges. Portraits of local community members are transformed into a digital Mexican wave. Inspired by the work of 19th C photographer Eadweard Muybridge.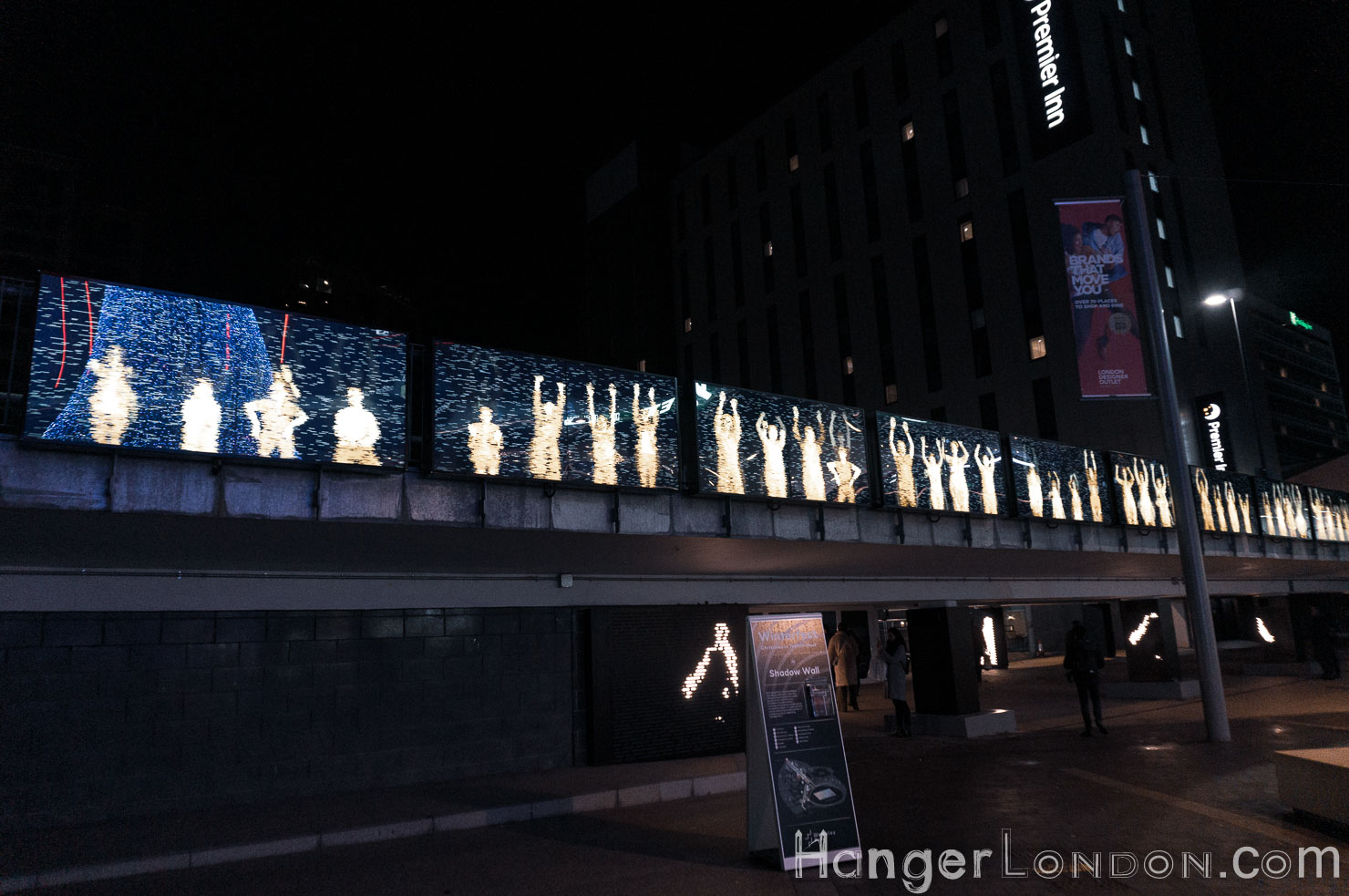 Wembley Park, has a new cultural director of  Arts, Josh McNorton, we look forward to 2020.