From Poland to London, an artists journey
Feliks Topolski was a Polish-British artist and illustrator who is perhaps best known for his work depicting life in London during the mid-20th century. Born in Warsaw in 1907, Topolski studied art in Krakow and then traveled extensively throughout Europe, honing his skills as a painter and illustrator.
In 1935, Topolski moved to London and began to establish himself as an artist. He quickly became known for his depictions of everyday life in the city, and his work was soon being featured in major publications like the Illustrated London News and the Radio Times. In the years leading up to World War II, Topolski also worked as a war artist, documenting the events of the conflict and capturing the experiences of soldiers and civilians alike.
After the war, Topolski continued to produce art that reflected the changing world around him. In 1953, he was commissioned by the Bank of England to create a series of murals that depicted the history of the institution. The resulting work, which covered more than 800 square feet of wall space in the bank's basement, was praised for its striking visuals and historical accuracy.
Topolski continued to work as an artist and illustrator throughout the rest of his life, producing numerous works that captured the spirit of post-war Britain. He was also a vocal critic of many aspects of British society, and his art often contained social and political commentary.
Today, Topolski's work can be found in major collections around the world, including the Tate Gallery in London and the Smithsonian Institution in Washington, D.C. His legacy as an artist and observer of the human experience continues to be celebrated by art lovers and historians alike
The story of Royal Academic member Feliks Topolski from Poland (1907-1989.)
Topolski illustrated pieces for the News Chronicle, the Illustrated London News. He was also Commissioned to create illustrations for the coronation of Queen Elizabeth II. In 1953 Topolski created his own news publication, the Topolski Chronicle, with a successful print run into the early 1980s. Topolski would illustrate the Rich and famous as well as creating some pieces for the BBC.
The "Feliks Topolski: Drawing Debden Exhibition
The Bank of England Museum has a printed out leaflet about this exhibition as well as some complementary postcards with artworks on.
In Summary, although this is hard because there are so many things to include. The Bank of England printing works opened for business in Debden 1956 Essex. St Lukes Printing works in Old St had been the previous site. Now things were able to be all completed in one large area and so more efficient. Creating the artwork engravings right down to the finished banknote was a series of stages that a team of people created. In 1957  Topolski was commissioned to illustrate the new printing process, In short, this exhibition showcases this artwork.
How did the Bank of England find Topolski?
It was Topolski's work during WW2 Blitz in London that bought the connection to the Bank of England,  since this area was also bombed circa 1941. The massive crater in the road photographed by bank station and the royal exchange is one of the most iconic London Blitz moments in time that many people recall seeing. Topolski illustrated this scene but it was withdrawn from publication.
Visit the Museum to find out the story
Without wanting to retell the exhibition or their fantastic information you can find out why, and why the Bank of England not only purchased Topolski's artwork but also later asked him to record by illustrating their print works. This was in a time when checking and accuracy were all done by humans in volume and speed. Topolski captured not only a time that technology overtook, but a process that was complex and security and diligence was of the utmost.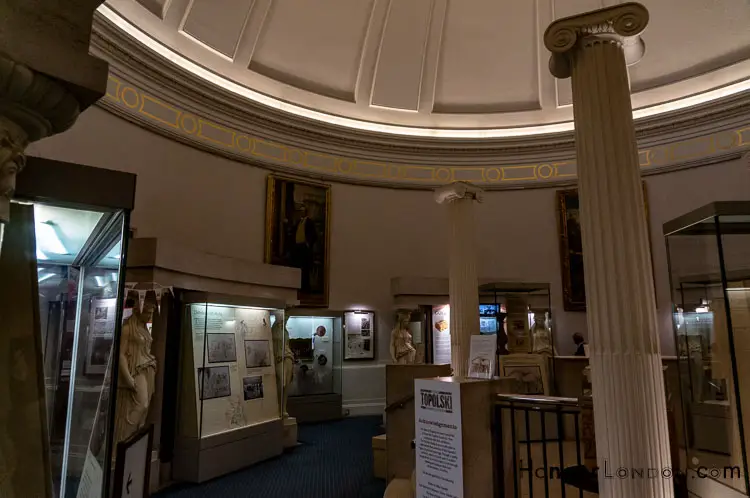 Initially one may not understand the scribbles and flows, in order to capture what the artist noticed, stand back from the artwork, study it like a bank note. This enables a whole impression of these different characters frozen in a moment of time and history.