On 9th of September 2001, the world changed forever, it would edge the date into the record books as Nine Eleven
When was nine-eleven?
The Americans put the month first, then the day. The Phrase "9-11", became immortalised in 2001.  America faced it's biggest ever Terrorist attack.
What happened on 9 11
4 planes were hijacked, 2 crashed into the twin towers of the World Trade Centre, in New York. 1 crashed into the Pentagon, and the last plane crashed into a field, in the state of Pennsylvania.
Literally a Boeing 767-222, domestic passenger plane, belonging to United Airlines flight 175; was what was being flown right into the twin towers.
It stunned and horrified people all over the world and more so in countries that had not experienced such destruction on home soil before.
Wreckage
Causing mass destruction to the towers, fires, entrapment, taking fatalities, casualties to those inside and the surrounding areas.  No survivors of the passenger plane and the Hijacker pilot was on a suicide mission. Nations became on red alert, vigilant.
Remembering those who lost their lives in nine-eleven, London memorials
There is a part of the World Trade Centre that has been created into a sculpture that stands in solidarity in London and initially was set in the  Olympic Park 2010. It was then moved to Battersea Park 2011. Boris Johnson opened the artwork by Miya Ando. It is around 8.5m tall. It is made out of the surviving material of the World Trade Centre that was donated for the artwork.
Grosvenor Square W1K 2HP
911 memorial disc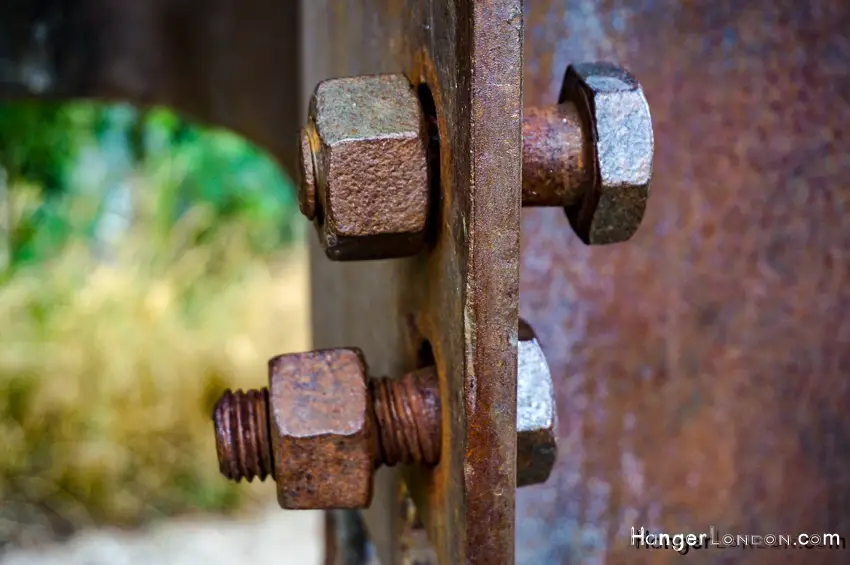 London also has a September 11 Memorial Garden in Grosvenor Square that was set up around 2003.
Photos were taken 2001 instant London tribute area
At the time back in 2001, tributes were being laid at Grosvenor Square in London. We have some photos in our storeroom. The former American Embassy in London overlooked the square. The New American Embassy in London has been built In 9 Elms lane London SW11 7US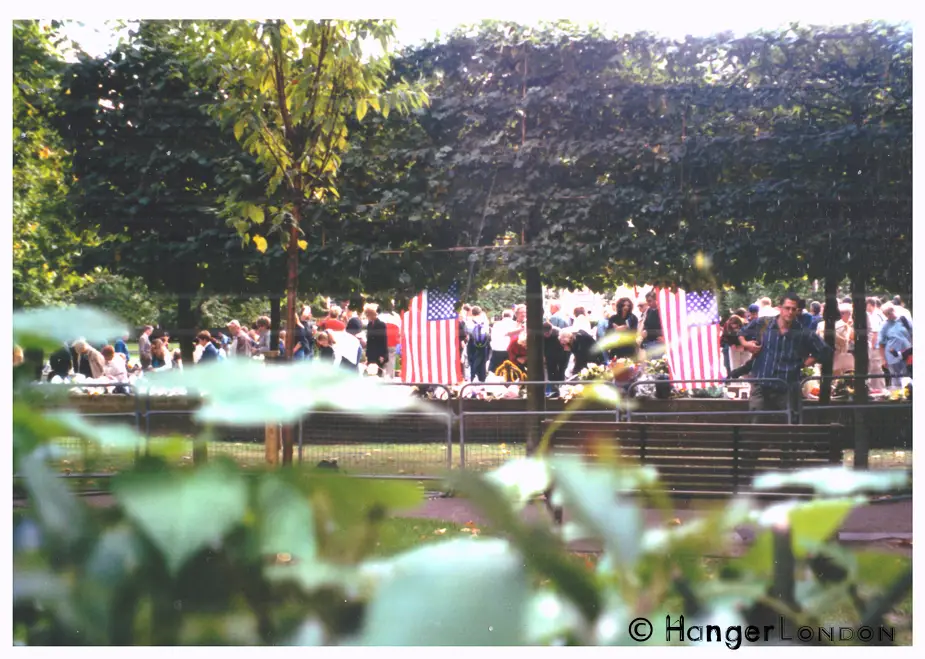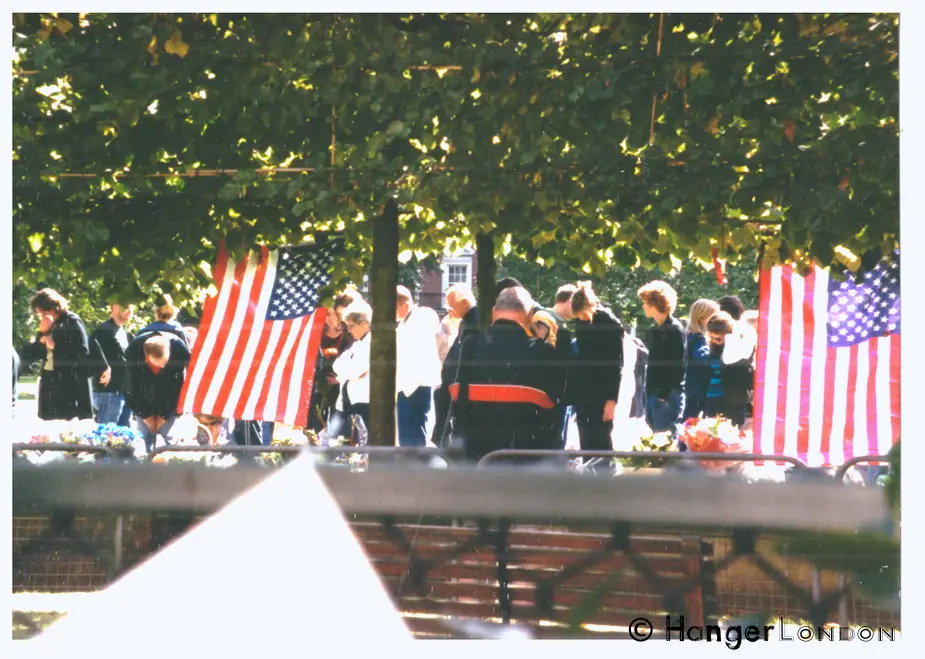 George Bush was the President of the USA at the time and gave this famous speech in response that very evening.
Rising from the Ashes like A Phoenix, a memorial was built on the rubble of where the World Trade Centre had stood. It was known as Ground Zero. It is from an Earth Cam who filmed the construction from start to finish, in a fast forward motion.
There is also a museum on the site of the 9/11 Memorial, that was filmed for the 15th Anniversary in Sept 2011.
The History of the Twin Towers video,