This Queen's gallery hosted in 2018, an exhibition of the Prince of Wales trip to India, which lasted four months from November 1875. Albert Edward, Prince of Wales, the eldest son of Queen Victoria, who would become King Edward the VII.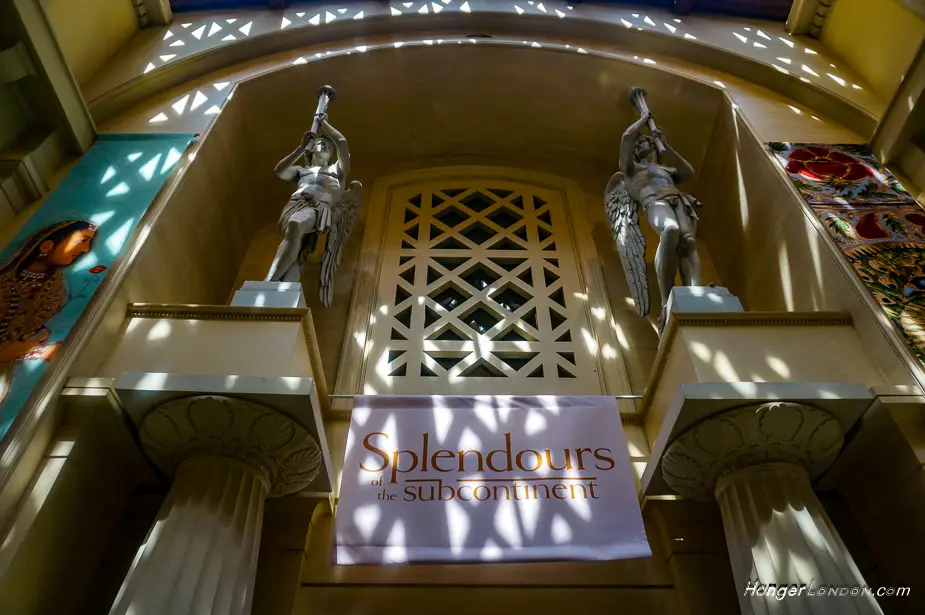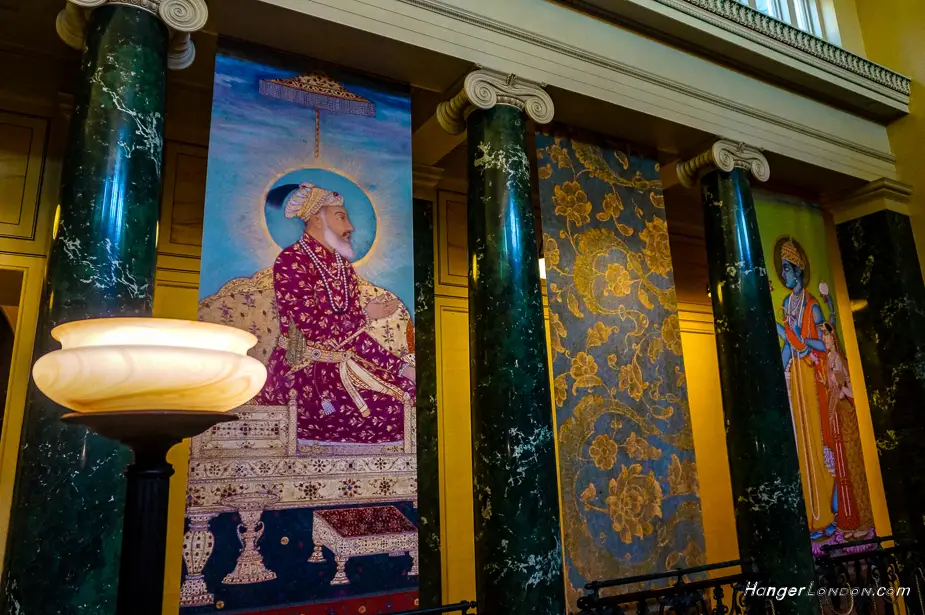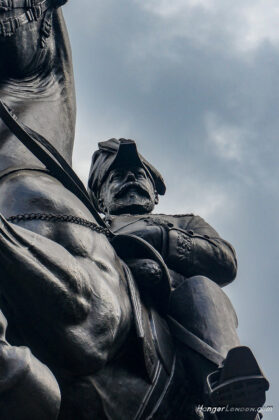 His first stop Bombay. The journey was recorded by an Artist Sydney Prior Hall and an established Journalist William Howard Russell who kept a journal of the trip.
This exhibition looks at the Gifts that India gave to the Prince and British royal family. It also looks at 4 generations of Indian Manuscripts text and artworks that feature Hindu, Sikh and Muslim presentations.
Shortly after the Prince Returned to England by mid-1876 the gifts were put on display at the Indian Museum in South Kensington London, which then later became the V&A Museum.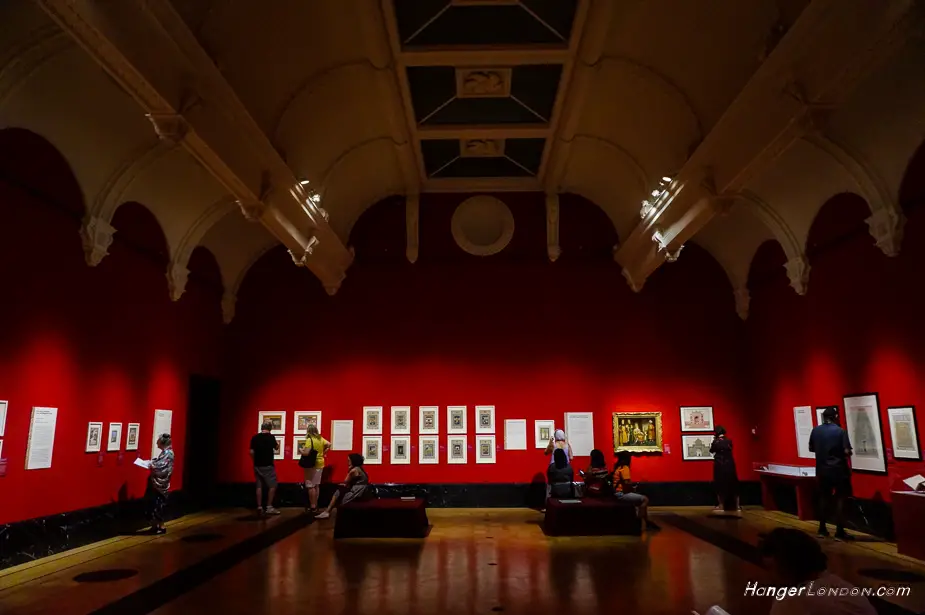 The exhibition travelled to other locations in Scotland and the UK and to Paris and reached Copenhagen in 1882.
30,000 people visited this exhibition in the first week in London in the past. This encouraged British manufacture and sale of Indian inspired gift items.
The British Crown Rule of India started in 1858 and was termed the British Raj. The British Raj was made up of Queen Victoria as the monarch of that time, British India Government and the Viceroy and the India Office in London. Prior to 1858-57, the British Royal Charter had been given to the East India Company to trade, by Elizabeth the 1st  in the early 1600s.
In 1958 2/3 of the Subcontinent was ruled by the British Raj. Many cultures, languages, and religions make up India. British Rule ended when the Partition of India happened,  in August 1947. Independence was then gained, but at a cost that India was then split into two countries  India and Pakistan. The Hindu faith, Sikhism, and the Muslim faith encountered turmoil, fatalities, trauma, loss upheaval separation when partition happened.
This exhibition shows artifacts of India, in a time before all the changes occurred. The Prince needed to keep political and trading relationships with various rulers he met approx. 90 and also exchanged gifts from England.
After a hot day out on the mall, sightseeing, perhaps the changing of the guards or the beauty of the Royal Parks, we found it a cool haven in a pleasant gallery that gave escape to another time, another place.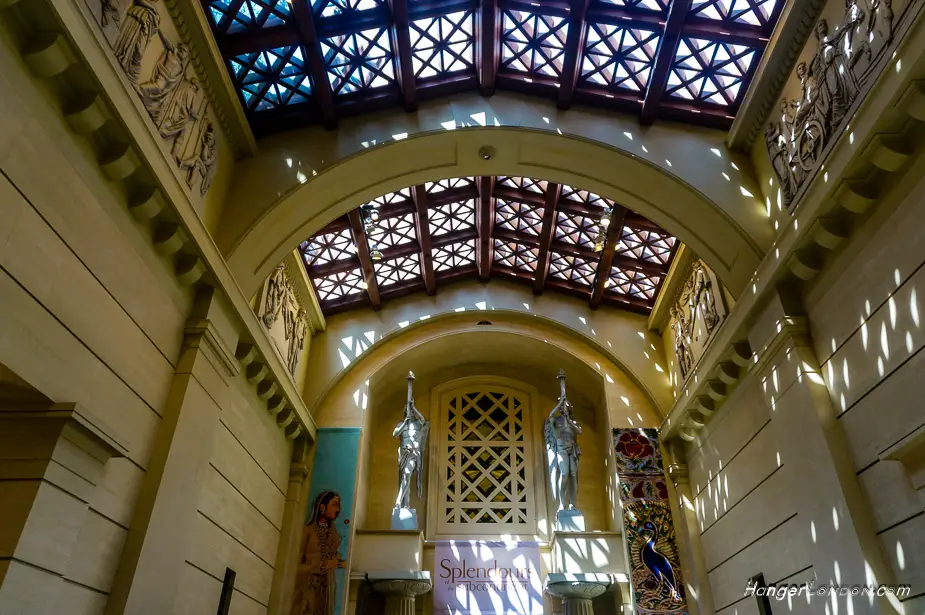 Some of the Places the Prince of Wales visited
Kashmir, Benares, Sail down the River Ganges Baroda, Gwalior, Jaipur, Indore, Northern & Easter Provinces of Ceylon, Punjab, Calcutta, Pudukottai, Mysore. Khairpur,
Processions, embellished pavilions, and illuminated decorations were put up to welcome the Prince.
Highlights of the Gifts.
Inkstand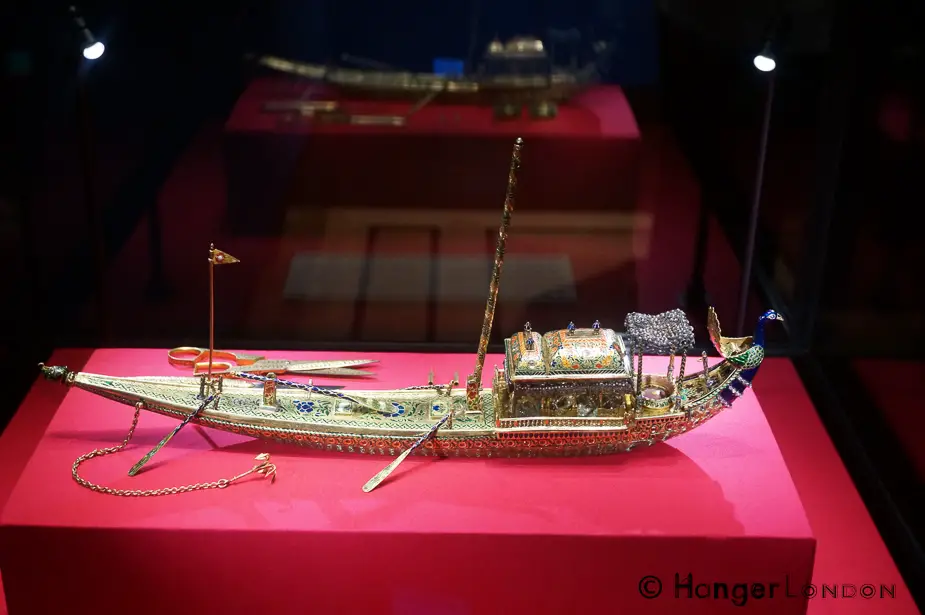 A model of Maharaja's elaborate Barge that the King sailed on the Ganges with. It was an Inkstand in the shape of the boat coming apart into 19 different pieces. Containing silver-gilt thread, silk, sapphires and diamonds, gold, enamel, pearls, rubies, glass. Given to the Prince by Ishwari Prasad Narayan Singh Maharaja of Benares.
Address cases & caskets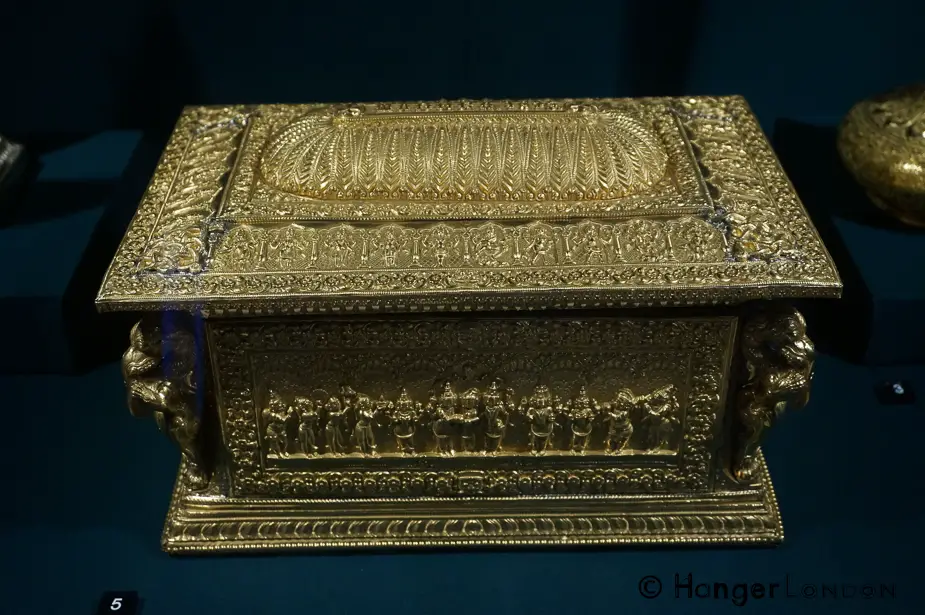 The Prince was presented with cases or caskets, that look a bit like lavish cigar boxes or jewelry boxes when he visited various locations to welcome him and commemorate his stay.
The Prince was presented with a decorated Gold hinged rectangular case Which contained the king's crest on the top. Inside a  type of document, but made of silk, embellished &  decorated with 96 gold flowers as an address to the king.  Gold, diamond, rubies, silk. Showing the Goldsmiths skill of the Tamil culture from Ceylon region.
Another casket was made of ivory and gold embellished with gems such as pearls, amethyst, garnets, sapphires, chrysoberyls. Ceylon grew spices, which were presented in this box. Pepper, Coffee, vanilla, betel nut which is used as a mouth refresher called Paan and cinnamon.
Hammer from the Railways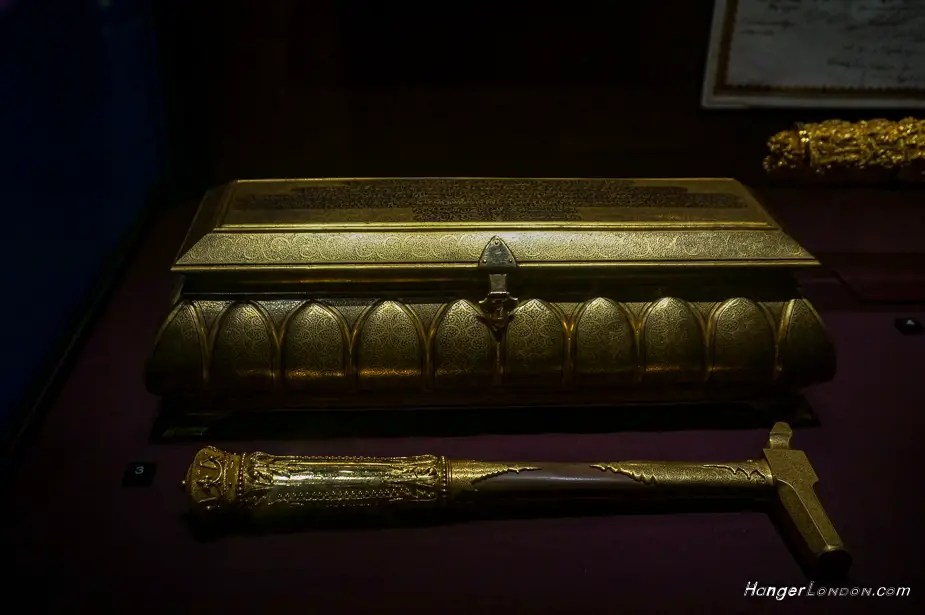 One of the Longest Bridges in the world was nearly at completion during 1876.  The Prince was given the honor of hammering in the last rivet into the Alexandra Bridge, over the River Chenab, Wazirabad, during this tour. The Metal hammer was presented to the Prince it had intricate metal craftsmanship, in Kulkarni style and a case to hold it in. The Acanthus distinct foliage leaf and scrollwork was embellished into features. A Gift from the Punjab Northern state Railways.
Watercolor paintings
From Bombay depicting Hindu god avatars.
Regal Peacock embellished feather fans.
From the Maharaja of Jaipur, with Gold, pearls, enamel, gold sequins, diamonds, glass. A Ruler is traditionally cooled by attendants using these grand fans.
Indian court service items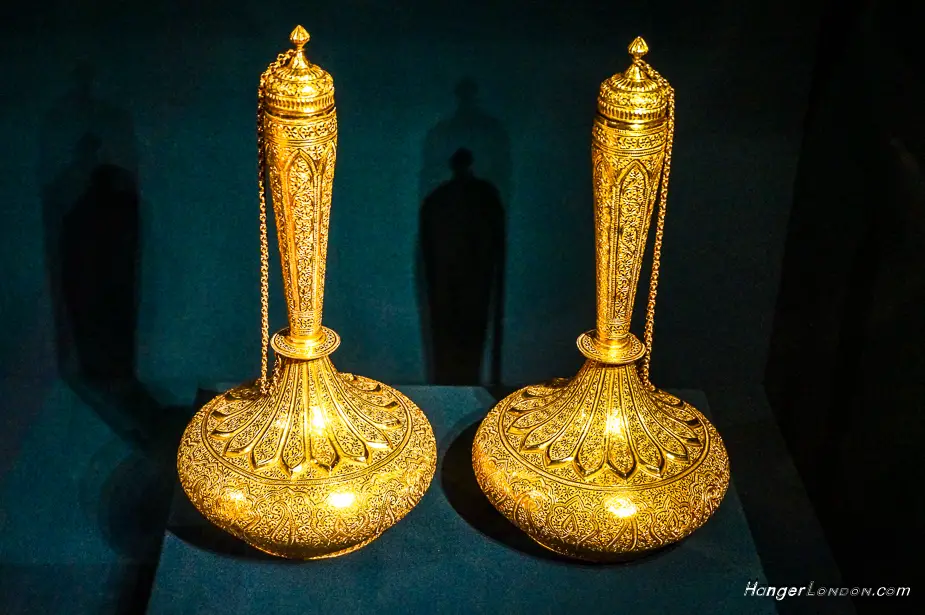 Salvers, rose water sprinklers, Perfume holder, Betel nut holder, gold Embellished metalwork bottles.
Perfume holder is a pot that is held in an opening lotus flower-shaped container on a dish. Embellished with Gold enamel, diamonds, pearls, colors of green, red, yellow. From Jaipur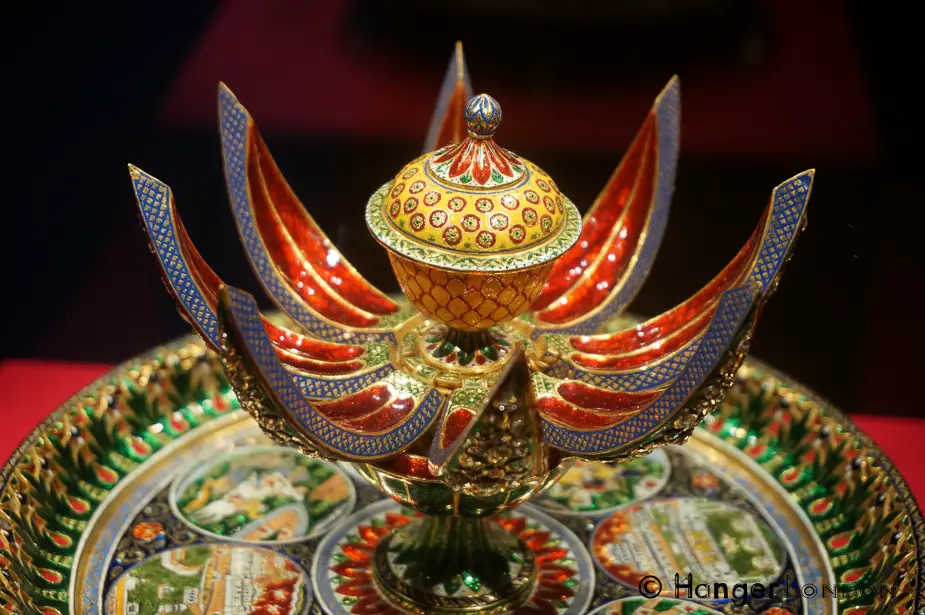 Lotus Perfume holderEnameled Gold red, green yellow pearls, diamonds elephant figurines yali Hindu faith form the stand.
A Gift from Ram Singh II Maharaja of Jaipur. 1876 Normally these would have held rose water
the design incorporates the Chandra Mahal and Amber Fort in Jaipur.
Enameled Gold red, green yellow pearls, diamonds elephant figurines yali Hindu faith form the stand.A Gift from Ram Singh II Maharaja of Jaipur. 1876 Normally these would have held rose water
the design incorporates the Chandra Mahal and Amber Fort in Jaipur.
Weapons: Swords, Scabbards, shields, Dagger, Axe knife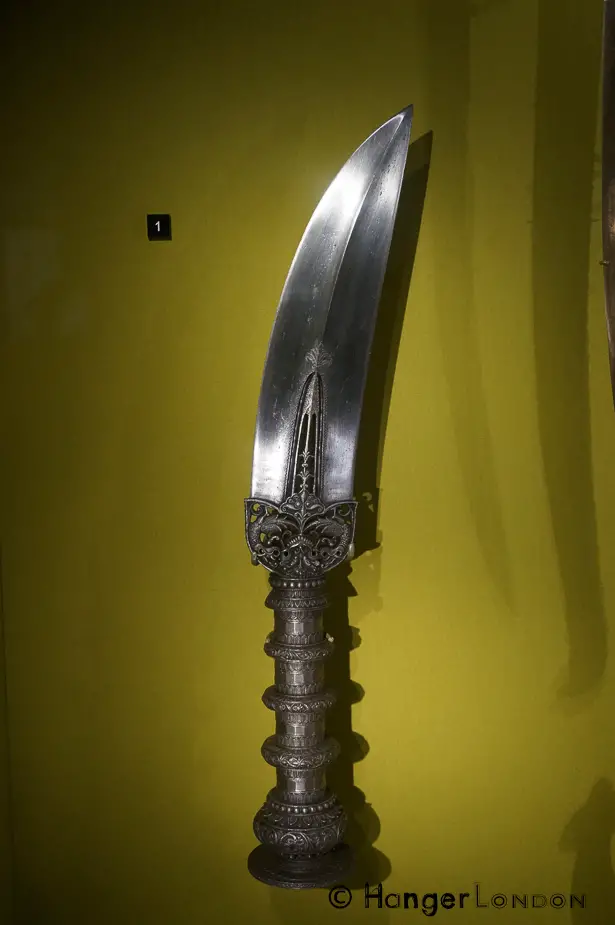 Watered crucible steel
Steel, jade, diamonds, emeralds, rubies, gold, garnets, velvet, silk, pearls, wood enamel, red glass, copper
Indian  Kundan technique Jewellery
Gemstones illuminated from behind by foil pressed into place with gold strips
Waist Belt Gift for Princess of Wales Alexandra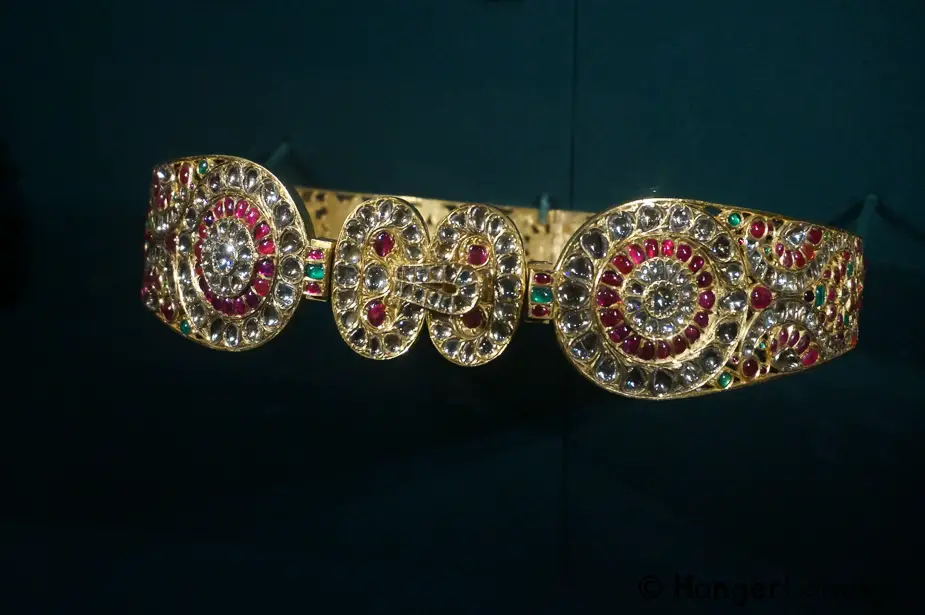 Waist Belt Gift for Queen Alexandra. Whilst their first stop in Bombay. A Gift from Marharaja of Mysore 1875Gold Diamonds, rubies, emeralds
Waist Belt Gift for Queen Alexandra. Whilst their first stop in Bombay. A Gift from Maharaja of Mysore 1875Gold Diamonds, rubies, emeralds
From Bombay made from gold diamonds, emeralds rubies Kundan technique, peacock, and lotus-inspired shapes.
Queen Victoria's Birthday gift  Bangle
From Trichinopoly, noted for its sculptured jewelry, sea animal depiction.  Prince selected and bought this bangle as a gift for his Mother, made from Gold and rubies.
Indian enameling
Coloured glass bonded to the metal.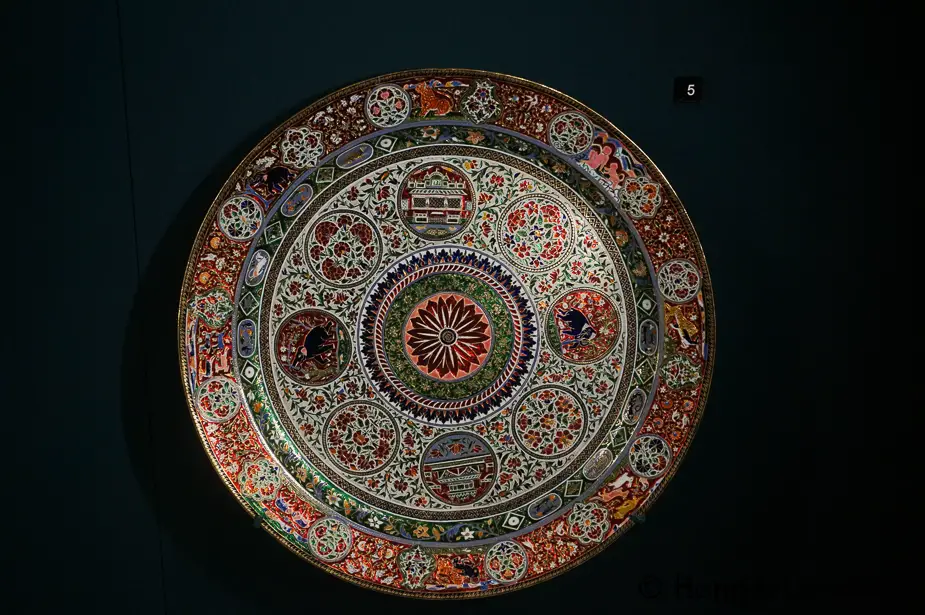 Salver A Gift from Ram Singh II Maharaja of JAipur 1876 Gold, Enamel.This plate and plates like it could take 4 years to make.
4 Centuries of MANUSCRIPTS  & PAINTINGS  South Asia. 17th C to the 20th C. Some from Indian Rulers to British Monarch.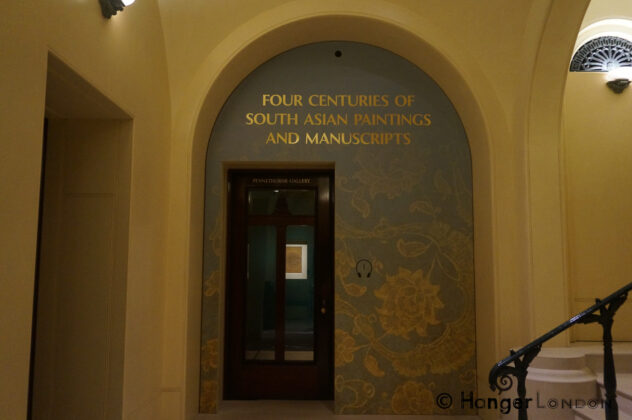 Queen Victoria's Hindustani diaries and phrase book, where she studied Hindu and Urdu.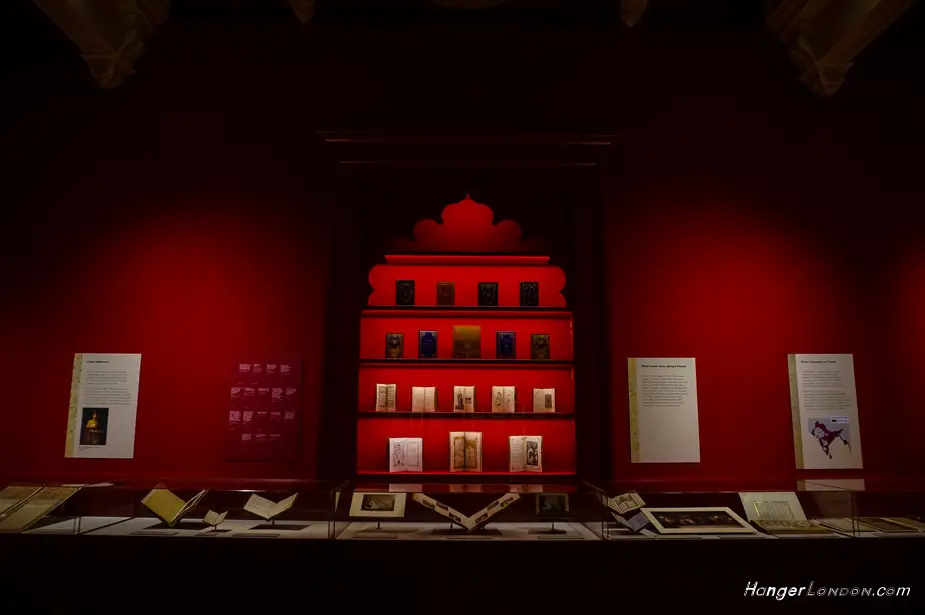 Manuscripts combined authors, artists craftsmen, handwritten books, calligraphy, illuminated illustrations, decorative borders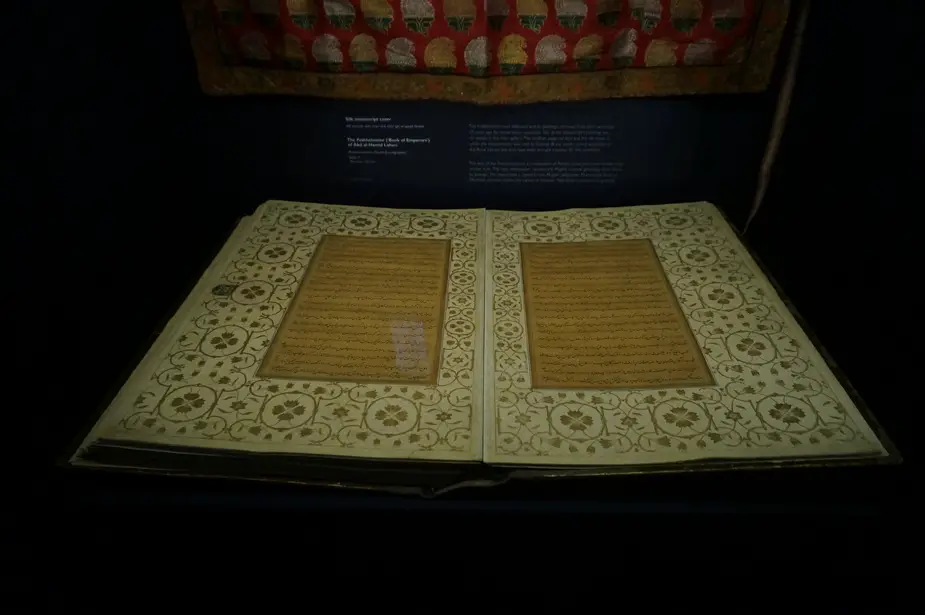 An Opaque watercolor with gold paint and gold leaf from 1492
From the Mughal Dynasty Muslim Persian origin 17th C works that examine their belief that people could be interpreted by studying their portrait.
Mansur wildlife painting from 1600 Opaque watercolor and gold of a reptile chameleon.
Intricate opaque watercolor with gold paint 1657 of the "SUNBURST" Shamsa. A sign of harmony, infinity.
A divine light thought to pass from God to kings without the intervention of men.
Arabic calligraphy, a verse from 1600
The Day of the Judgement 1605-10  Nanha and Manohar has seen in both Christianity and the Muslim faith. Opaque watercolor gold paint
The Gulistan "Rose Garden " by poet  Sa'di written by a fine calligrapher Muhammad Husayn of Kashmiri 1584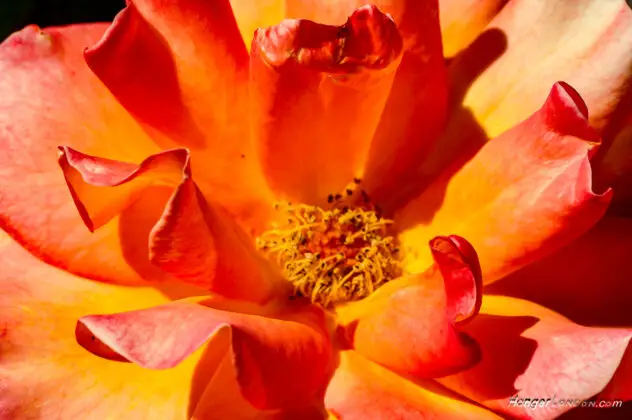 1858 after the partition had ended. Queen Victoria commissioned Egron Lundgren to paint a record of a typical scene. Watercolor beautiful subtle colours Indian women, men in turbans and British officers hosted by Man Singh advisor to Wajid Ali Shah.
1842 painting sent to Queen Victoria of Ranjit Singh a noted Sikh leader.
Hindu paintings from 1800
Sanskrit poem Gita Govinda by Jayadeva, illustrated pricing
To the Top of the Page

The Absolute story of the Cutty Sark, 1869-2020 victory over tradegy