Lionel Rothschild gained 620 acres and extended the Gunnersbury estate.  He bought up land 1861-1863. He even bought a clay pit, Coles Hole. This formed into Potomac Lake later on. They formed a Tile Kiln into a boathouse, in the shape of a Gothic Folly tower by the south shore of the fishpond area Potomac Lake. 1861, they bought The Gunnersbury Triangle, that was near Chiswick Park station. In 1984 this area became a nature reserve.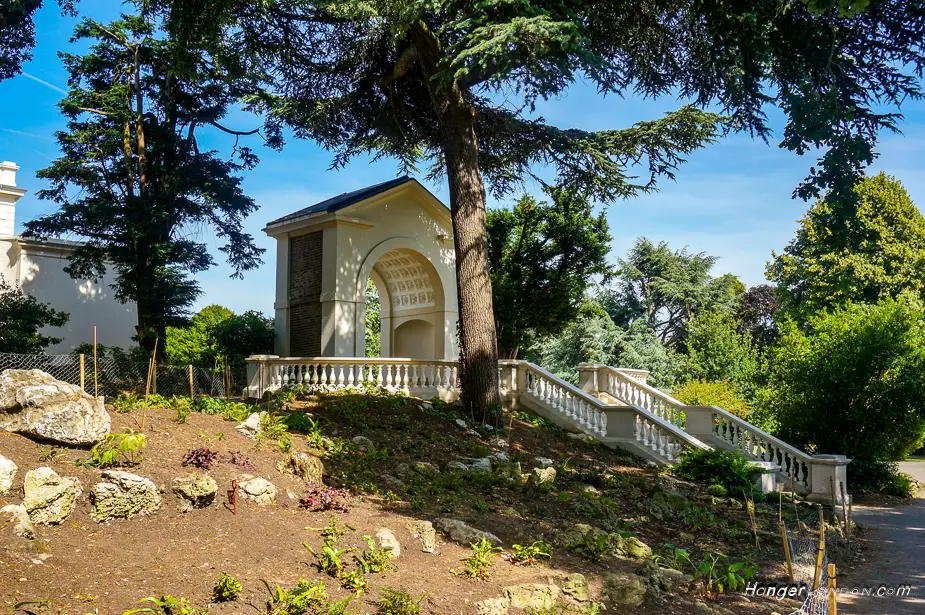 Gothic garden follies are the other known treasures. A Folly being an ornamental feature built in a certain, ornate, extravagant style. Follies could range from mimicking, features of Roman, Chinese /Japanese type temples, Egyptian shapes, Gothic arches, pretend ruins. Seen in English and French landscape gardens. "Folie" in French meaning something like "It's absolute madness" but also associations to a delightful little place to be. These structures may not have had a practical use or full purpose but complimented the theme and attraction to visitors to the estate.
These retro-style structures can make it hard to determine what time period they truly came from.
Rothchild's Outdoor Bathhouse
Outside, the bathhouse is one such example.  It was once used by Princess Amelia, an example of a Garden folly "Gothik" style. The Mystique around the bathhouse's differing structures is because of archaeological developments on Gunnersbury Park estate.  The layers around the bathhouse show both C18th and C19th evidence to structures of a bathhouse that was being enjoyed by over one generation, who lived on the estate.
When the park reopened in the summer of 2018, an actress dressed in a wonderful period costume, was in the bathhouse area. The temperature was cool in the bathhouse, offering plenty of shade from the midday. The Bathhouse was decorated with shells, a highly prized commodity in its time for decorating bathhouses and grottos with.
Greenhouse- hothouse delights
1862 the greenhouse grew exotic flowers and fruit. A hothouse built by Henry Ormton. Lionel's wife Charlotte had a passion for Orchids, and this was another Gunnersbury specialty, that Charlotte catalogued. The Rothschild's connection with orchids stems back to Ferdinand de Rothschild's time born in 1839. Ferdinand knew an orchidologist Frederick Sander born in 1847. The German-born Orchid king who came to settle in England. Victorians had a fashion for various flowers like this. Other Rothschild males including Lionel, joined the RHS orchid committee. Learning about species and got involved with creating hybrids which were sometimes named after the family as were other types of flora.
It would reward tours of the gardens with a memento to take home an orchid. Often they were placed at the table at dinner, for guests.
Gunnersbury also grew Rhododendrons, Carnations, Azaleas, Kamia Latfolia, Begonias.  Chrysanthemums, Myrtle, Pelargoniums, Erica's, Rose areas, Fuchsia, Agapanthus. Was well known for its Pineapples, the Rothschild continued this legacy in developing different fantastic size, taste and shape. They also harvested fruits, Orange trees,  Figs, peaches, grapes, strawberries, pineapple, melons, nectarines, pomegranates.
Enchanting and Creative Landscape Gardeners at Gunnersbury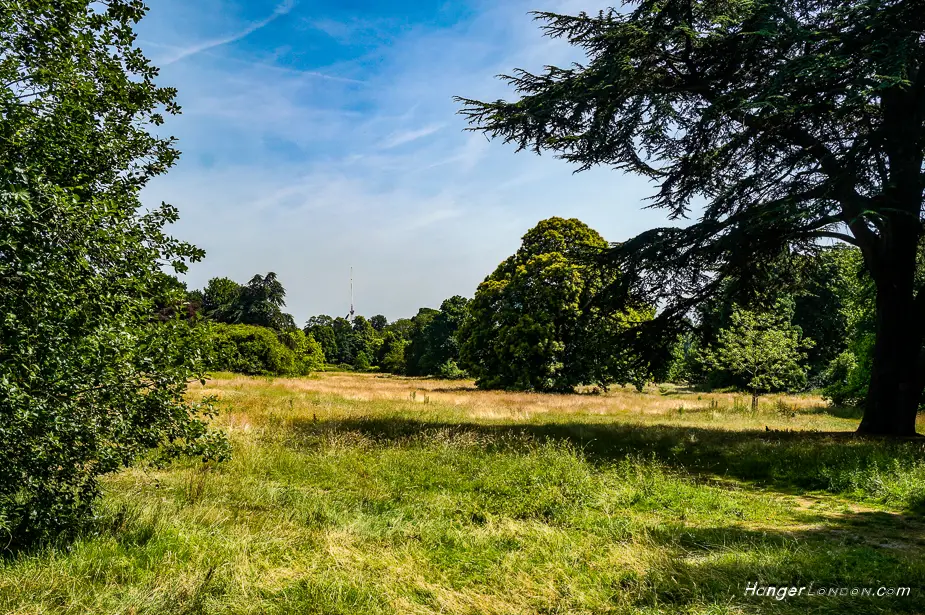 James Pulham and Son were creative landscape designers and kept their company going for at least 4 generations. Spanning a period from around the late 1700s to the late 1950s. They had a technique of using cement, old stone bricks and remodelling. The resulting man-made rocks, which could then look like a natural stone, transformed gardens. They patented this and referred to as Pulhamite. Pulham's work has appeared in many wells-known places In London and termed the "Pulham Legacy". Works include; Buckingham Palace, the V&A museum, Kensal Green Cemetery, The Sunken Garden at Kensington Palace,  St James Park features and Gunnersbury Park. They specialised in follies, ornamental Japanese, Italian gardens terraces, rock gardens ferneries and grottos.
The Pulham company even manufactured, garden seating, vases, urns, fountains. A lot of the Garden Furniture at Gunnersbury during the Rothschild 1900s era was sourced locally in a lot of cases because details of what they purchased and where from still exist.