Russian Royalty and the Romanov's collection at the Queen's Gallery traces the story of the British and Russian Royal connections from the 17th century right up to Nikolai II Alexandrovich. Paintings, Sculptures, photographs, and official documents.
Romanovs and Crimea Exhibitions opened at the Queen's Gallery in November 2018 to April 2019 Wintery Imperial Soviet union with Royalty, "Shadows of War"
Russian Royalty and the Romanov's Gallery
Reflecting on photographs of the Victorian Era that expressed the Crimean War for its second exhibition Entitled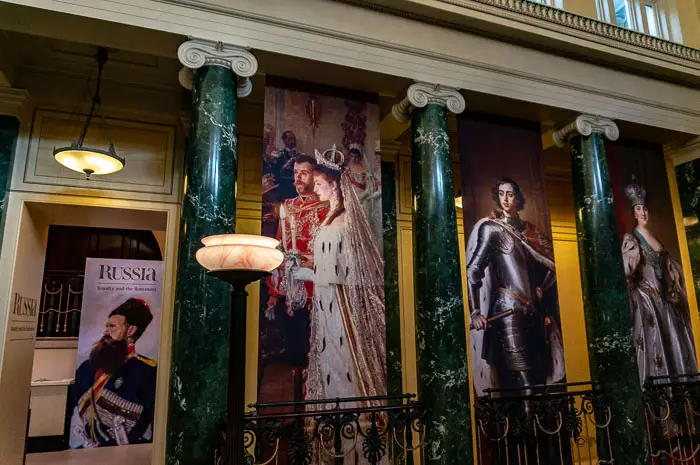 The most famous Crimean war painting, called 'The Roll Call'
When they exhibited they exhibited this painting in the 1800s, it drew such last crowds they guarded it by a Policeman to keep order. It was the first time the population was seeing the effects of war up close.
The Queens Gallery Exhibition highlights, paintings with ornate grand style and richness of colours.
Fabergé items made by a Russian had symbolic meanings and changed owners. Were crafted from some of the finest materials that were all soon to be banished during times of war. The British Royal family got many of these treasures.
Female Royal Attire
Masculine luxury items fit for a King
Russian decorative drinking and eating items
Intricate wood pattern table and chair
swords
Russian Orders
Photographs / Paintings
Busts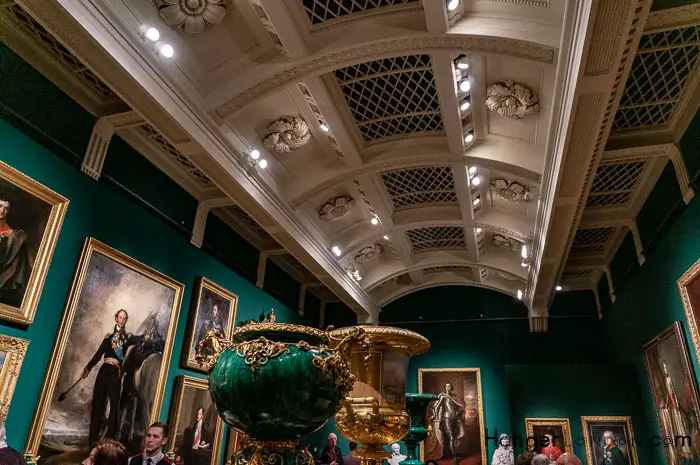 Feminine royal attire, Russian Style Dress
Worn by Princess Charlotte of Wales 1796-1817. Seen in portraits. See the photo above on the back wall the painting by George Daw dated 1817.  The Dress was made from French silk and metal thread. It was made in England to a Russian Gown style. When Alexander I visited England in 1814, this set off a fashion and interest in Russian style garments. It is in Sarafan style.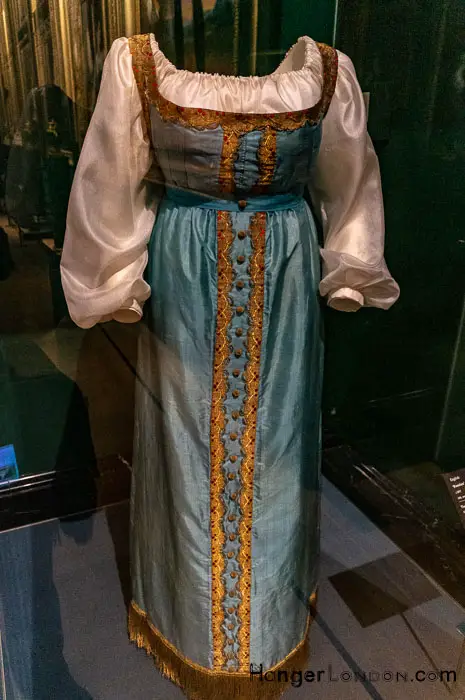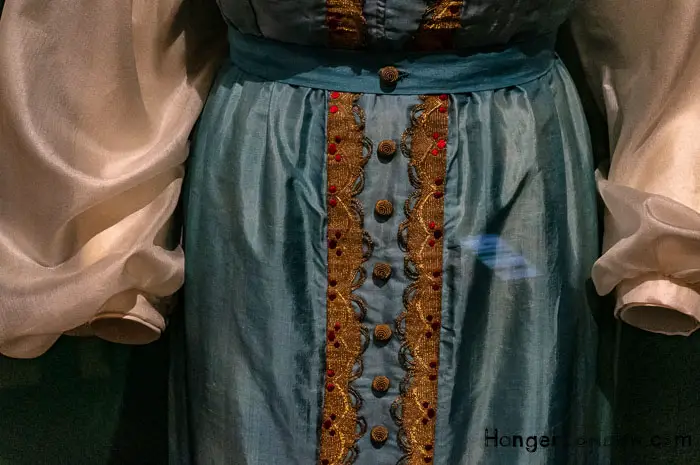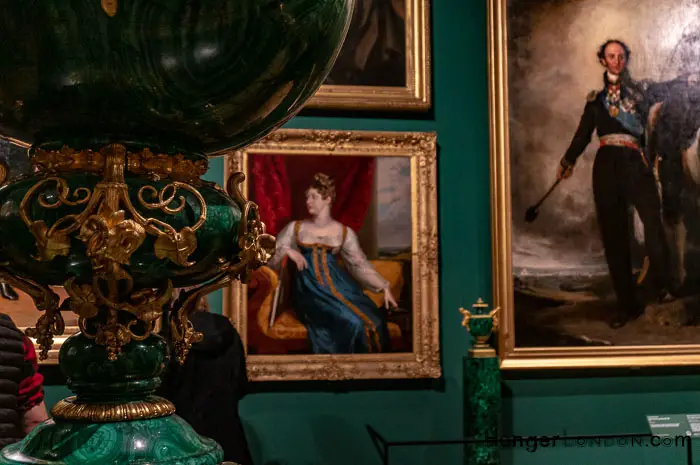 Vladimir Tiara c 1874 Russian
Grand Duke Vladimir, had a wife called Grand Duchess Maria Pavlovna, who wore this Tiara. Made from Diamonds, silver, pearl by C. E Bolin. It was sold to Queen Mary in 1921 by the daughter of Princess Nicholas of Greece.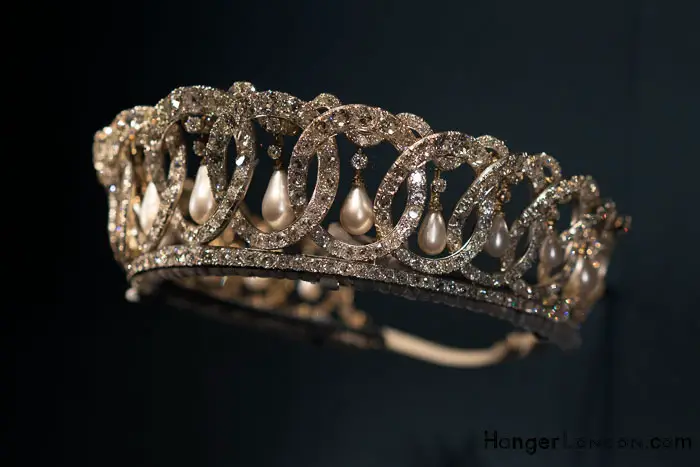 Siberian Amethyst Pendant Jewel Purple 1900-09 Fabergé
This was Given to the Princess of Wales by Queen Mary, from Emperor Nicholas II and Empress Alexandra Feodorovna 1909.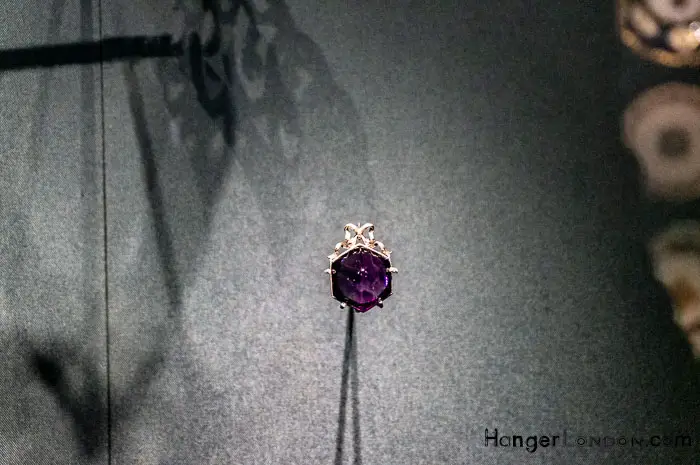 Masculine luxury Items fit for a King Imperial Presentation Box by Hahn 1900
Gold, rose diamonds, blue sunburst, guilloché enamel, seed pearl. Yellow texture weave design appears around the rounded edges to the rectangular tin.  The Initial NII. Queen Mary gave this to King George V on his birthday, 3rd June 1934.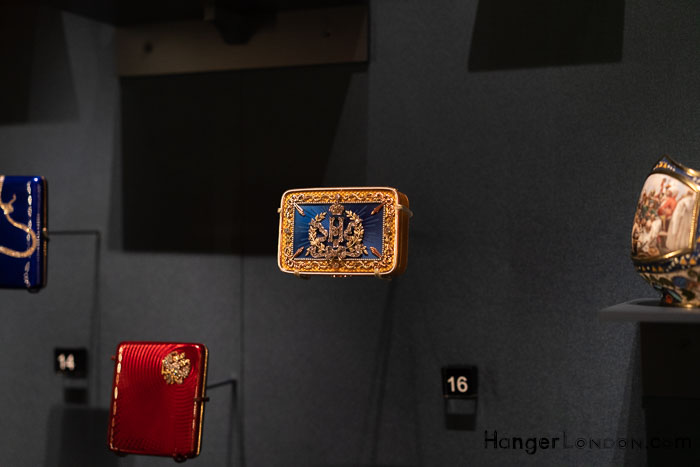 Cigarette case 1908 Fabergé
Art Nouveau style. Dark blue moiré guilloché enamel rose-cut diamonds on the snake design, which also has pale green gold, red gold.
Symbolism, the snake biting its own tail everlasting love.
The story started as a gift by a Kings Mistress. Mrs George Keppel gave it to King Edward VII as a gift in 1908. When the King died, they returned the gift to Mrs Keppel by Queen Mary 1910. 1936 Mrs Keppel decided that the case should remain within the royal collection so returned it to Queen Mary.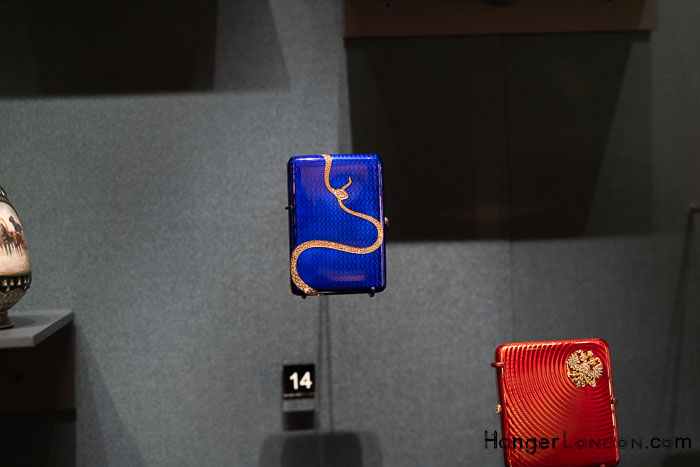 Red Cigarette Case pre 1896 by Carl Blank
Gold, guilloché enamel diamond.
The Design featured a double-headed imperial eagle pattern on the surface that made it appear like texture.
Russian Eating and Drinking items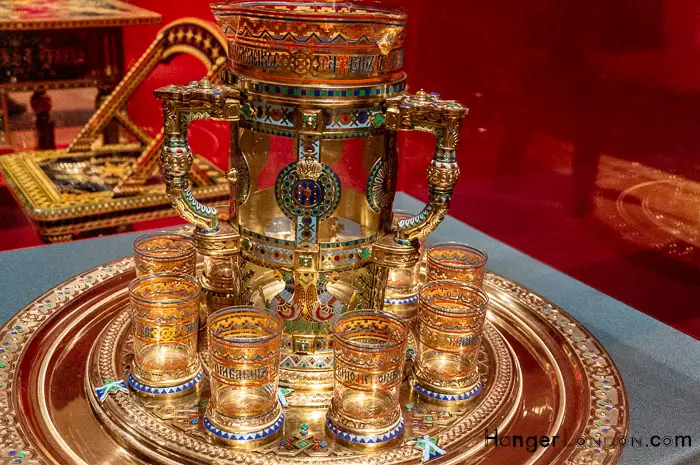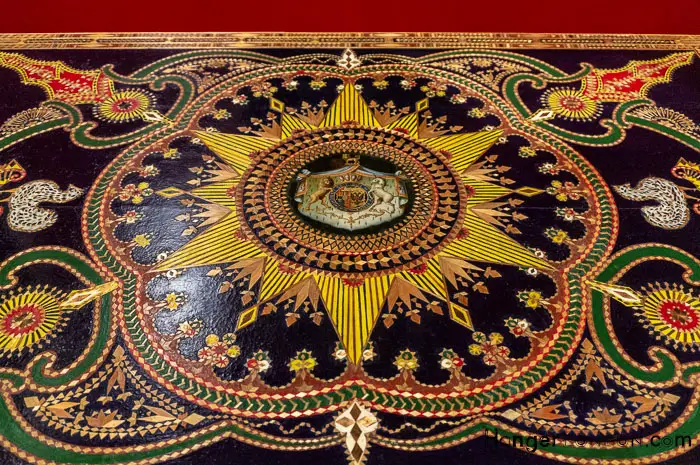 A Kovsh
Feodor E Rückert Fabergé Moscow, Russian branch 1911
Silver gilt, cloisonné enamel. Winter landscape scene, pan Slavic geometric motifs. Blues, whites, greens, red oranges. Cossack with a sledge and animals in a snow setting. It's a vessel for drinking and is a traditional Russian style design.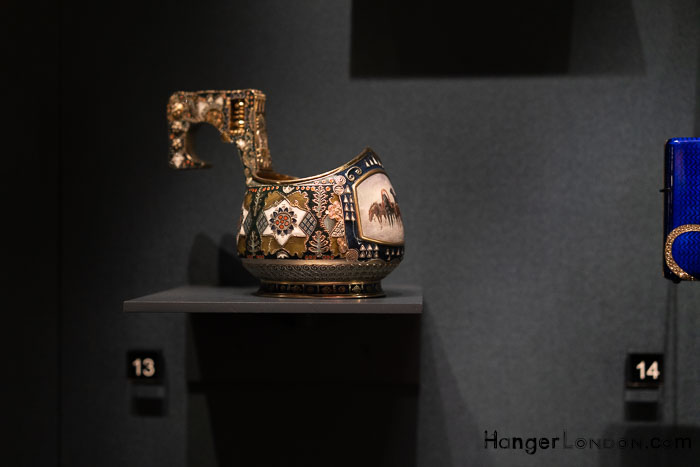 Royal Figures Marble Bust figure of Queen Louise of Denmark 1817-1898
signed dated 1908. By Nielsine Caroline Petersen 1851-1916.
Queen Alexandra commissioned this piece in 1908, posthumously for her parents. Louise was the mother of Alexandra of Denmark 1844-1925 who became the Wife of King Edward the VII 1841-1910. They portray the Queen with an elaborate layering of pearls in a choker necklace. A deep V fronted draped dress. Hair piled high on the head with a tiara encasing the whole hairstyle.
Marble white bust of King Christian IX of Denmark
Queen Alexandra commissioned the male marble bust of King Christian IX of Denmark, 1909. Nielsine Caroline Petersen was the same artist. The King is wearing a military jacket, a cloak and a large chain necklace, which is actually the order of the Elephant. Order of the Elephant is Denmark most distinguished order for Chivalry.
Emperor Nicholas, I 1796-1855 Portrait from 1847
Artist  Franz Krüger oil on Canvas. This was one of the largest paintings 330.2 x 223.5 cm in dimension.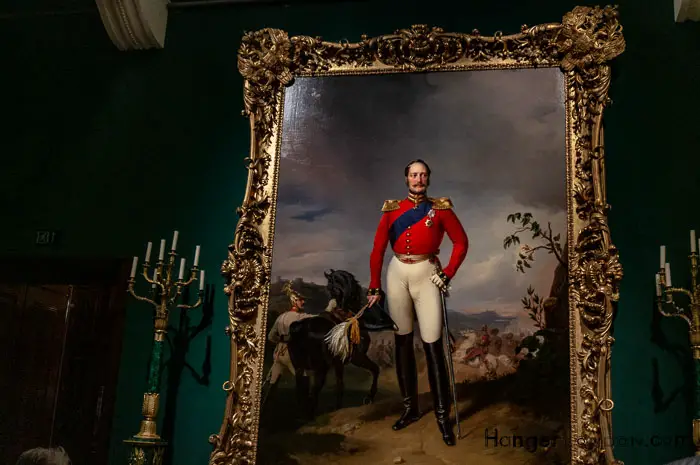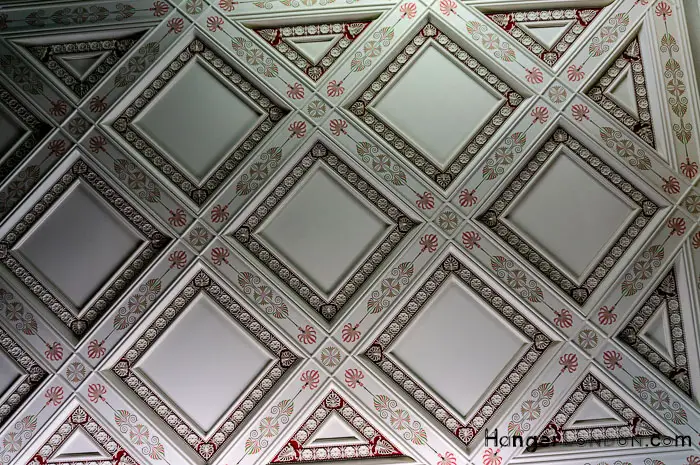 Royal Souvenirs Commemorative Handkerchief 1894 accession of Emperor Nicholas II 1868-1918
maroon red, beige, black imperial crowns, emblems and monograms Cotton.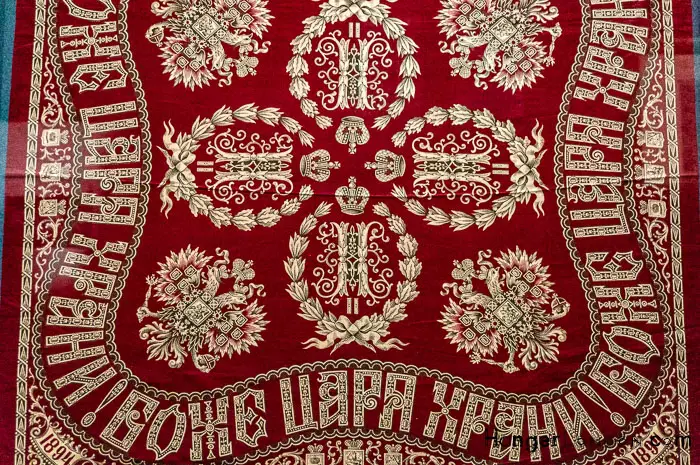 Fabergé Imperial Eggs Now Owned by British Royal Family.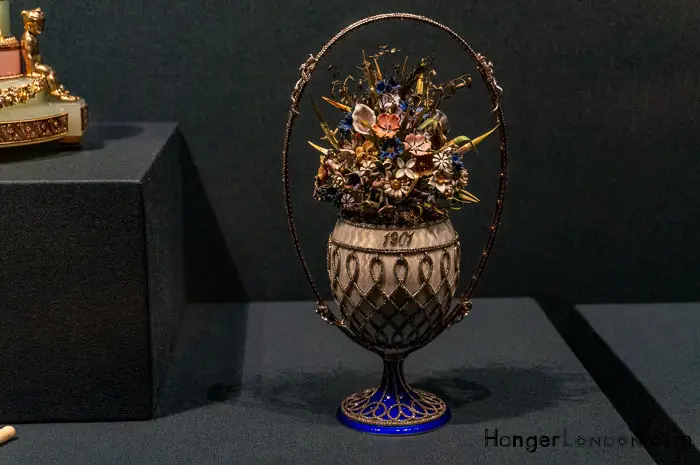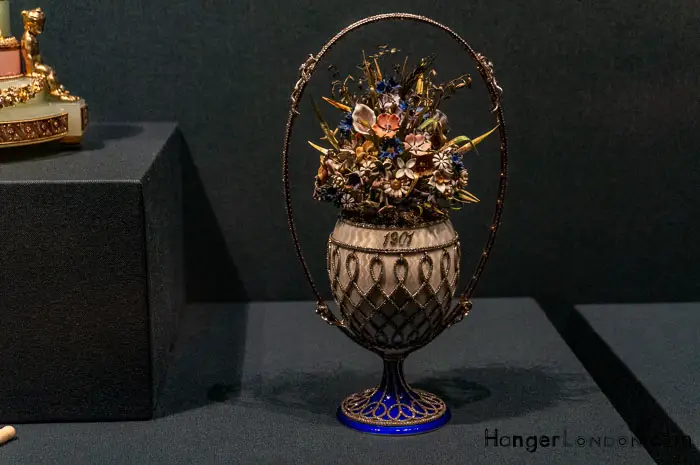 Mosaic Egg 1914 Fabergé Imperial Easter Egg. Female designer Alma Phil
Gold Platinum, enamel. Diamonds in shades of rose and brilliant. Rubies, emeralds, topaz, quartz, sapphires, garnets moonstone. Colours of pearl, opaque pink and white enamel, green garnets, translucent green, opaque white, opalescent pink pastel, pale green, pale sepia grisaille enamel.
This was under the Fabergé Jeweller Holmström, inspired by needlepoint work that was being carried out by the designer's mother. It is one of the most expensive Imperial Eggs ever made and known for its technical achievement. Tsar Nicholas II commissioned it for his wife the Tsarina Alexandra Easter 1914. King George the V and Queen Mary purchased this item in 1933.
Imperial Fabergé Eggs
The Imperial Fabergé Eggs contained a surprise like all Faberge eggs, the Mosaic Egg was no exception. A Diamond Imperial crown pedestal, an oval plaque with a cameo portrait in sepia of the 5 royal children. The Year is on the reverse and the names signed G Fabergé not the usual C. They think it was Carl Fabergé's way of marking the 100 anniversary of his father Gustav's birth. It is thought to have been displayed in Alexandra's study in the Winter Palace, and to be the second most expensive egg., after the 12 Tsesarevich Egg.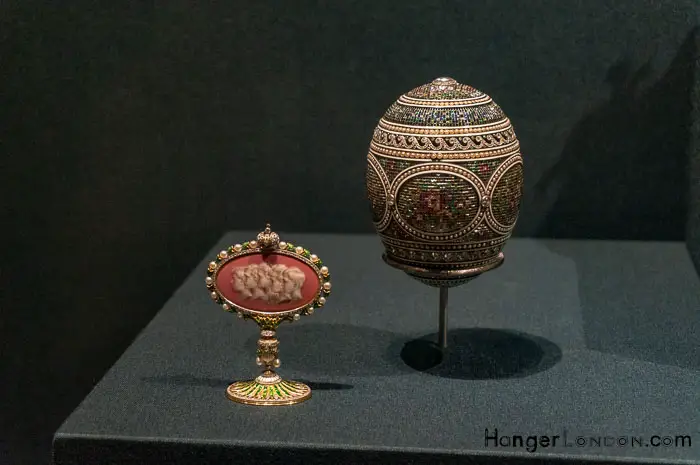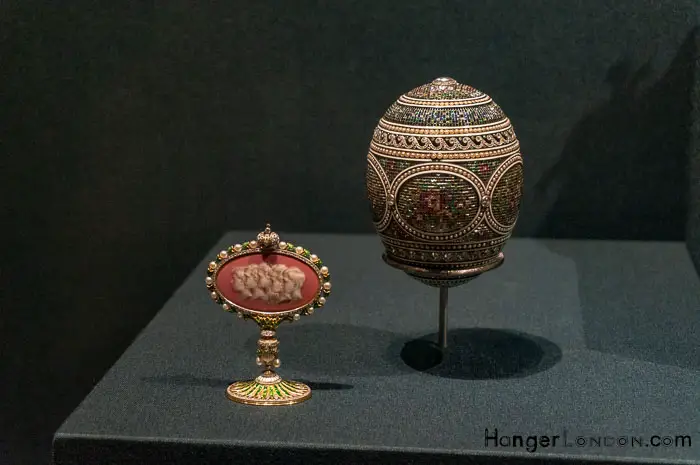 On Russian Orders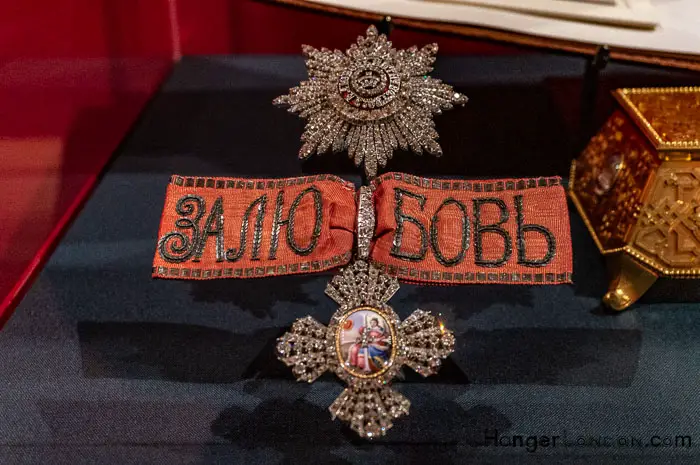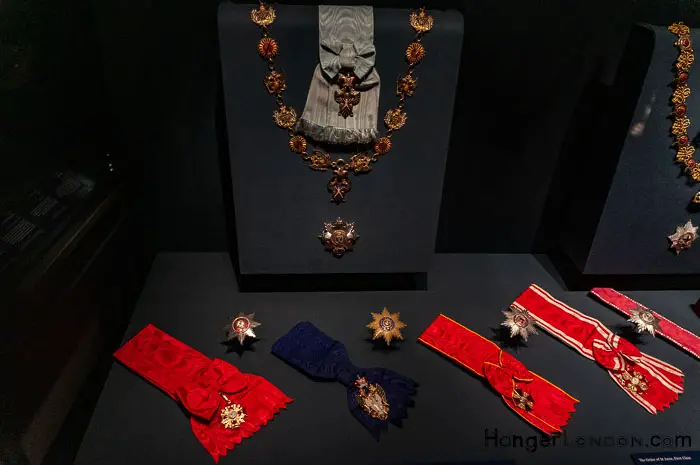 Queen Victoria was given an item like this by Tsar Nicholas I after his son future Alexander II visited. Thought to have been made around 1836, the Urn Given to Queen Victoria was meant to have been in the Hermitage prior to its trip to England in 1839 by steamship SS Sirius.
Review of Queens Gallery Shadows of War – Crimea War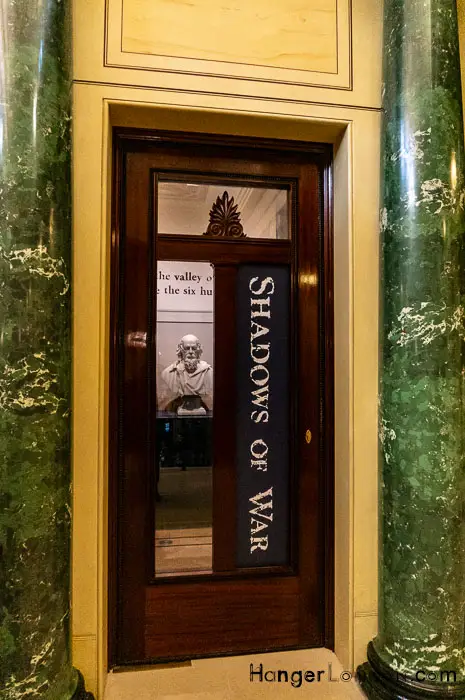 Roger Fenton's Photographs of the Crimea 1855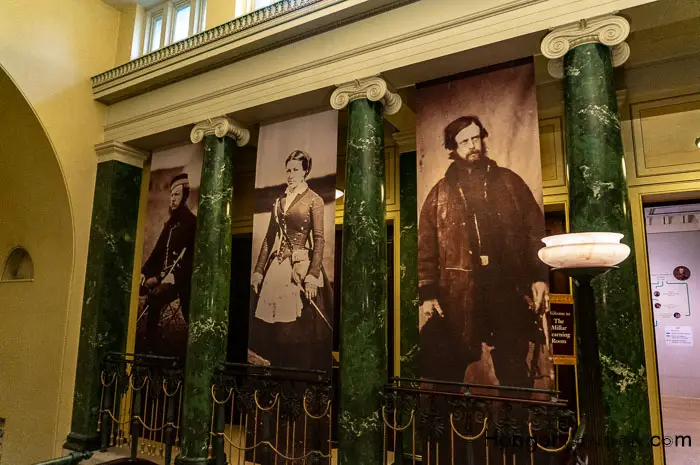 The advert states it the first exhibition to "Focus only", on Fenton's "Pioneering photographs".
One photograph depicts a meeting of Queen Victoria with a wounded Grenadier guard. In the Audio guide, Prince Harry narrates the meaning to this touching black-and-white photograph. Sergeant Thomas Dawson is the soldier in the picture. He lost his arm at the battle of Inkerman and famously photographed with his little girl, this picture is on display. Queen Victoria met the veteran in 1855. Photography was bringing the reality and impacts of war on families. The photograph by John Jabez Edwin Mayall -1813-1901
1st British Photographer
This British Photographer was the first to photograph Queen Victoria using the CVD technique, fully known a Carte de visite. A tiny photo made on a thin albumen print and pasted onto a thicker card. Just over 2inches x 3.5". Paris photographer, Disdéri patented this in 1854. The technique took a few years to take off and only really was popular once they had captured Napoleon III photograph in 1859. They termed the technique "cardomania". The cards became what they decorated Victorian Parlours with of those times. The wallpaper of memories and change.
Fenton arrived after the major battles of 1854 and took many of the photos around 1855-1856. The Exhibition features original glass plate prints from negatives.
The Royal Family collected just over 400 photographs by Fenton. The Prince of Wales, as only 12 years old, took a very conscientious attitude towards learning about the war. He later became King Edward VII, so in adulthood visited Crimean battle sites he wrote touching letters about to his mother Queen Victoria. The Prince owned just under 350 photos he kept in albums at his home in Norfolk Sandringham House.
First Public Viewing of a War Zone
This was the first time they had shown the public photos of a war zone, at the time they only brought overseas conflicts to life through the print of newspapers. Now in a visual context the empty battlefields, the harsh extremities of living and surviving in these harsh environments could be seen by those at home.
The Allies with Britain against the Russians were Turkey and France.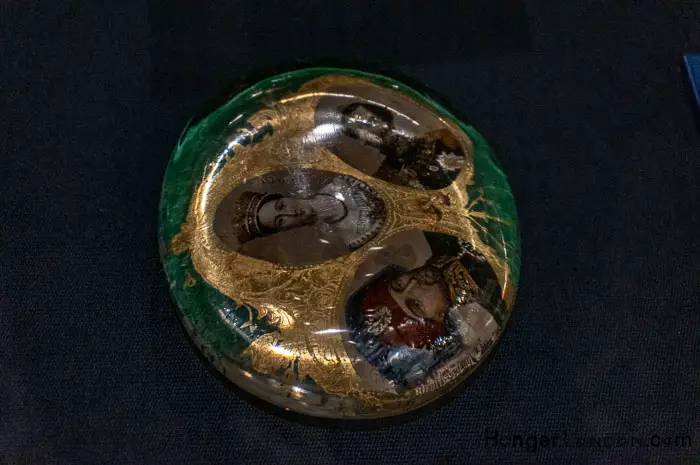 Paperweight c 1855 glass with prints of the 3 allied leaders in the Crimean War.
Queen Victoria Great Britain
Ottoman Emperor Abdülmecid I – Turkey
Louis Napoleon III – France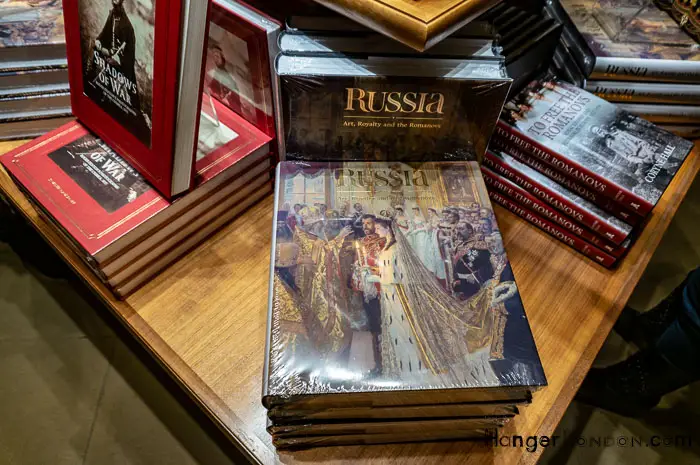 The Exhibitions links
RUSSIA Royalty and the Romanovs
Fenton's Photographs of the Crimea
Other Links and reads on this topic
Claridges and the russian Romanov page
Evening Standard – Russia, Royalty and the Romanovs review: Powerful family ties mean politics gets personal
Where is the Queens Gallery