London is developing a fine tradition in putting out art for the public to touch, feel and find in a form of a London City Trail. One of the most memorable London trails was for the Tusk charity show case Of quite extraordinary set of Rhino's. Gear in hand we went on the #TuskRhinoTrail.
Brief explanation of what is the 'Tusk' Charity
The Tusk mission statement is one of advancing conservation. They campaign for the protection to save at least 40 different species. Over a 30 year period Tusk have broadened their work over 20 countries and are always seeking new ways of raising funds and building awareness of their causes. HRH The Duke of Cambridge made a positive statement on their website about Tusk. Conservation is something All the Princes, Charles, William and Harry have close to their hearts.
Completing a London Trail is great for your mental health and well being
The positive aspects of trails are that its good for all ages gets people out and about, discovering new places, revisiting old places. Finding inspiration in the artworks, getting good map skills. Learning about the type of art or about the artist and the story behind their piece.  Trails raise awareness and money for charity and it's good causes. So many positives to list.
If you have kids you can throw in the education benefit or simply the family activity of the year, besides Monopoly.
Showcase of the London Art Trail
Rhion 20. no name but the rhino is painted in the colours of a Zebra
By Artist Glen Baxter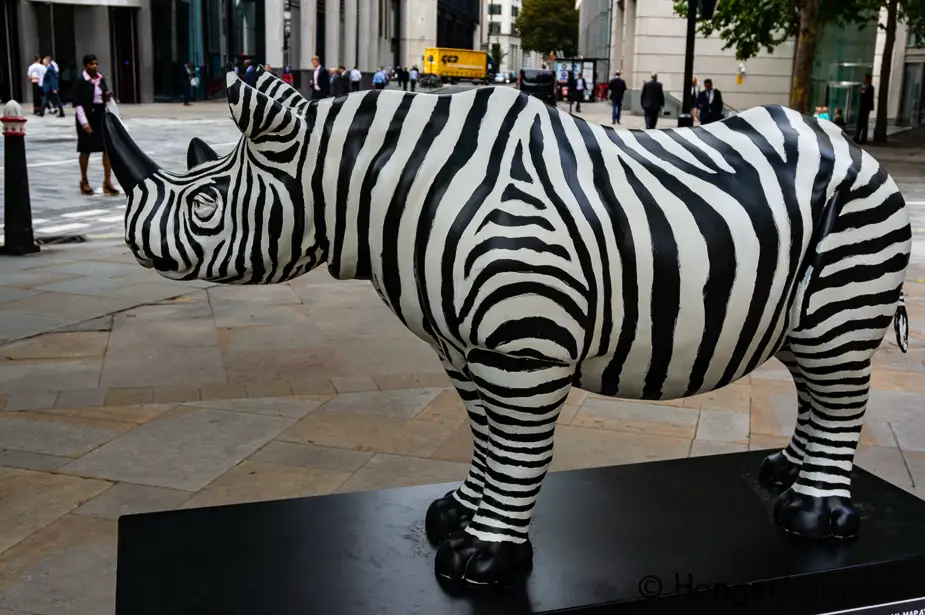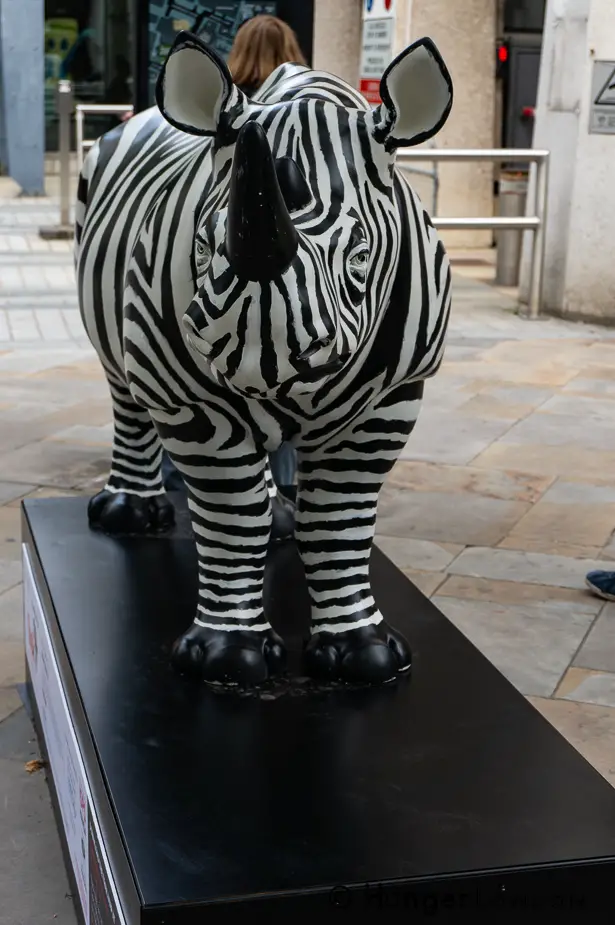 A Brief note on who is the Artist Glen Baxter
Glen Baxter is noted as a draughtsman and cartoonist. A draughtsman being someone who draws details and technical drawings. For a real treat to the eye, why not pop over to http://www.glenbaxter.com/ for pastel centred cartoon art. Those tones are are particular favourite from the colour pallet. I always draw inspiration where fonts, illustration and colours are so superbly presented.
Rhino 21. A.D's Rhino, Artist Adam Dant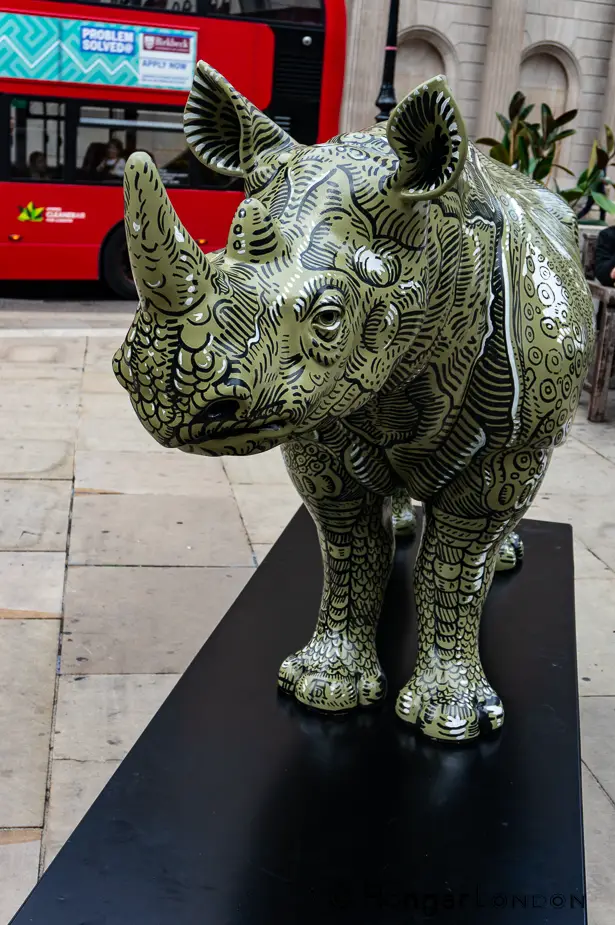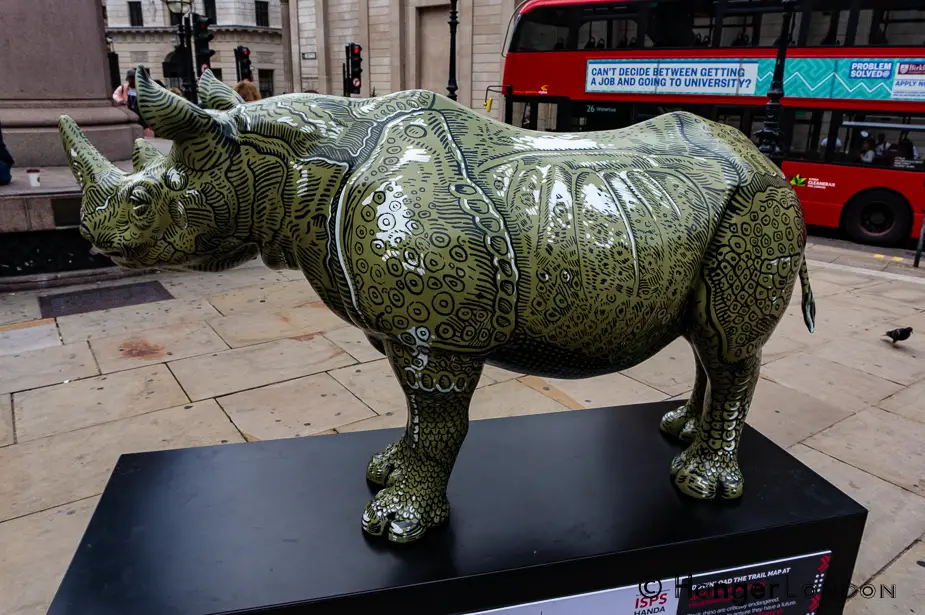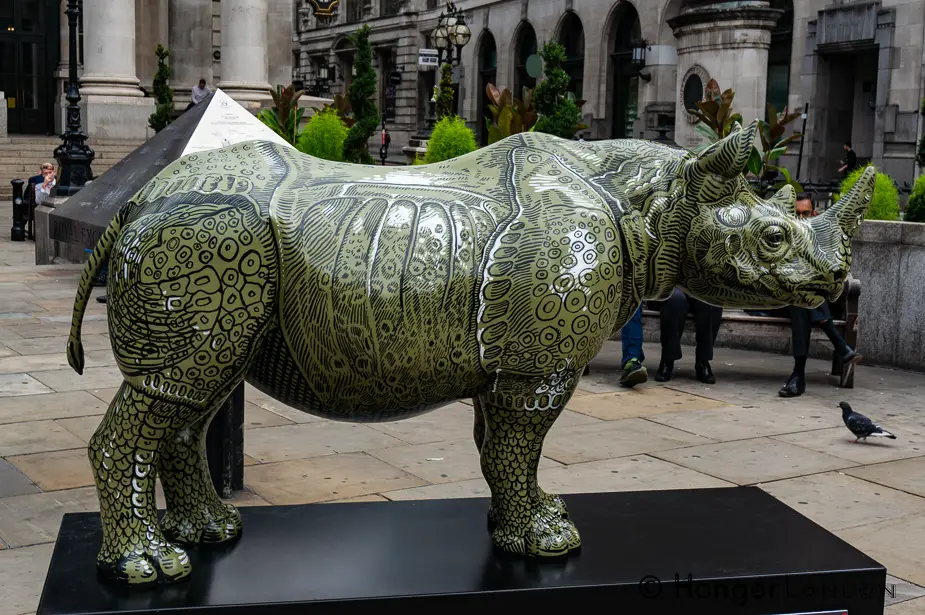 Short note on the Artist Adam Dant
Artist Adam Dant, looked at the first drawing of a Rhino from 1515 by Albrecht Durer woodcut print. This was created by a written description. It is in the National Gallery of Art in Washington USA. Dant's Rhino tribute to this is stunning in a khaki type green colour the black embellishments add texture.
British Dant, lives works In London and was given the role of Election Artist by the British House of Commons 2015 general election. Winner of the Jerwood Drawing Prize 2002.
Rhino 19. The Poppy Rhino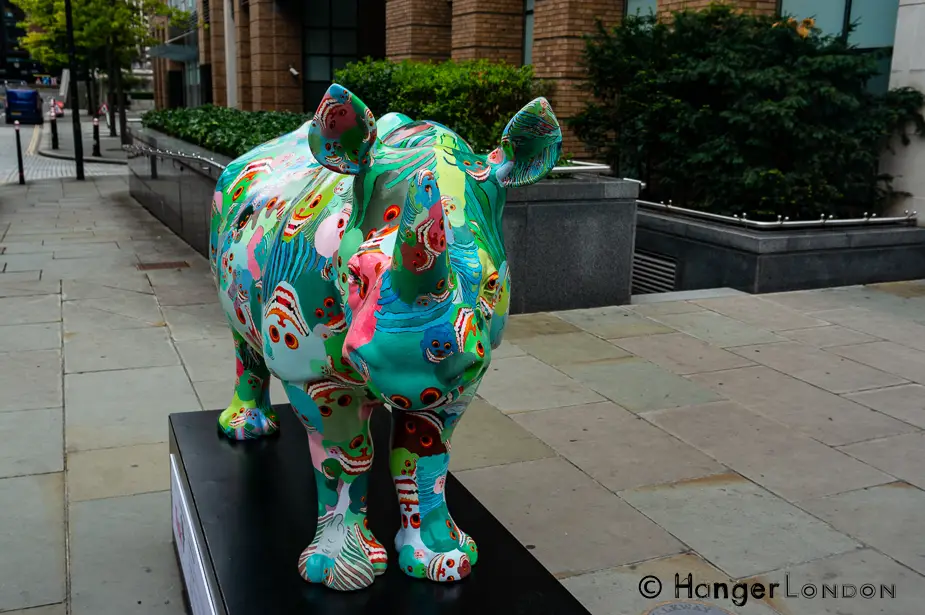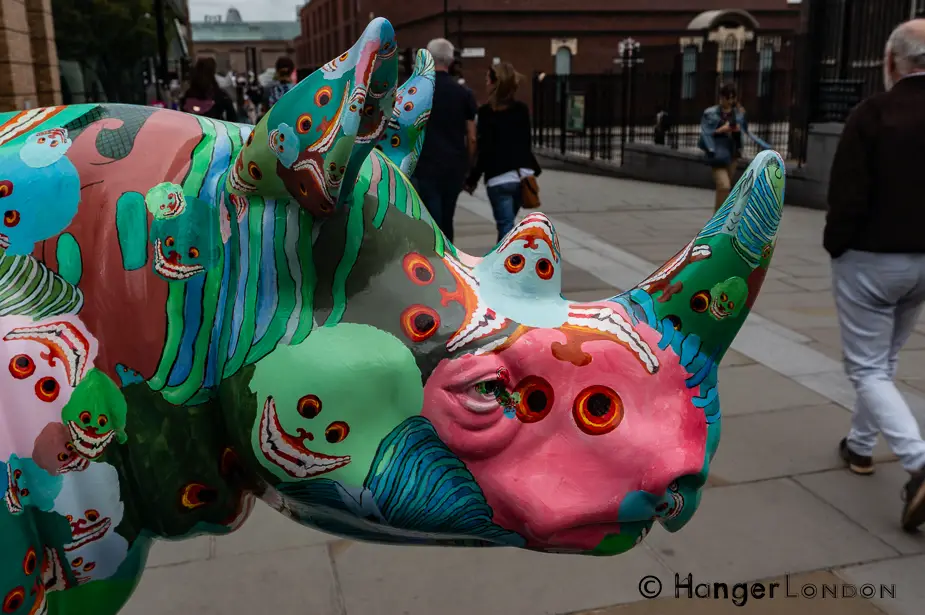 Touching on themes to do with Skulls in the artist's work. Tibetan Skulls used in the spiritual sense as anti-dote to vices, addictions, passions. Poppies also appear in the artist's work symbolic.  Chinese Artists with International exhibitions and work bibliography from the early 1990s. Buddhist incense ash as a medium and touching on spiritual elements and beliefs. The French gave this artist one of their highest awards that was set up by Napoleon to replace knighthoods The Chevalier de la Légion d'Honneur,  For zhang's contribution to the communication between Chinese and French culture. The Artist also set up "Hope" schools in poor areas in China.
Rhino 17. Rhino Etero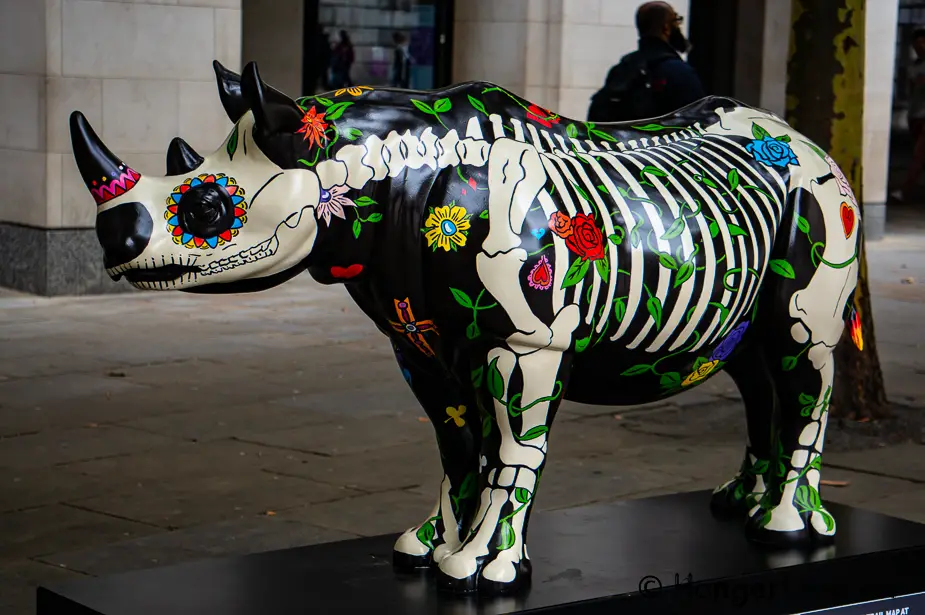 Taking the Day of the dead theme to warn people that if the animal is not protected we will be celebrating the Rhino's day of the dead.
Scottish Artist David Mach, his work the tumbling red telephone boxes in Kingston entitled "out of order" . He was a lecture in Kingston University. He is internationally known. A professor of sculpture at the Royal Academy Schools. Noted for several awards and has a studio in London.
Rhino 16  The Rhinoceros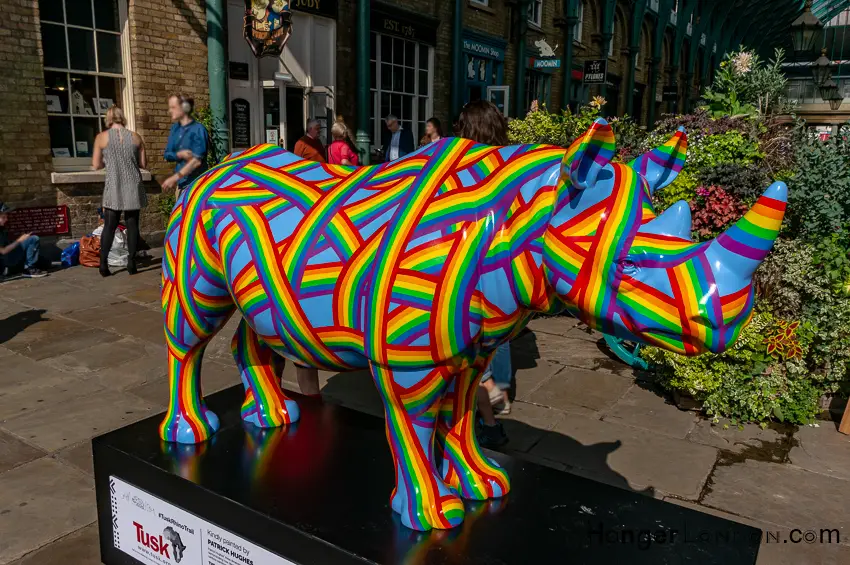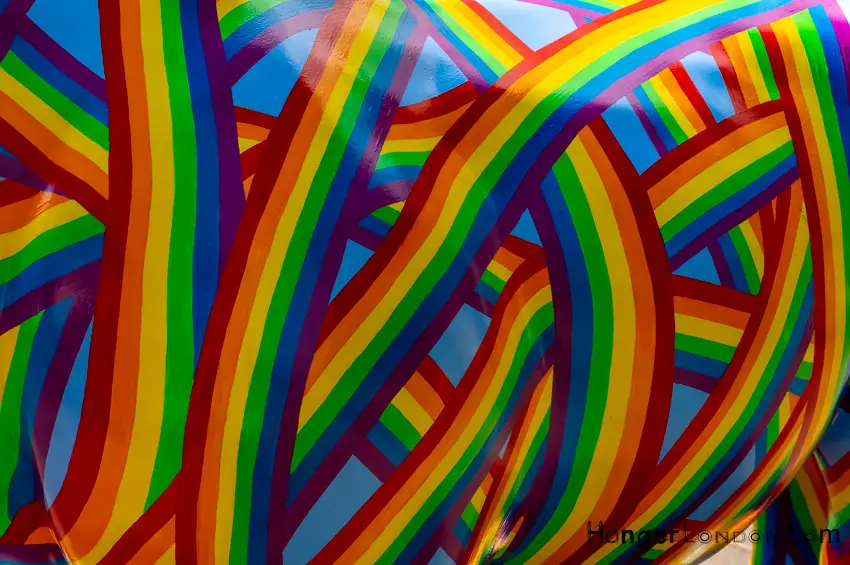 Rhino 15 Going, going, gone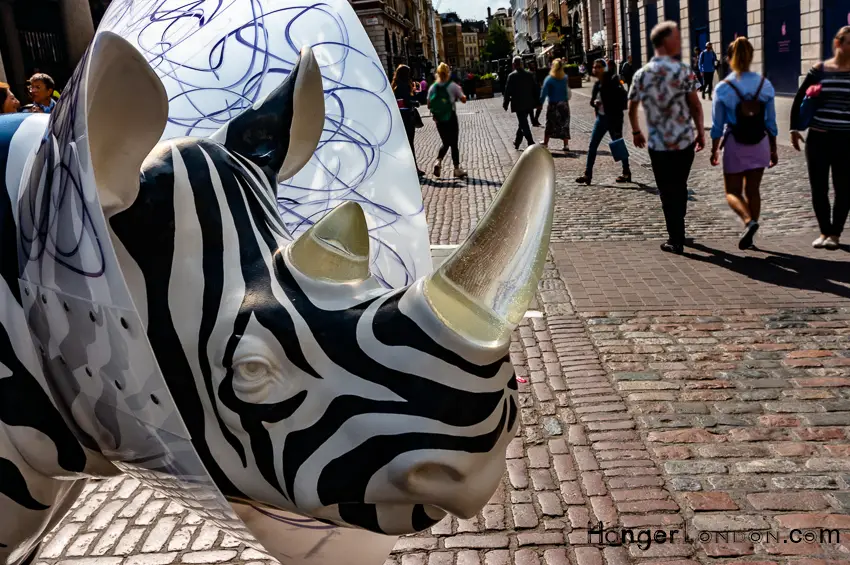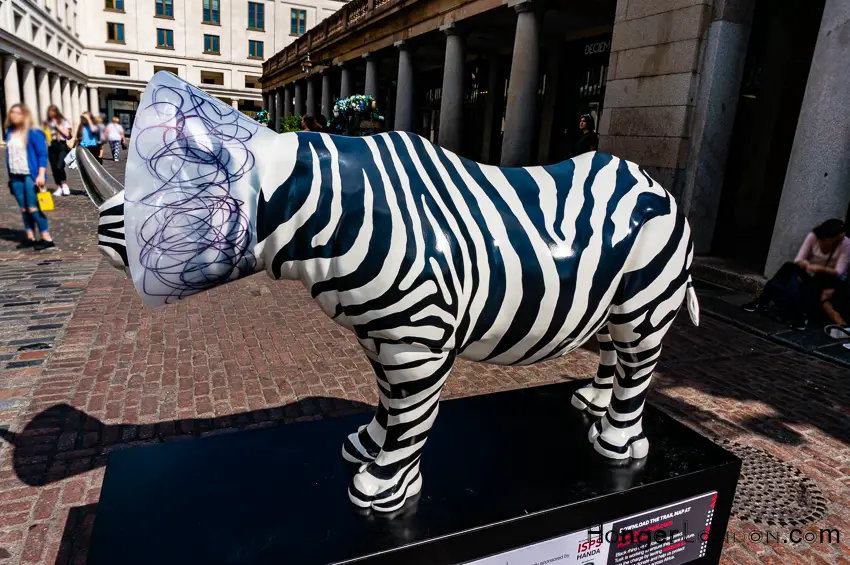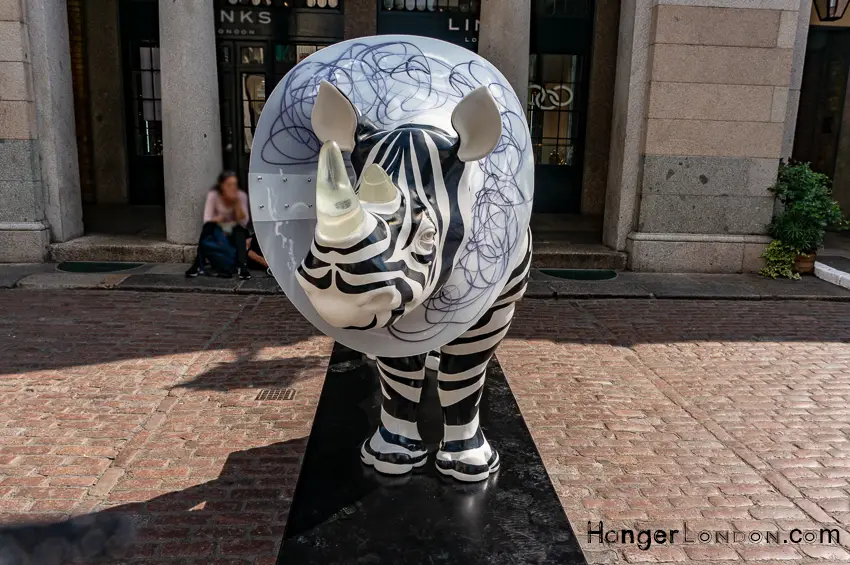 Rhino 14 Save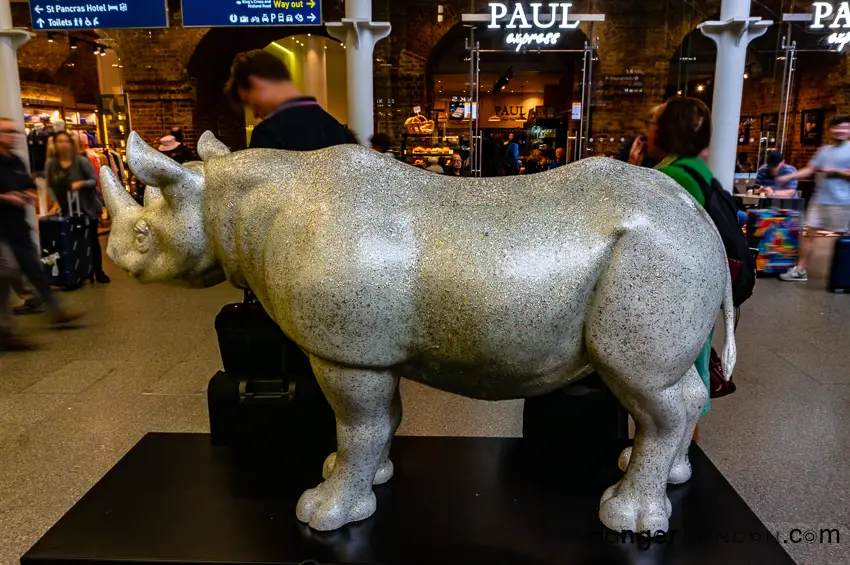 Rhino 11 by Gavin Turk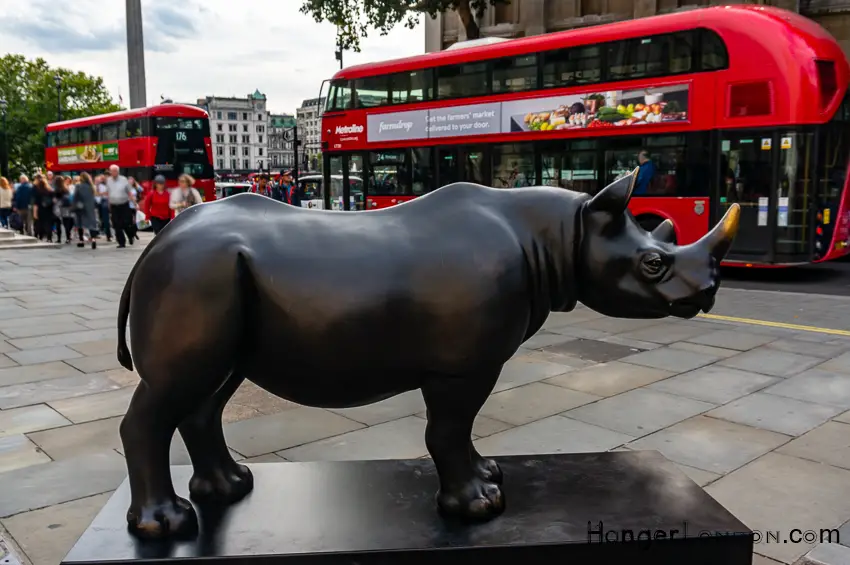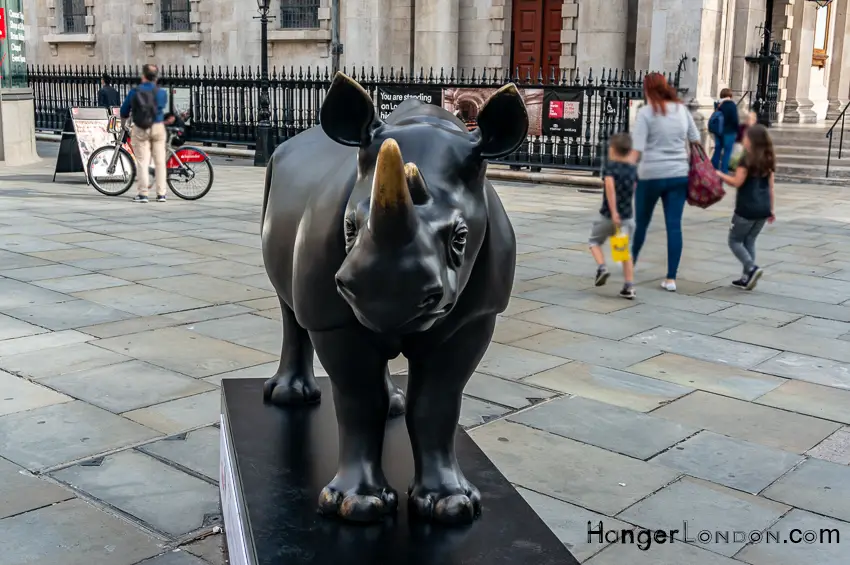 Rhino 10 Hate's Outta Date!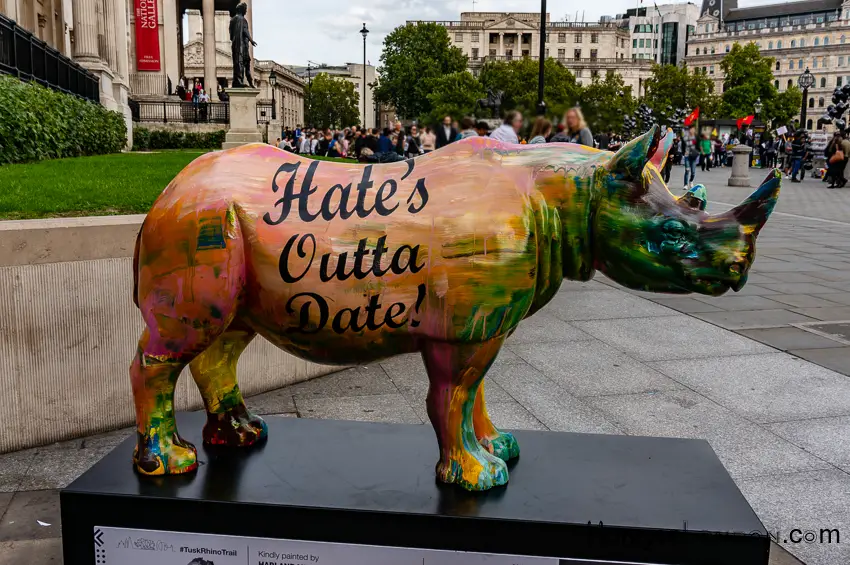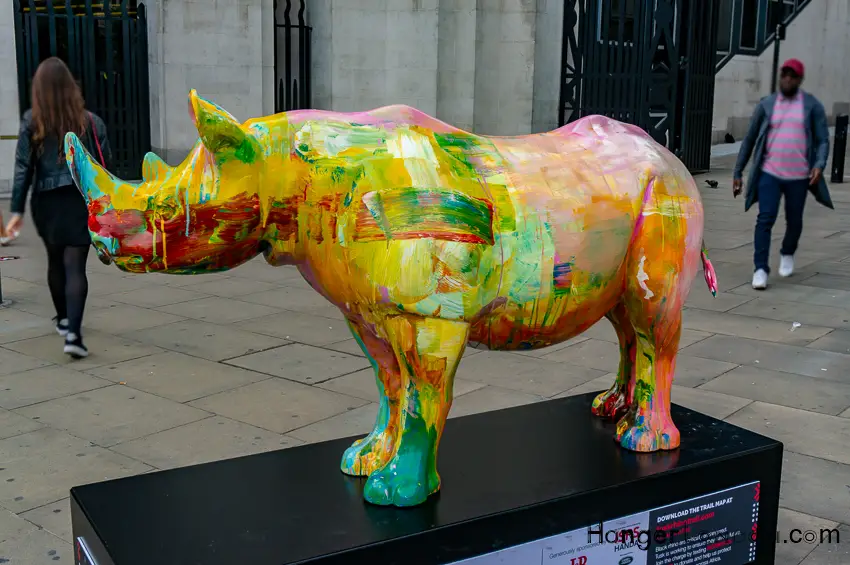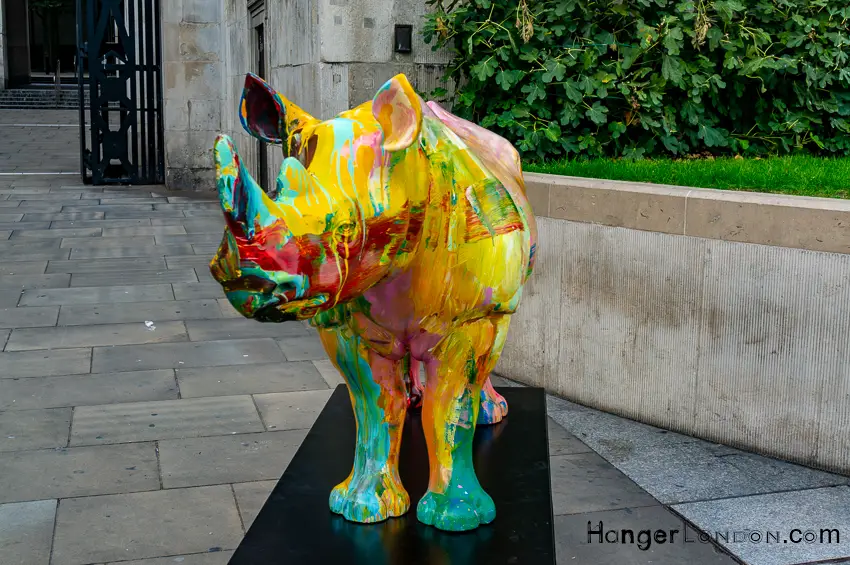 Rhino 12 Sponsored by Landrover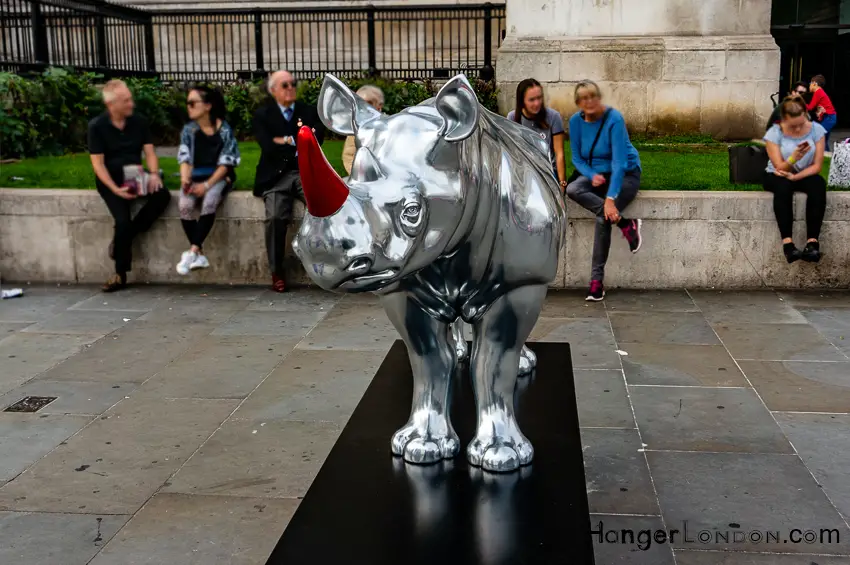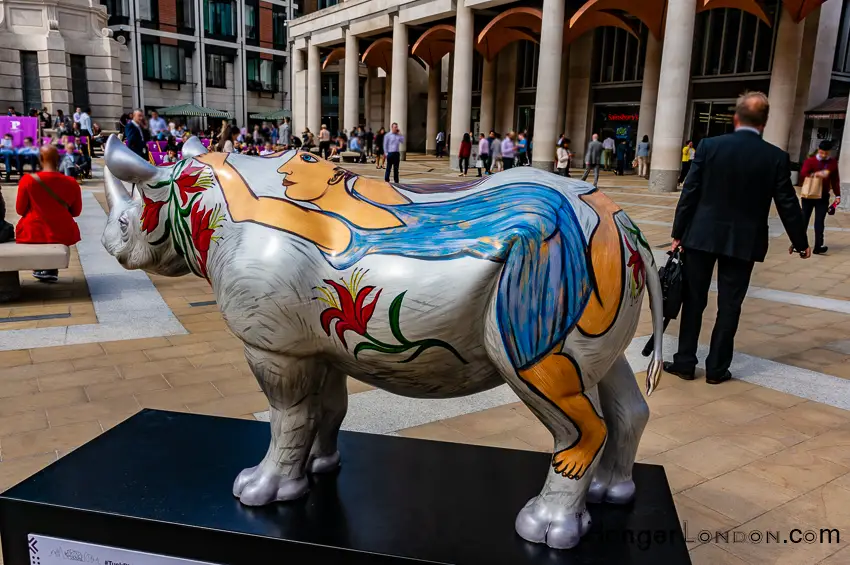 Rhino 13 Rhino Noir
There are a black Species of Rhino that is getting extinct. This British Artist Charming Baker, breaks down deliberately structures he creates, shooting, cutting, drilling sawing etc., and puts them back together. The message is that the species is breaking down. This rhino compared to others has a bent knee pulling it down to the floor adds to the symbolism of the message. The Artist studied and lectured at the London Central Saint Martin's. He has engaged in work for charitable causes known internationally. On his websites a series of intriguing animal masks in painted and polished bronze.
Challenges
For the seasoned weary hunter, it is a return to struggling with maps, apps, websites, that often are not as accessible or user-friendly as one would like.
Other challenges, taking kids who can't cope with the walking, or frustration of not being able to find the items, or seriously just not interested. In contrast,  to kids who can cope and expect to be able to do the whole trail before home time, despite the mileage from one end of the city to the other.
London Trail Etiquette
Perhaps a debate topic and definitely something that comes up when you meet a fellow trail walker.
Some common observations of the perils and pitfalls on the pit stops.
-Endless waiting for people of all ages, to stop climbing the structures so you can at least get a view of-the-art piece, let alone take a photo.
-Long waits for selfie crews to finish going through their whole entourage.
-People obstructing the objects to eat a meal and use the structure like a park bench, totally oblivious to people politely, patiently waiting for a chance to take a shot.
-Being queue jumped by the next circus act who thinks you are waiting there for fun. Not to forget the rudeness and hurry up tactics creeping up behind you.
-Remnants of food, clothing, and loitering from parked prams, parked bikes, smoking, to dropped rubbish.
-People just not moving on a few steps away, stacking the odds of you not being able to get a clean shot.
The Solution perhaps, picking time slots carefully, but some of these characters belong on Candid Camera.