The Lord Mayors show was the Kings idea; King John he came up with a cunning plan to request the Lord Mayor march each year to pledge loyalty to the King (or Queen), this has taken place for every monarch since. William Russell is the current and, 692nd Lord Mayor of London and continues to be in this position over the Covid-19 pandemic.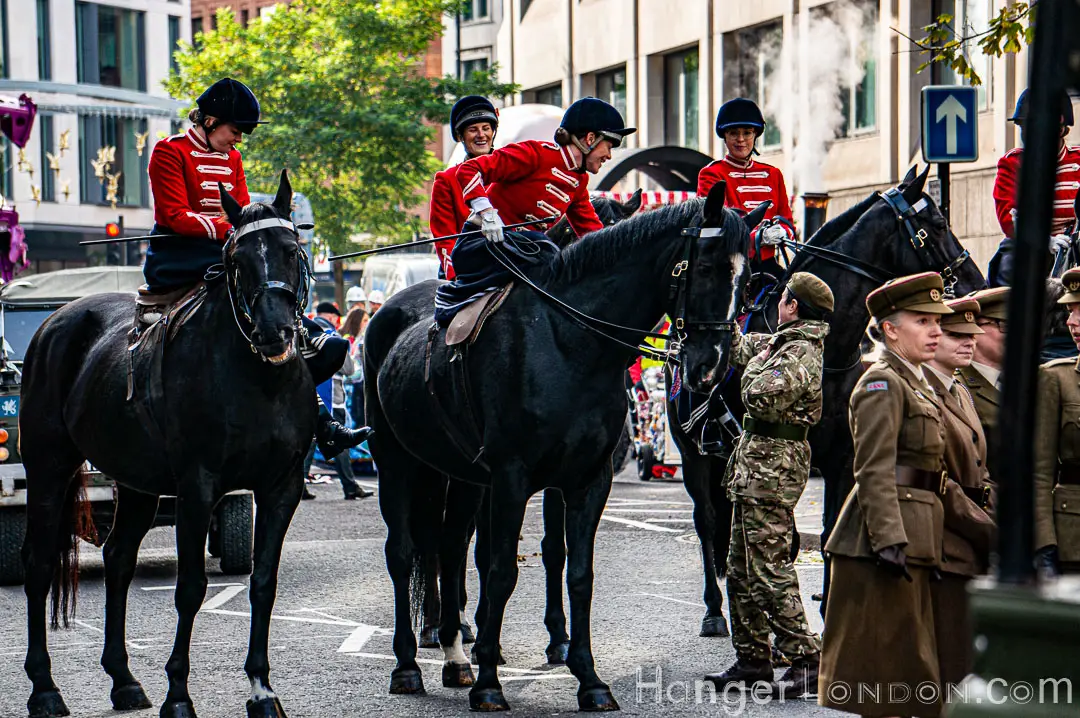 What is the Lord Mayor's Show?
Henry fitz Ailwin de Londonstane was appointed the first Mayor of the city of London around 1189 by King John. The King created the post of Mayor through a Royal Charter which allowed the city of London to elect its own Mayor each year. In return for this greater autonomy, the King needed access to finances from the City of London and to be on the side. Like all good deals, there was a catch, the King added the condition that each year the Mayor must march up to Westminster and pledge loyalty to the king. If you ever needed an example of duty and honest delivery of duty, this is it. They have carried out the trip over the last 804 years, with the pledge of loyalty being served to 34 Kings and Queens of England.
Sights and Sounds of the 2019 Lord Mayor's Show Parade
Cancelled once in 804 years
Pause for a moment to appreciate this annual event ran during the great London Plague, extreme weather, a city ravaged by the effects of the Great Fire of London and 2 world wars. The Show has changed with the times, in wartime it became a recruitment drive to draw more people into the armed services. They canceled the show in November 1853 for the Duke of Wellington's funeral, which as an event became one of the most spectacular funerals in England, drawing in over one and a half million people along the streets leading up to St Pauls Cathedral.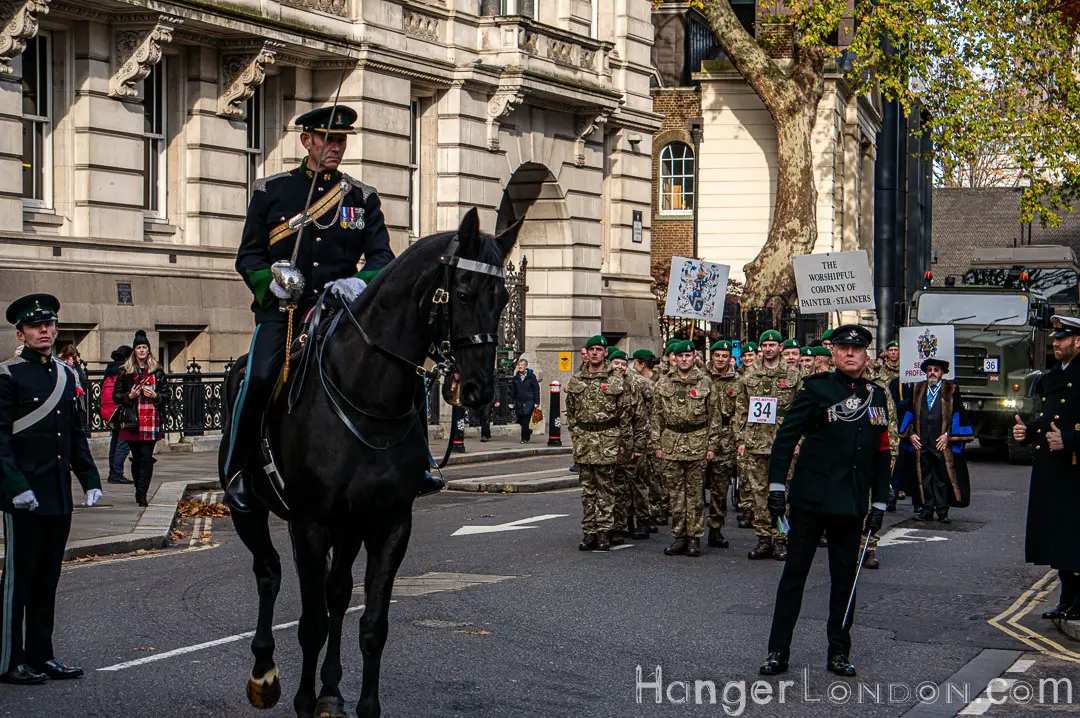 Where does the Lord Mayor's Show Begin?
The current version of the route has been in place since 1952, diversions are sometimes necessary on a year-by-year basis, but the route remains unchanged.  In 2019 the show started at 11 am from Mansion House, by 12:08 am the last float departs the start, all on the march on the 3-mile journey. The route takes in the Royal Courts of Justice, a blessing at St Pauls Cathedral and an exit of the City of London by the old Temple bar gate. It really is something the British does well, tradition, discipline of the Armed Forces of the United Kingdom.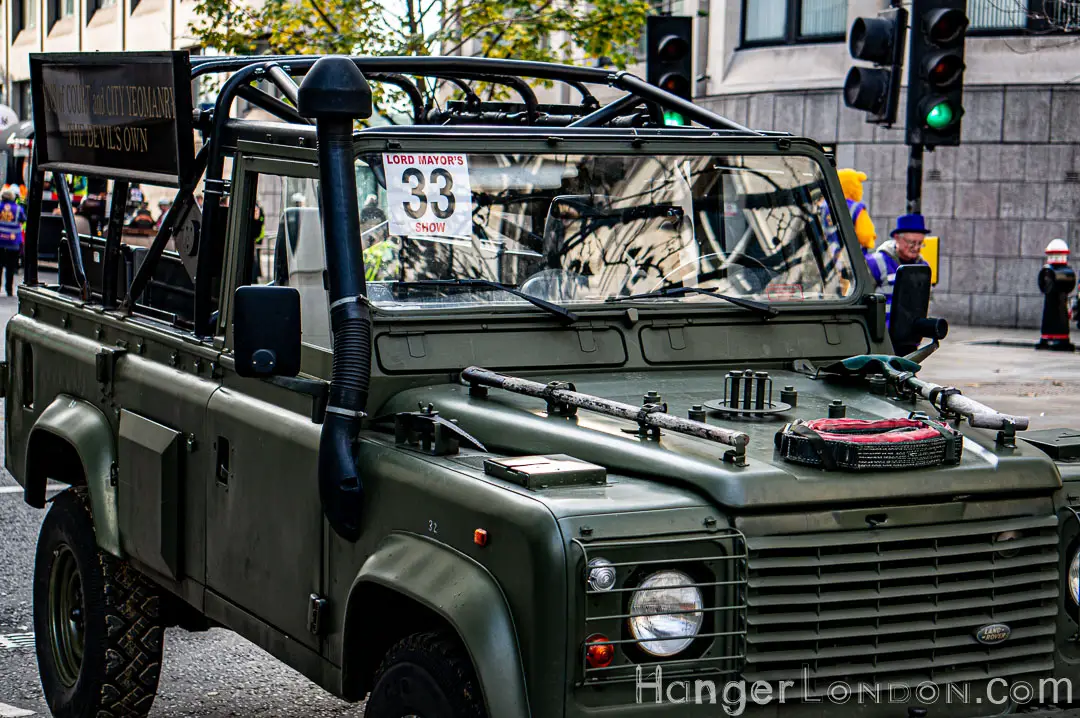 Lord Mayor's Show Land Rover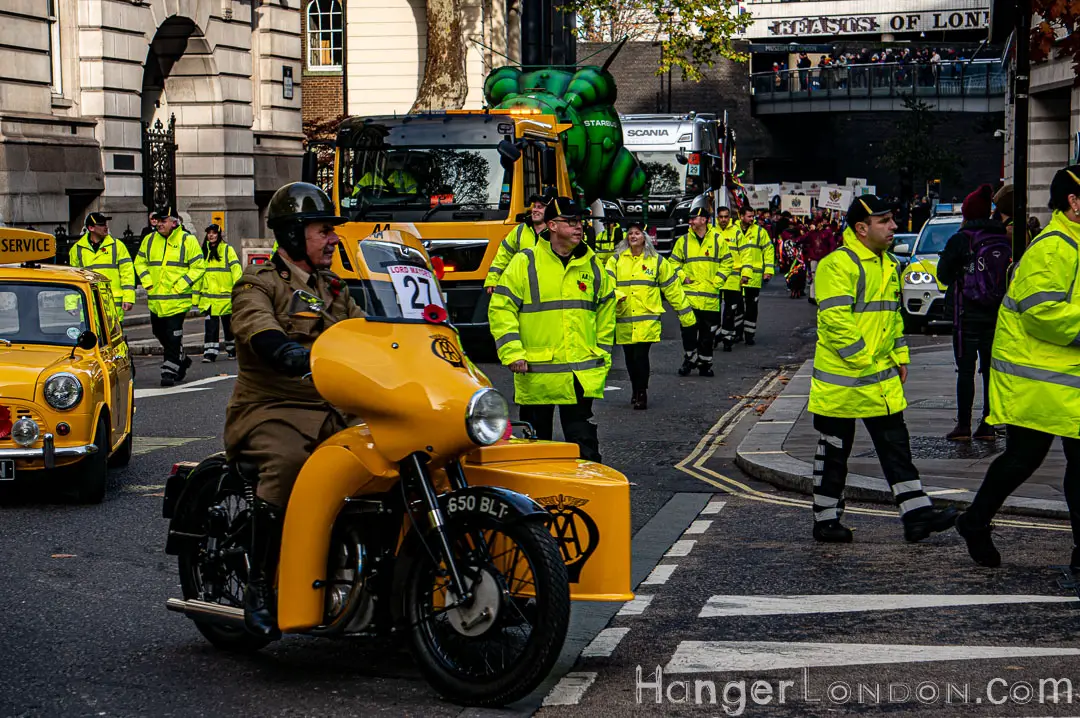 Who was in the 2019 Lord Mayor's Show?
Band of the Scots Guards
The London Regiment, Military Band

Thriplow Village representation, the home of the 2019 Lord Mayor elect William Russell

Haberdashers' Adams, a selective state grammar school for day pupils and boarders, in the rural market town of Newport in Shropshire. The school was founded in 1656.

Knightsbridge School & Place2Be which is

the leading national children's mental health charity

Durham University

Romford Drum & Trumpet Corps, Civilian band

Cambridgeshire

CCCUK (China Chamber of Commerce in the UK)

Worshipful Company of Farmers, supported by the NFU and 

farm machinery manufacturer Massey Ferguson, Red

Haberdashers' Aske's Federation Trust, m

ulti-academy trust of four secondary schools and five primary schools in south east London

Gog & Magog / Guild of Freemen

Kingston & Malden Scout & Guide Band,

Civilian band

Girlguiding London and South East London

CCA Art Bus, designed by 

Sir Peter Blake, this iconic mobile gallery and double-decker work of art was first launched in May 2009, born from the idea of having a travelling art show designed in the spirit of Rock'n'Rol

Haberdashers' Monmouth Schools

Warburtons, grocery store founded in 1870
Bread Street Ward
Band of the RAF Regiment, Military band

Royal Air Force, M

ilitary unit

Royal Auxiliary Air Force, 600 Squadron,

Military unit

Royal Air Force,

Military unit

Worshipful Company of Framework Knitters

Haberdashers' Aske's School for Girls, Elstree

Lord Mayor's Appeal Charity Partners

Air Cadets and Air Cadets Band, London Area

Automobile Association

Worshipful Company of Coachmakers & Coach Harness Makers

Worshipful Company of Mercers
Modern Livery Companies
Royal Yeomanry, Military unit

Band of the Royal Yeomanry,

Military band

71 Signal Regiment, 68 Signal Squadron, Mi

litary unit

3 Military Intelligence Battalion

FANY,

Military unit

151 Regiment Royal Logistic Corps
103 Battalion REME
Army Cadet Force (Middlesex & NW London, SW), Cadets band
Fortnum & Mason
Mizuho, financial instituion
City Bridge Trust

Blenheim Chalcot

UK Export Finance / DIT
Zunft zur Waag and Band
Worshipful Company of Feltmakers
United Wards' Club with Rotary International in GB & Ireland
Prostate Cancer UK
Hong Kong Economic & Trade Office, London
Variety, the Children's Charity
Medina Marching Band, Civilian band
G Company, 7th Battalion The Rifles
B Company 4th Battalion Princess of Wales's Royal Regiment
B Company 4th Battalion The Parachute Regiment
144 Parachute Medical Squadron
University of London Officer Training Corps
1st Claygate Scout & Guide Band, Civilian band
Worshipful Company of City of London Solicitors, the City of London Solicitors' CompanyA modern Livery Company representing 16,000 City solicitors
C S Hodges & Son
State Bank of India
The Cook & The Butler Event Company / National Bakery School

RateSetter

St Sebastianus Guild Band, civilian band
Bank of England, The Bank of England is celebrating its 325th Anniversary at the Lord Mayor Show.
J B Riney & Co
Metro Bank
Dogs Trust
British Red Cross
Household Troops Band of the Salvation Army, civilian band
106 Regiment Royal Artillery, 265 Battery
101 (City of London) Engineer Regiment (EOD)
135 Geographic Squadron RE
256 (City of London) Field Hospital RAMC
253 Pro Company Royal Military Police
London Bugle Band – Boys' and Girls' Brigade
Hyperion Insurance Group
Fenwick
Help for Heroes,
Rwanda High Commission
London Underground Emergency Response Unit

Mill Hill School CCF Corps of Drums

Hampton School CCF
Worshipful Company of Insurers

City of London Corporation – Recycling in the City

Worshipful Company of Paviors
Goodenough College

Corps of Drums Society

Tregothnan
Welcome to Yorkshire
Metropolitan Grand Lodge of London
Arriva London
City of London Corporation – City Schools

Band of HM Royal Marines, m

ilitary band
Royal Navy
Royal Naval Reserve (HMS President)
Royal Marines

Royal Marines Reserve (City of London)

131 Independent Commando Sqn RE

Sea Cadets and Sea Cadets Band, London Area

British Airways

Embassy of Kazakhstan in the UK
Bart's Hospital Volunteers
City, University of London
St John Ambulance
Coleraine Fife and Drum Band
Canary Wharf Group
Zhejiang UK Association with Walk for Peace Foundation
Taylors of Harrogate / Yorkshire Tea
ASDAN
Eddie Stobart Logistics
Mansion House Party
Christ's Hospital School Band
King's Troop Royal Horse Artillery
CLC / G of F / R Soc St G / UWC

The Great Twelve

Carriage
Worshipful Company of Pattenmakers

Worshipful Company of World Traders

Worshipful Company of Haberdashers

Deputation of the LM & Sheriffs' Committee

Chief Commoner, Chamberlain and Commissioner

City High Officers

Town Clerk and Aldermen below the Chair

Aldermen below the Chair

Aldermen below the Chair

Aldermen below and past the Chair

Aldermen past the Chair

Honourable Artillery Company

Sheriff (Non-aldermanic)

Sheriff (Aldermanic)

Late Lord Mayor

Lady Mayoress

Light Cavalry, HAC

Pageantmaster

Household Cavalry Mounted Regiment Band

City Marshal

The Rt Hon the Lord Mayor
Company of Pikemen & Musketeers, HAC
Household Cavalry Mounted Regiment
Tack and Coach Support Vehicles
Household Cavalry Mounted Regiment
140: King's Troop Royal Horse Artillery
Support Taxi
103 Battalion REME
and lastly, the City of London Corporation – Cleansing
Military Equipment on show at the Lord Mayor's Show 2019