There are 8 Royal Parks in London but Holland Park isn't one. When King Henry the VIII seized various parcels of land for his deers, Holland Park was not on the list.  The largest park in South Kensington at 54, looks more like a Royal park but it isn't, the non-royal Park with a Castle and a Japanese Kyoto garden
Holland Park the most regal looking non-Royal Park
Thanks to King Henry the VIII London has some of the finest green spaces of a city as complex and interwoven with infrastructure like this one. For it was King Henry the VIII appetite for wanting to set up hunting parks, In London, that the big Royal Parks became the property of the Crown. Holland Park had a slightly different story 
The park is 22.5 hectares / 54 acres and contains gardens that span from the 17th, 18th  and 19th Century gardens and parkland design.
Cope Castle becomes Holland House
Sir Walter Cope built Cope Castle which was a Jacobean mansion hidden in the woods of Holland Park, this was around 1605-1608. Sir Walter Cope was Chancellor of the Exchequer During the reign of King Charles I. They landscaped The estate with a covering of exotic plants and trees. The estate's gardener was John Tradescant. The King stayed at Cope Castle once in 1612. 
The pillars to support a new imposing gate was built in 1629 and still be seen today, though the original gates have long gone. 
Sir Walter Cope son-in-law Sir Henry Rich, 1st Earl of Holland took over the house where it Cope Castle became Holland House. The 1st Earl of Holland joined parliament but switched sides with the Royalists. Military action during the civil war ended with his capture, arrest, and trail for Treason. Sir Henry Rich would hold that it was on condition of surrender that they spare his life, on the 9th March 1649, that was not to be and they executed him at Westminster Hall.  It is said that the Ghost of the first Earl of Holland Park has been seen walking the area. 
For a time they stationed the Army at Holland House and even Cromwell himself visited a few times. The house then moved to the Earl of Holland's wife Lady Rich inherited the property.
Holland Park today
William Kent and Charles Hamilton designed the park layout in the early to mid-18th Century.
Despite the park having vast historical heritage, it was only open to the public from 1952.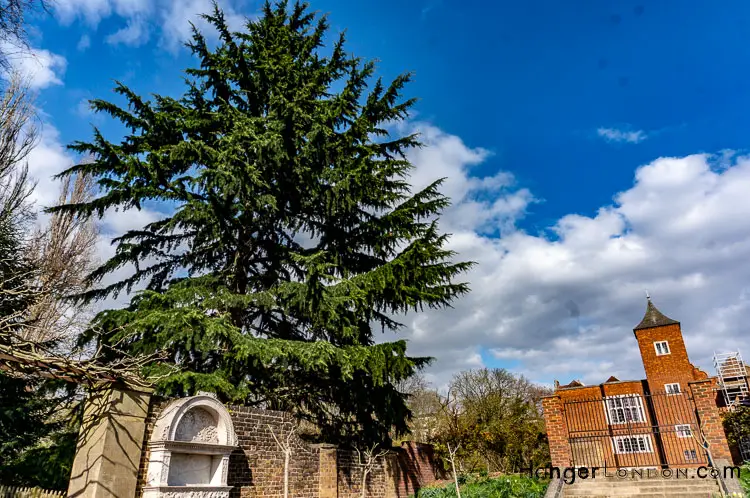 A fire from an incendiary bomb damaged Holland House in 1940, the damage and ruins you can still see today.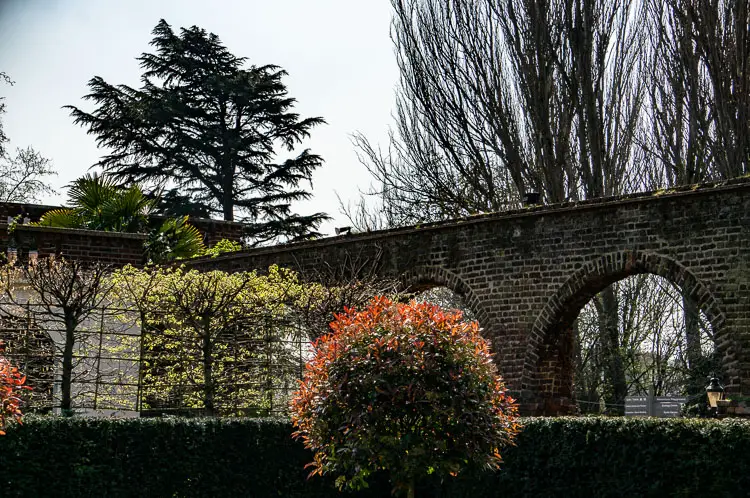 The international elements to the gardens feature a Dutch Garden, decorative flower beds in geometric patterns, terraces and a Japanese garden area.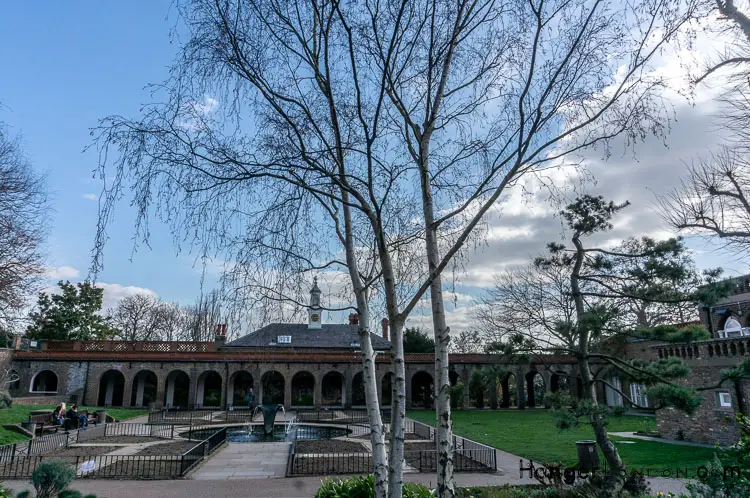 Japanese inspired  Kyoto Garden in Holland Park.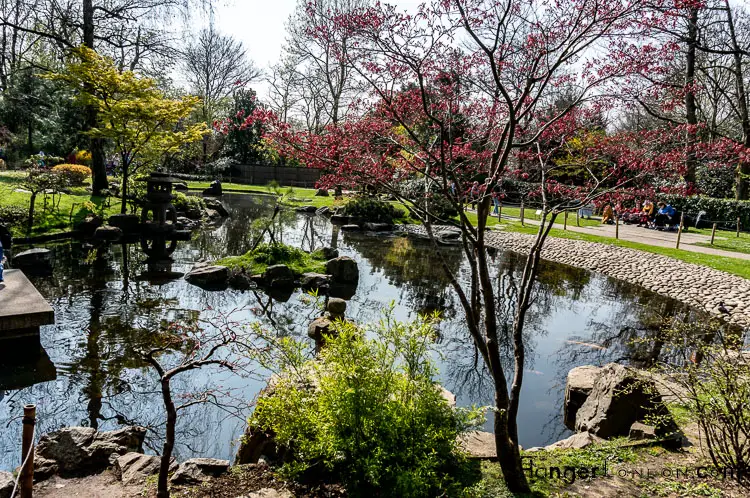 By Chamber of Commerce of Kyoto in 1991. This was to be part of the London celebrations of the Japan Festival in 1992.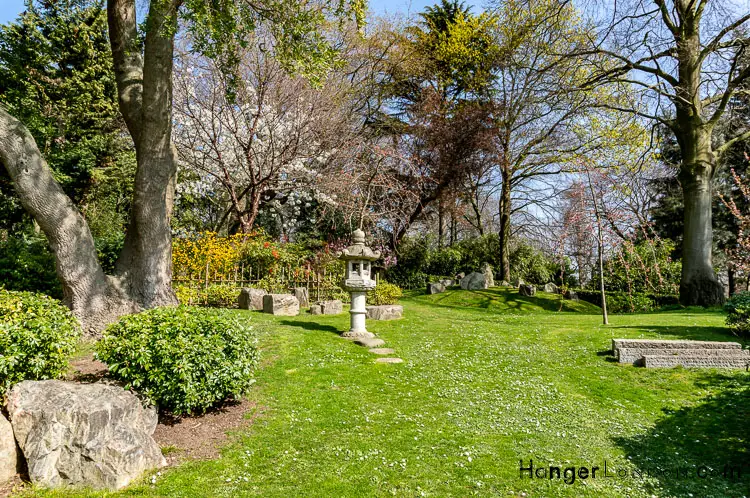 Individual Blossoms and features of the Japanese Garden
Kerria Japonica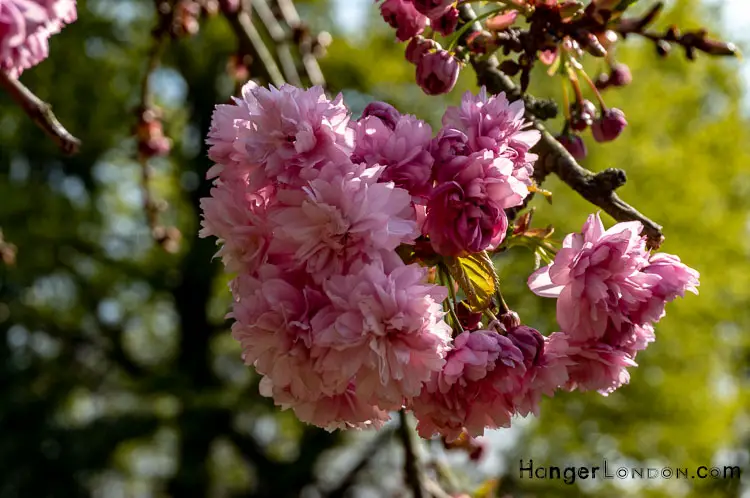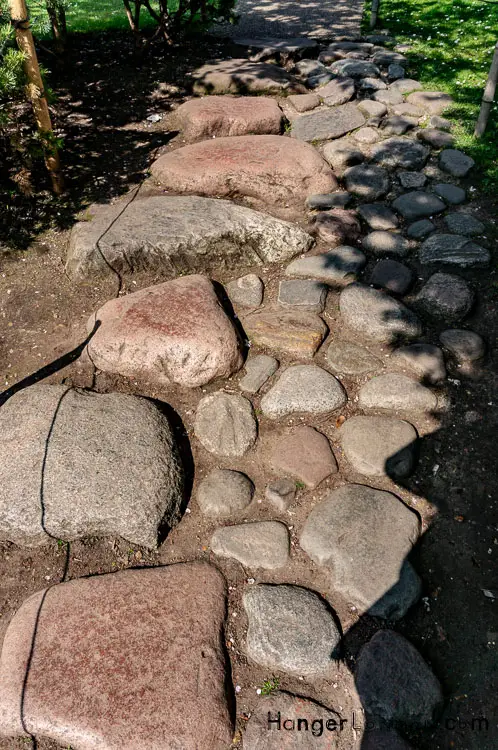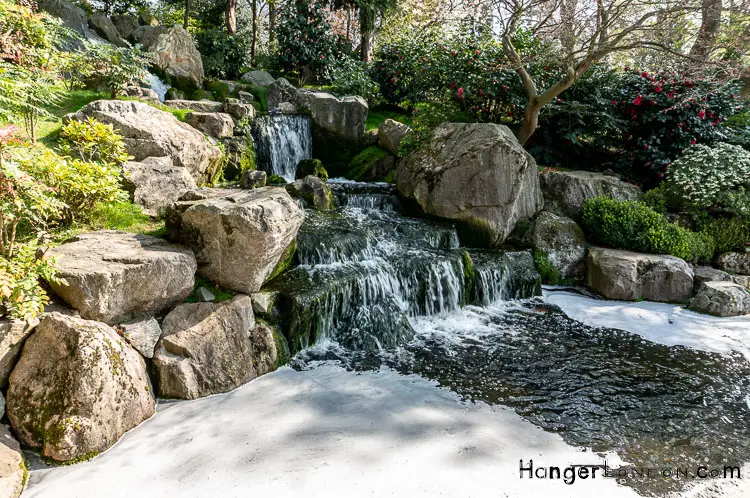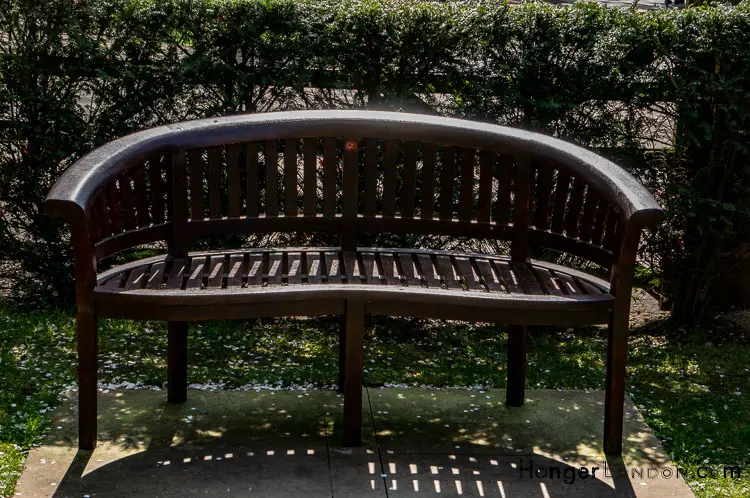 Themed sections like Iris garden with a little pool, Azalea Walk was known as Rose walk before which had been started by Lady llchester around 1894. This walk leads to the statue of the 3rd Lord Holland.  In 1876 the 4th Lady Holland planted Lime-Tree Avenue westward from the statue. These mostly had to be replaced in 1987 due to October storms.
Woodland walks in Holland Park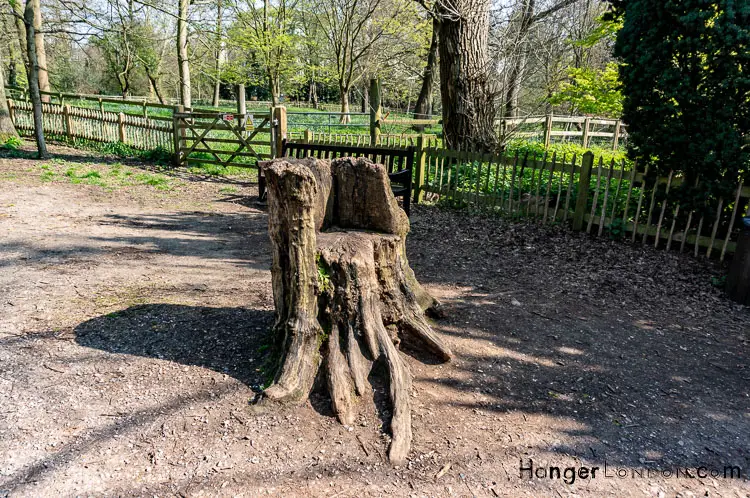 Sun Terrace features seating and flower beds on several levels with a birdbath designed for disabled access.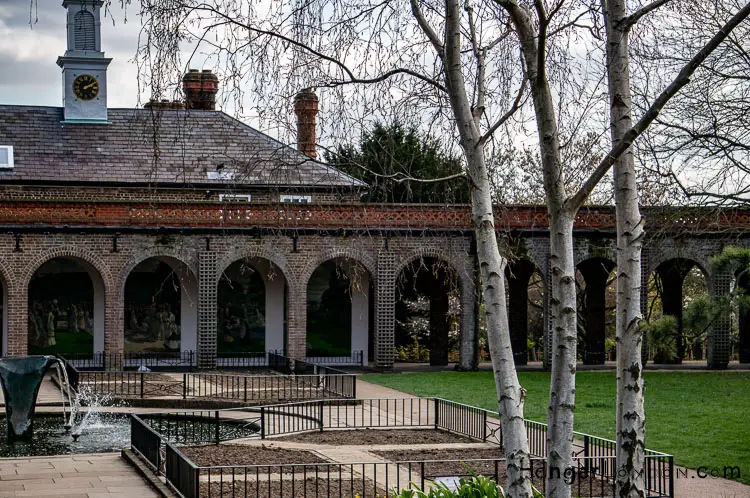 Kensington High Street Entrance invites with large decorative 18thC wrought iron gates that were Belgian. Bought by the 3rdLord Holland in 1836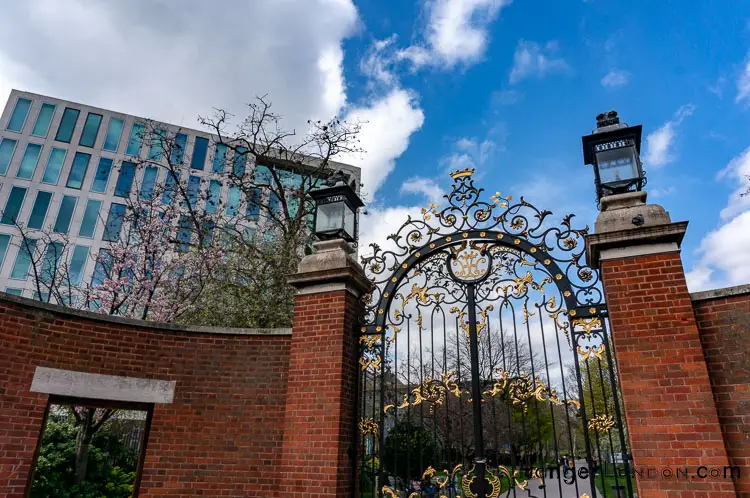 Ecology service base for the borough. They run events for the public and schools and educational programs.
Adventure playground open summer 2019
Statues in Holland Park
There are many, here are a few to find. 
Lord Holland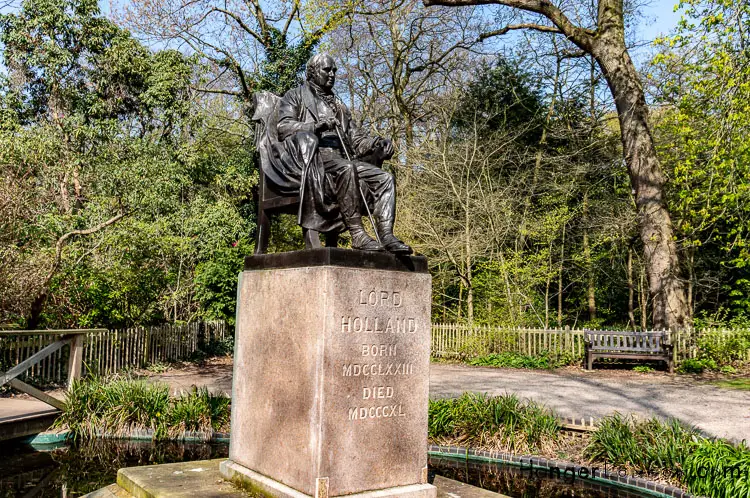 The sculpture is by G F Watts RA and Sir Joseph Edgar Boehm RA
Henry Richard Vassall Fox 3rd Baron of Holland
In office as Lord Privy Seal  8/10/1806 to 31/3/1807
This was under Prime minister, Lord Grenville and Monarch George III.
Walking Man sculpture by Sean Henry year 2010.
Size 193 x 61 x 71 cm  painted bronze.
The Artist looks at perception and scale real-life experiences, human existence
Horns, cogs sculpture
Annunciation by Andrew Burton 2000
Symbolises passage of time a New Era. The sculpture was part of a collective that celebrated the Millennium. The Artist heads the Department of Fine Art at New Castle upon Tyne University. Having an interest in Indian Culture and artefacts.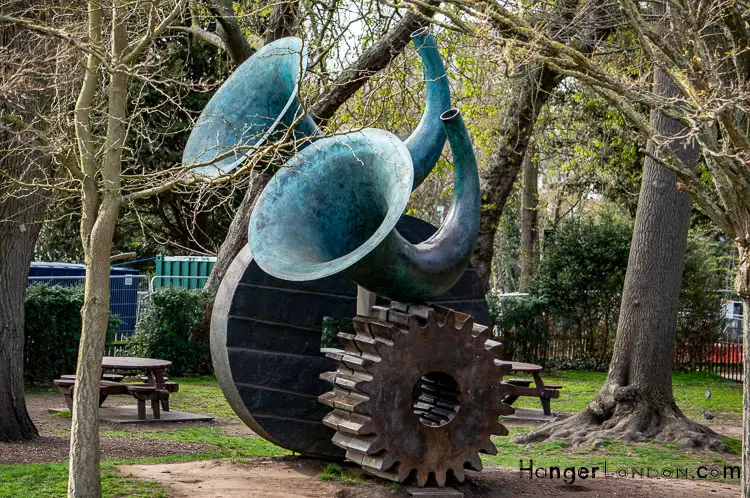 Armillary sphere
By Oliver Gero c 1986.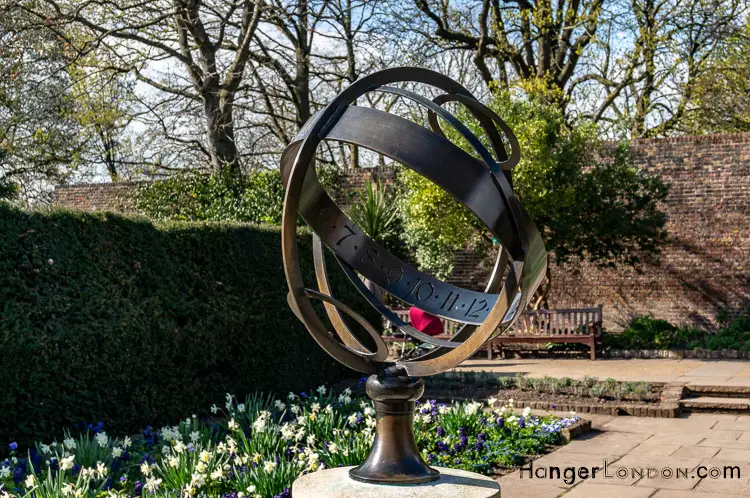 Based on the original sphere that became so decayed that it had to be remade. 19th C paintings showed images of the gardens featuring the original Armillary sphere between the two fountains and dividing the gardens.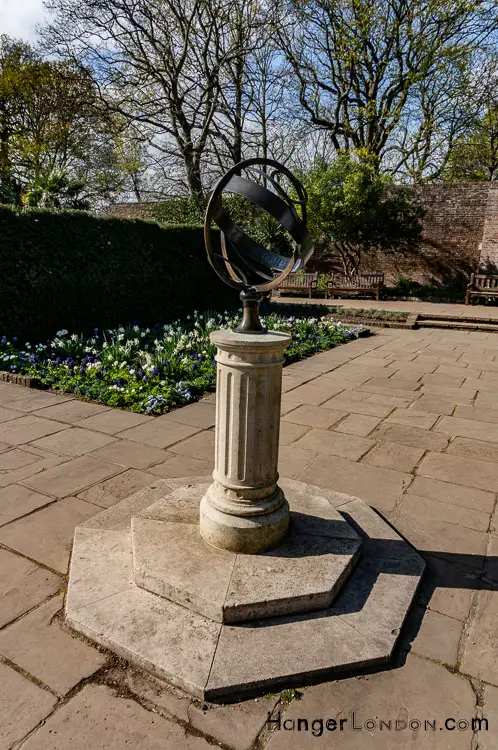 These spheres are a Sundial, inside the Holland Park structure it depicts the equator circle and the hours of the day are marked. When a shadow from the sun casts a mark by the north pole/ south pole axis rod which is pointing due North is can reveal the time. 
 Armillae is a Latin word for several rings, used in the celestial astronomical analysis, developed by A Green Ptolemy who was an astronomer and philosopher. 
Dutch Garden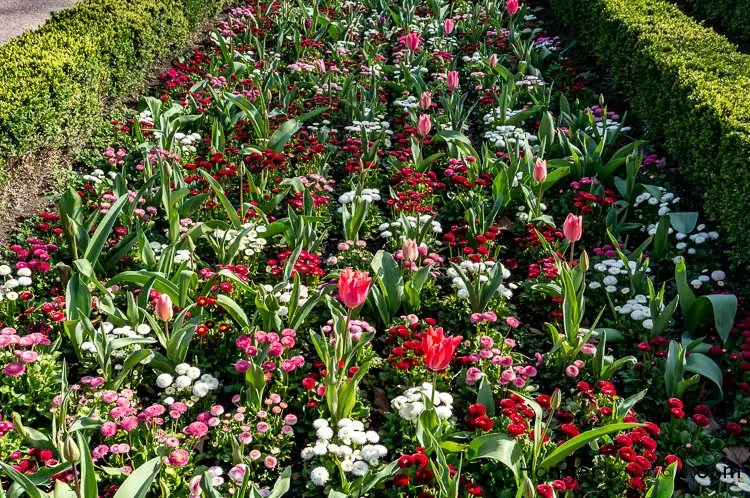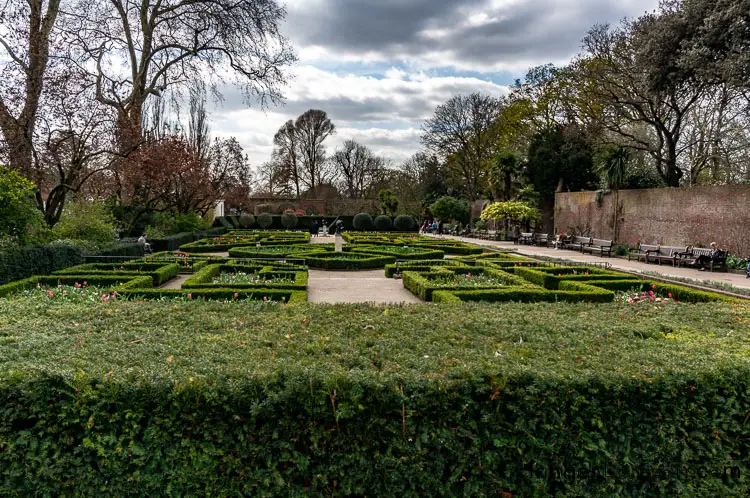 Lord Holland legally closed the right of way that had passed in front of his house. He agreed to open another public right of way which runs along the eastern perimeter to the right-hand side if you enter from Kensington High street.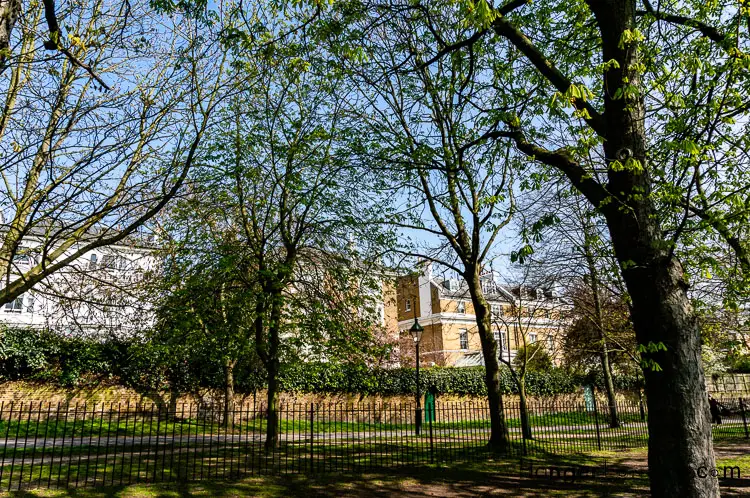 The Belvedere restaurant
17th Century Holland house had a ballroom for its mansion guests. It is now the Belvedere restaurant and has beautiful camelia and magnolia outside it.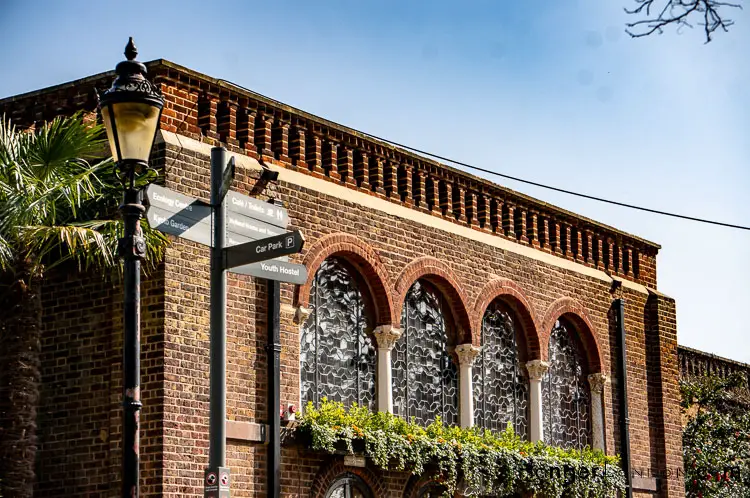 They restored East Wing of Holland House and turned into a Youth Hostel in 1957.
Children's play area. Also, an adventure playground that will reopen summer 2019. Tennis Courts
Where is Holland Park