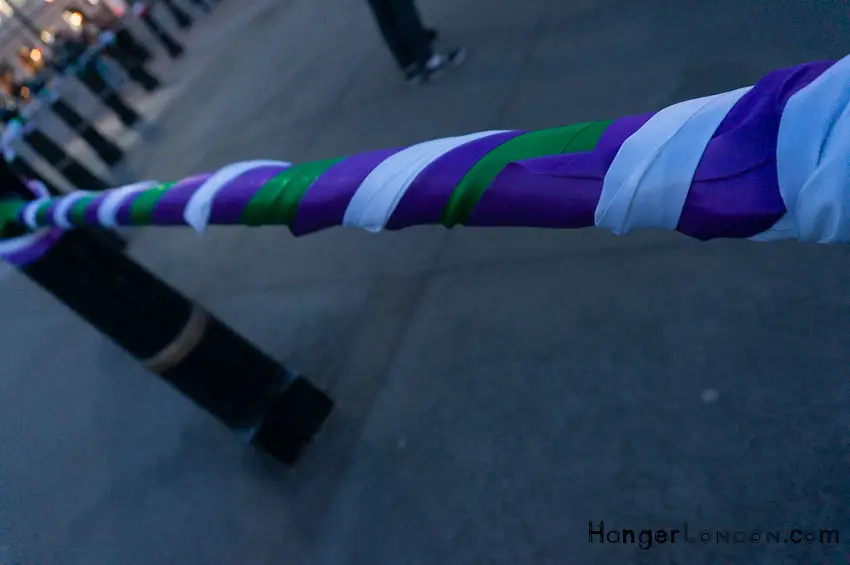 Different campaigning groups had banners flags uniforms. In the Museum of London at present, they have the WEST HAM branch banner of the Women's Social and Political Union 1909-1910.
What do the English suffragette colours represent?
Purple represent dignity, purple also has a long standing tradition of being considered as a colour of royalty. In the 'Votes for Women' newspaper editor Emmeline Pethick-Lawrence explains "it stands for the royal blood that flows in the veins of every suffragette, the instinct of freedom and dignity"
White stood for purity and Green for hope.
What do the American suffrage colours represent?
Similar to the English, the American suffrage movement used a tricolour band of colours.
For the same reasons as their English counterparts, White represented purity and quality of their purpose. Purple represented loyalty, consistency and purpose.
Green is however gone, to be replaced by gold, a colour which has historical relevance back to 1867 when Kansas was considering a state suffrage referendum. Gold being the colour of the Kansas state sunflower.
NAWSA (National American Woman Suffrage Association)
The largest suffrage group in America resided simply on Gold, with no official colours. Perhaps the lack of identity had something to do with NAWSA being not widely known across the world, comment below if you have any thoughts on that.
Other Suffrage symbols
Sylvia Pankhurst had designed many of the artworks associated with this movement, in particular, the Angel of Freedom Symbol. Sash, badges, and rosette jewellery were also worn. 
The Women's Social and Political Union wore purple, white and green to public events. Women were also awarded metal pin badges after particular bravery.
The women also wore dresses, to humanise the human behind the actions.