Kings Cross station displayed a 15 tier  Tate and Lyle cake alongside props for passers-by to have selfie moments and take photos. 8th of November 2018.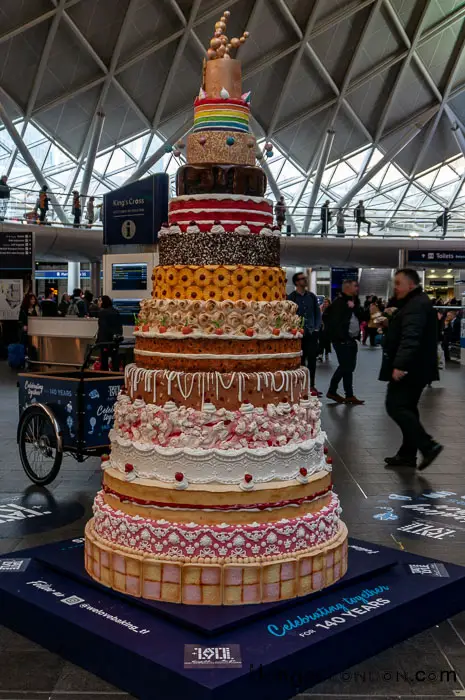 Tate and Lyle the sugar refinery company celebrated 140 yrs of its refinery on the Thames 2018
The Newham based refinery celebrated with the public, towards the end of July 2018.
History of Henry Tate
Henry Tate opened it in 1878. It specialised in the production of sugar cubes.
Wealthy Henry Tate then endows the Tate Gallery so that the public could see works of art 1897. It is now called  – Tate Britain.
1882 Lyle had a refinery at Plaistow Wharf where Lyles Golden Syrup was made.
In 1921 a merge happened with Abraham Lyle, making the famous duo Tate and Lyle
The Past 14 decades have been given an investigative glance to see how flavours have changed. Plus interest in what's to come for the future.
So why 15 layers of cake?
A trend report from "Foresight Consultancy The Future Laboratory",  seems to be connected with the giant cake whilst conducting our research about why this cake has 15 layers. Food Giant companies consult trend reports, predicting the future enables them to prepare products for it.
According to this trend report, by 2040 our food choices and personal needs, preferences and dietary requirements will be more tailored. Our DNA and lifestyles will contribute to how food is selected too.
Futuristic Food
Information obtained from smartphones to gadgets at home that will know your habits, snacking patterns, cravings, favourite ingredients, moods.
Headsets to enable the gastronomic multi-sensory experience of having a cake in front of them.
Protein laboratory food
2013 saw the first lab-produced burger. Hampton Creek and its Lab produced meat. Impossible Burger, Beyond Meat Burger, Mosa Meat. Petri dish protein based foods prepared in a lab that use gelatin algae are not as far-fetched as they sound.
Food that Floats
Gravity in space is known to affect the flavours of food and make it bland. Food technology for astronauts develop products that could be part of our future.
A cake that floats for people not ready or able to go to space, in the form of levitating food. Magnets have demonstrated this idea at London Design week 2018.
Tate & Lyle Trends and Insights
On their website, articles feature about non-diary alternatives being more in consumer demand. The Role of fibre in the diet to the mindfulness approach to food selection.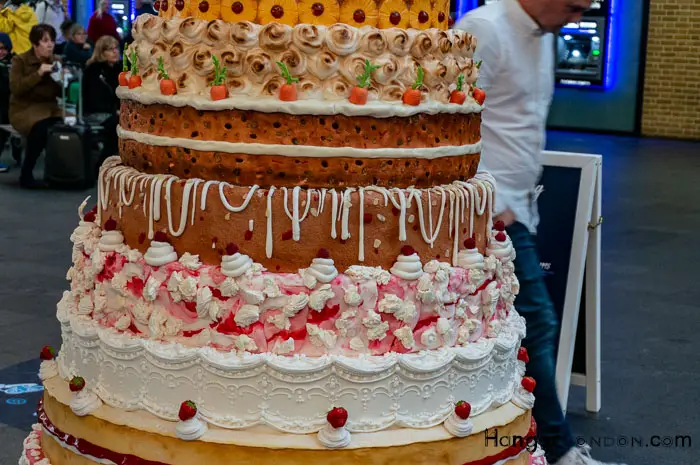 Description of the 15 layers to this celebratory cake starting at the bottom
1. Base layer
Battenberg slices arranged around in a circle
2. Fondant and icing pink and white
Pink covered cake with regal shapes in white icing decorating it, with bows, crowns garlands.
3. plain victoria sponge split cake
Featuring red jam white cream two sandwiched white sponges
4. White Royal Icing and strawberries
Covered layer in royal icing with delicate embellishment. Strawberries placed around the circle
Marble pink under crushed Meringue pieces
6. Plain sponge drizzled white icing
Fruitcake sandwich split with white cream

Piped meringue swirls that have been baked, like Baked Alaska. Decoration, carrot tops moulded to look realistic placed around the circle

Pineapple upside down cake, two layers of pineapple with the classic cherry in the centre arranged so we can see them around in a circle shape.

white covered cake with stuck on chipping of chocolate fragments. White piped swirls of cream with a morello deep red cherry on each one arranged around in a circle. Looks like black forest gateaux.

3 layers red sponge split and covered with a layer of white cream so you can still see the colour of the layers.

Chocolate sponge with think poured over to a dripping effect chocolate sauce, icing or could be chocolate itself.

Light colour smaller sponge, stuck on tiny multicoloured hundreds and thousands.

Smaller round layer sponge cake rainbow sponges all on display stacked. aqua blue, pale green, yellow, orange, red.
15 Smaller gold tall shape, with gold baubles and a series of overlapping gold squares.
It appears when reading around the internet, the names of the layers are as follows
Base first
Battenberg
Fruit
Victoria Sponge
Royal Icing
Eton Mess
Cherry
Carrot
Baked Alaska
Pineapple Upsidedown
Black Forest
Red Velvet
Chocolate Lava
Sprinkle
Rainbow
Future.
Where is Kings Cross Station
Where is the Sugar Refinery