The London College of Fashion ran an exhibition of the appropriation of Italian designer branded clothing used in the 1990s UK underground, Garage and Jungle music scene Super Sharp 90's.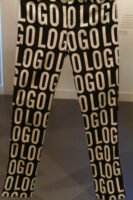 The early 90s for those who participated and remembered it was a time of an incredible underground music scene in the UK. The era would become the last of the pre internet generations time of cultural expression through the odd snap and personal recollections. These where times without millions of records of single event, a time before the noughties would begin the march of equipping everyone with the tools to document every blade of grass. The 90s was a time where the grass was smoked not captured.
For an era of time without a camera in every pocket it is still surprising to find that the times and fashions are somewhat adequately documented, allowing for this body of work to be presented. To balance the minds eye of often blurry nostalgic view of the past, the those present.
Classic Brands from the 90s
Moschino back to the 90s
Reebok back to the 90s
Music, fashion does have that unification qualify of bringing together many different classes and cultures of people under the same roof. Perhaps this exhibition pauses one to think what came before this musical era what came after and how it makes you think back to it. For some, they were part of this scene and can step back and relate. For others, it explains how and why these garments made their associations to this music during this time and what it meantto the people of that movement at the time.
The exhibitions value was to allow the expression of words from the people who where actually there, sharing their experiences of the times. including;
Contributors to Super Sharp 90s: DJ and Producer Saul Milton (Chase & Status)  contributed heavily to this exhibition, curated by Tory Turk and jointly conceived by Saul Milton.
Dj Musician producer and Artist Goldie, Bethan Cole a journalist, James Hyman ( Hymag) , Tristan O Neill, Mark Aleksey, Will Kennard, SHY FX, Fabio & Grooverider, Navigator Skibadee, Bushkin, Noodles, Remarc, Jumpin Jack Frost, Mampi Swift, Nyke, PJ & Smiley, Natalie Neilson, Dezert Rat, Brian Belle-Fortune, Rhiannon –Isabel Barry, Marie Otton, Sarah Boothman, Brett Booth, Jon Wright, Dr Chris Christodoulous and Juliette Avery. 
20 John Prince's St, Marylebone, London W1G 0BJ