Visiting Kew Gardens in Winter is one of the great outdoor adventures in London

After saying hello to the Swan, we look at the world of Holly, and find out there is more to this than meets the eye in the wintery backdrop of London's most famous garden.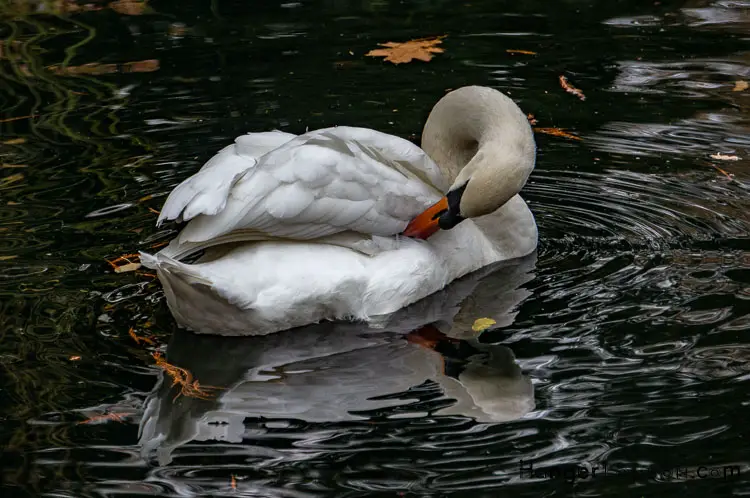 Kew Gardens impressively large collection of Holly
Here you will find one of the largest collections in the world of different varieties of Holly. Hundred-year-old Holly exists at Kew,  lasting up to 300 years.  Beautiful shapes and colours, yellow, greens spiked not spiked, two-toned, rounded ovals,  with berries, without berries trailing,  shiny matt. They originally called Holly Walk, Love Lane, that separated Richmond Garden from Kew Gardens. It formed part of a public walkway that enabled people to go from Kew to Richmond. Lying South of Kew Gardens it ends at the towards the direction of the Japanese Pagoda and Cedar Vista area, and Treetops Walkway and the Temperate House.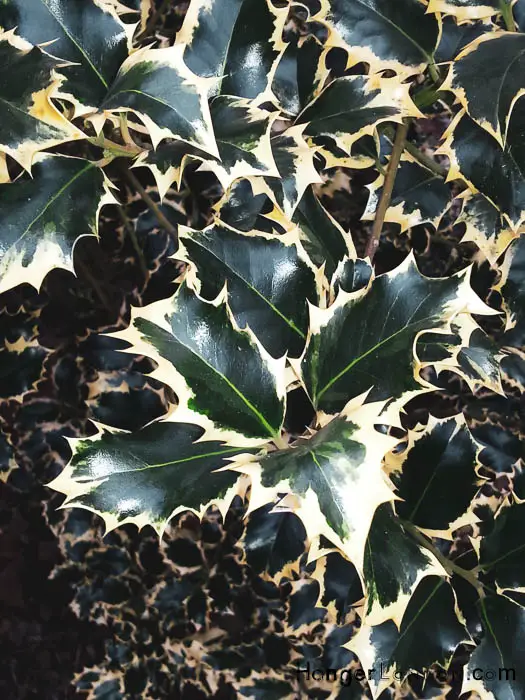 Holly falls under the classification of the Aquifoliaceae family. The Latin name  Ilex aquifolium. It can be Evergreen or deciduous. It can grow into trees, shrubs it can trail or climb known a term known as Liana.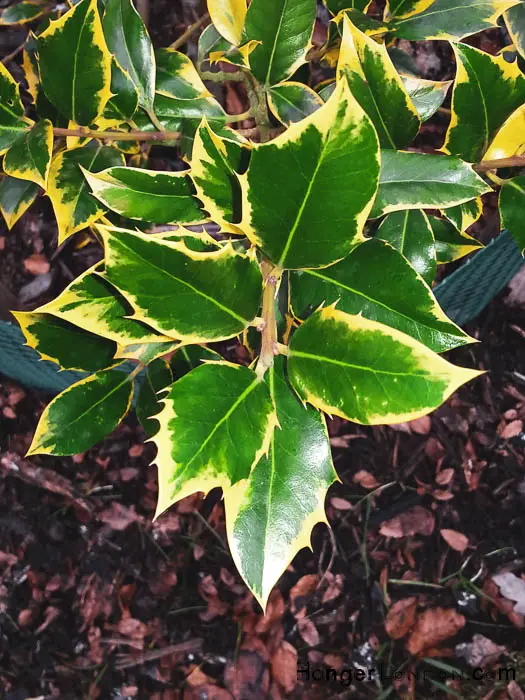 Its name comes from Old English word holegn meaning "To prick". It is also a name often given to baby girls born at Christmas. Audrey Hepburn's iconic character in Breakfast At Tiffany's was Holly Golightly.
Walking Sticks made of Holly hard woods
The wood that comes from holly is a hardwood with a fine grain, that is hard to see. Good firewood much whiter than other woods. Made into walking sticks, furniture, weather & Mathematical instruments, whips, veneering, handles for teapots mimicking Ebony, were often black stained holly wood.  It could produce a dye for fabrics from the leaves.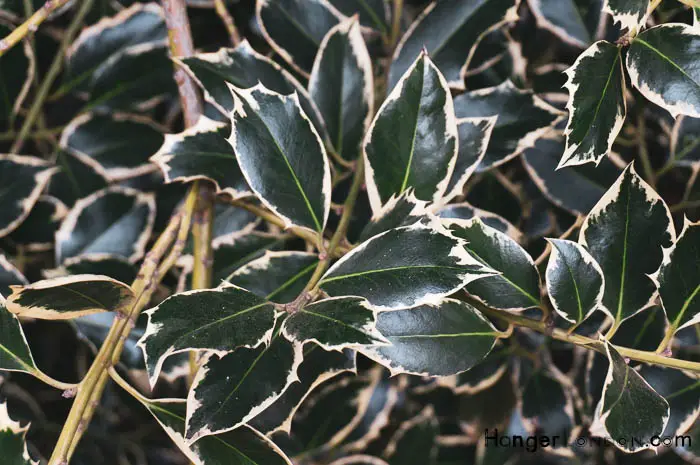 There is a Holly Remedy in the Bach Flower range, associated with inner harmony or for the states of mind when there is an absence of Love.
Generations past gave the leaves to animals as food was less available in winter. The tops of Holly trees, bushes are not spikey as the base leaves, which is all part of its inbuilt protection system. Useful as an insecticide because of its bitter tannins.
Red Berries are plenty in the Garden
These are poisonous to humans but a source of food to birds and small woodland animals in winter. The Plant is dioecious, meaning it has separate male and female plants. They need two separate plants to produce the berries.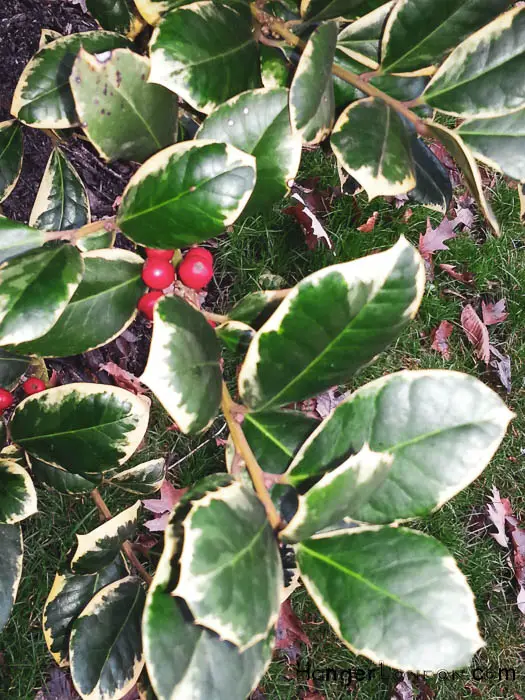 What is the Symbolism of Holly at Christmas?
During Christmas, seen in wreaths, decorations, illustrations on Christmas cards, wrapping paper and the finishing touch to the top of a British Christmas pudding. Even Carols such as the Holy and the Ivy mention it. Before the 1800s they used it as a Christmas tree
They used Holly in protecting people's homes to ward off evil spirits witches, goblins. The Romans around the Winter Solstice celebrate the Saturn god and they thought holly to protect them from harm and lightning.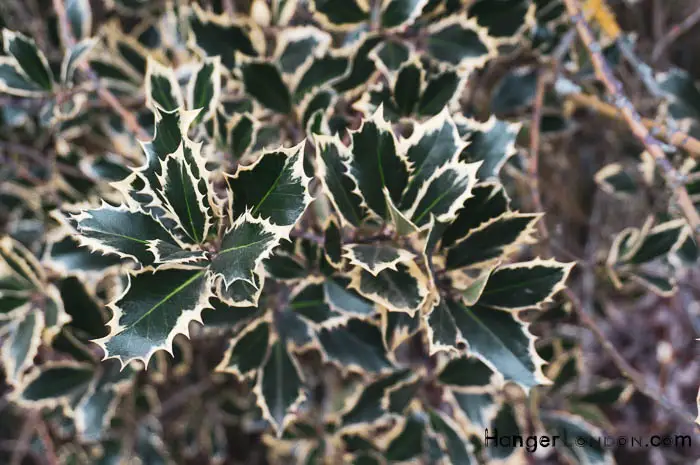 Holy and Religion, what is the link?
Many Christians see holy and its red berries as symbolic of Christ's Thorny crown and blood during the crucifixion, often called "Christ's Thorn".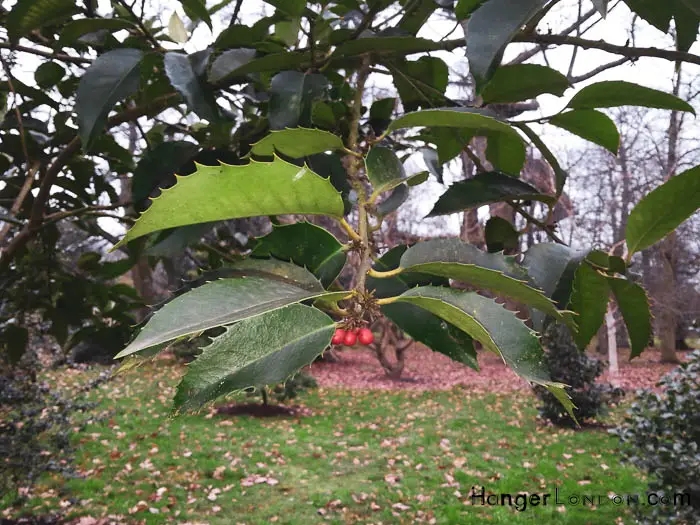 Pagan, Celtic anglo Saxon seasonal festivals and customs also feature a holly dressed god/Man celebrates the start of Epiphany which is around the 5th/ 6th of January and a celebration of the baptism of Christ and nativity.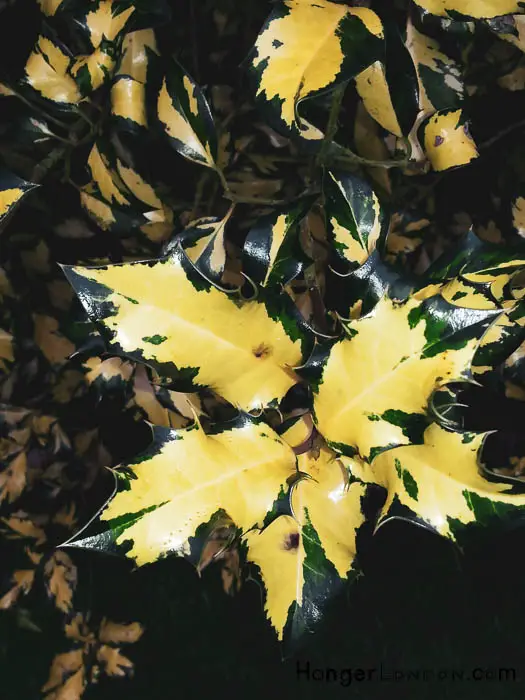 The Holly man symbolises good growth for the plants during the new seasons to come after winter.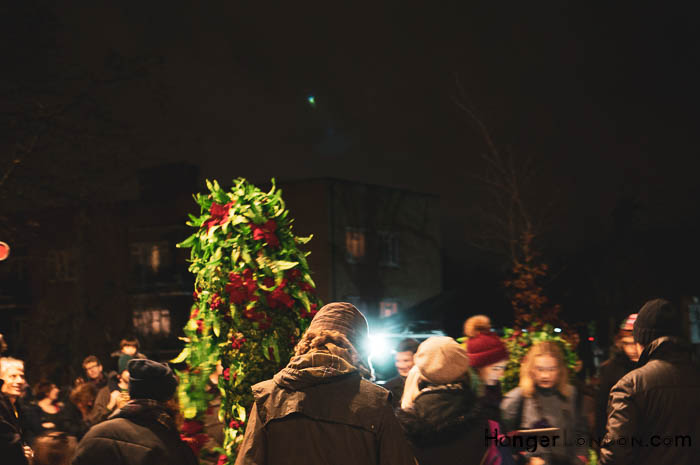 Epiphany around the 12th night when people take their Christmas decorations down.
The twelfth night is the last day of the 12 days of Christmas day one for many is Christmas day the 25th December although some start it from Boxing day. In Ireland,  3 wise men feature in the nativity crib on the 12th night, many churches have their manger nativity area still up around 12th night.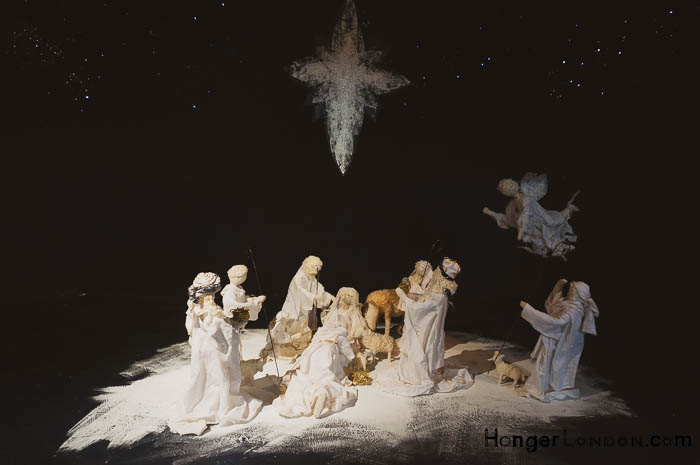 Possibly Chinese Holly Illex Cornuta
Anyone know what type of Holly this is? Comment below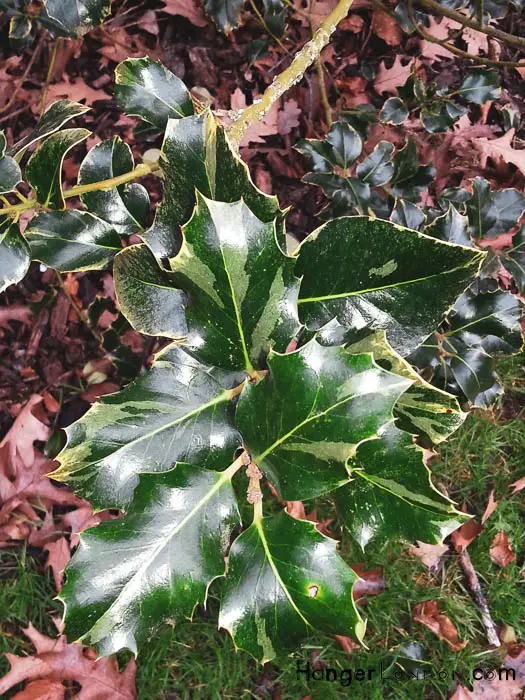 Two legendary British Diarists liked Holly
Sayes Court Deptford, Home of John Evelyn, diarist, horticulturist and one of the founder members of the Royal Society had a prized large holy hedge. In 1665 Pepys commented that the Holly Hedge as one of the "finest things I ever saw in my life."  Evelyn's book Sylva on Tree cultivation created interest and change.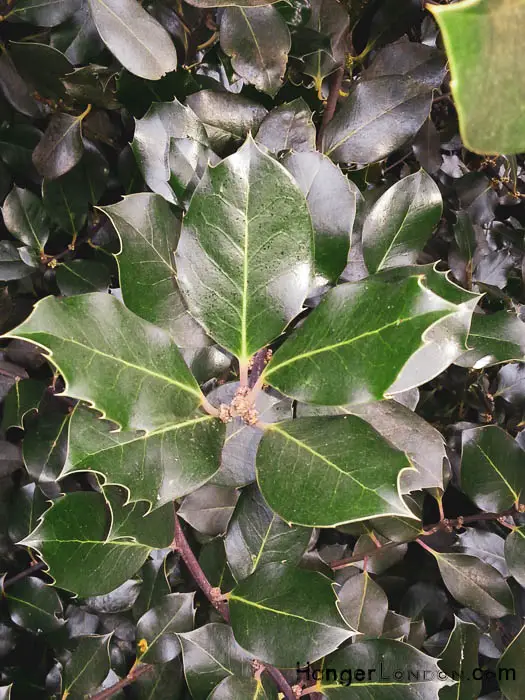 Here is a list of the view of the holly species we saw at Kew and some photos.
The Latin name that all Holly derivatives start with Ilex aquifolium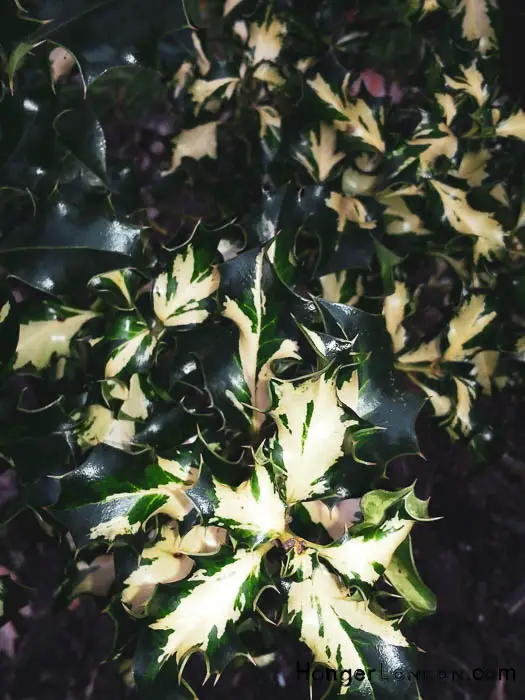 Ilex X altaclerensis "Elegantissima"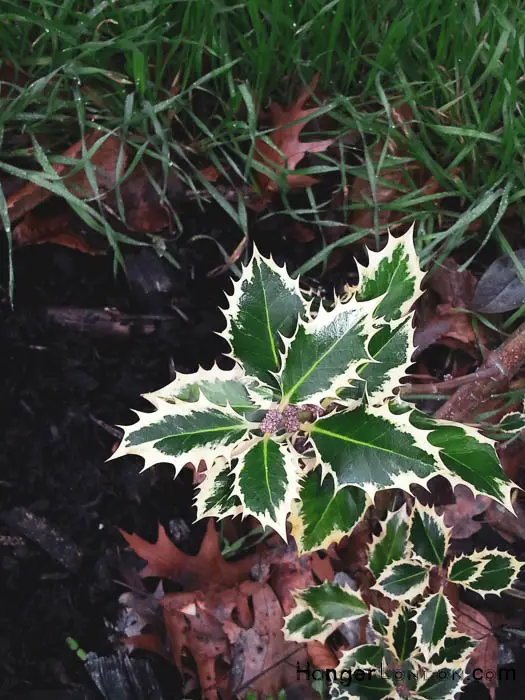 "Ferox Argentia"  Silver Hedgehog Holly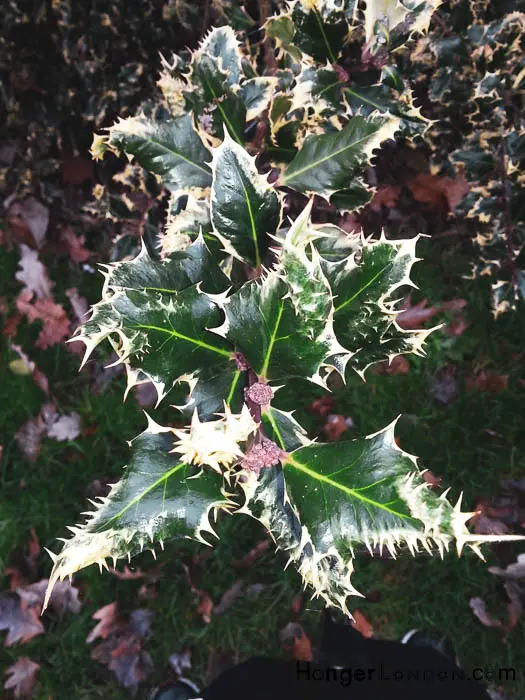 " Silver Queen"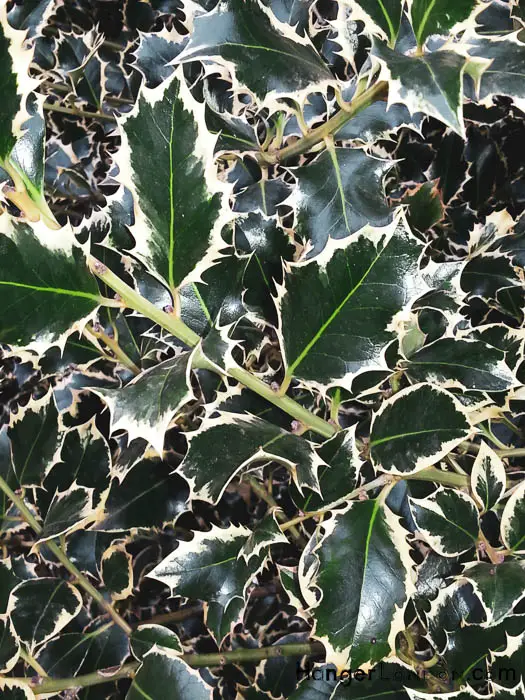 "Silver Lining"
Ilex pedunculosa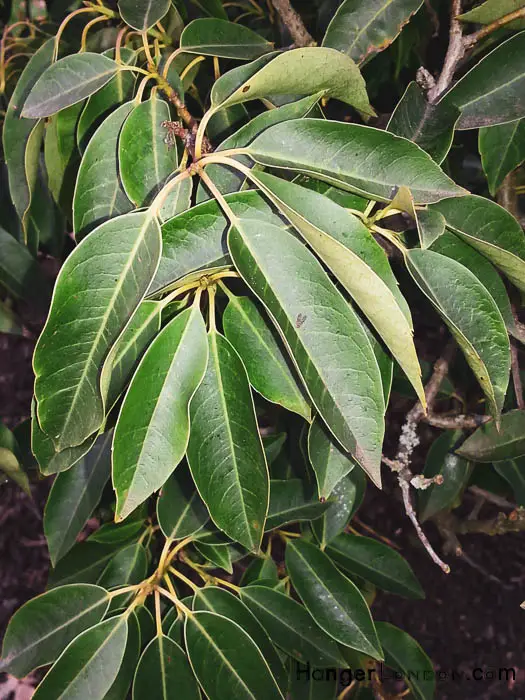 'Argentea Pendula'
'Perry's Weeping'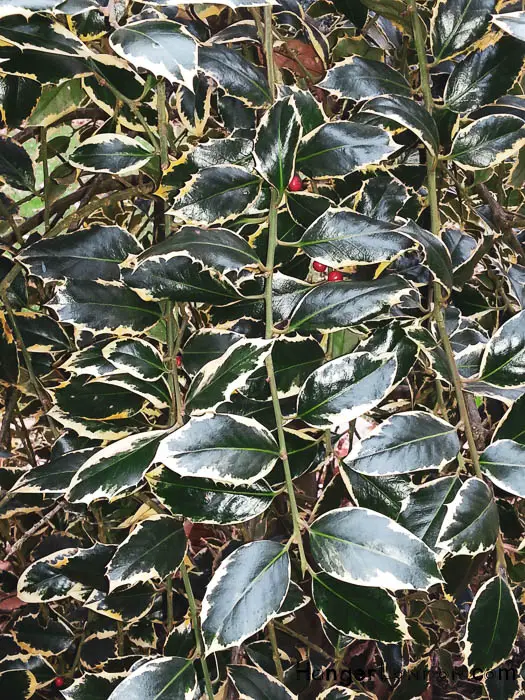 "Gold Flash"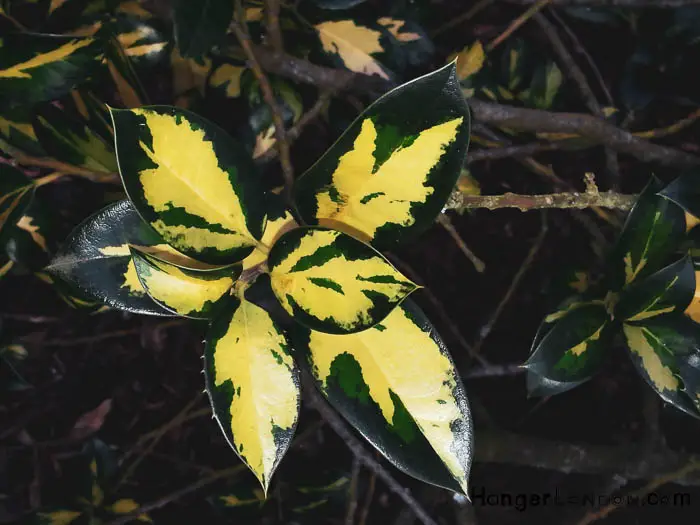 "Silver Milkboy"
'Aurea Regina' Golden Queen Holly
"Peramidalis"
"Silver Van Tol"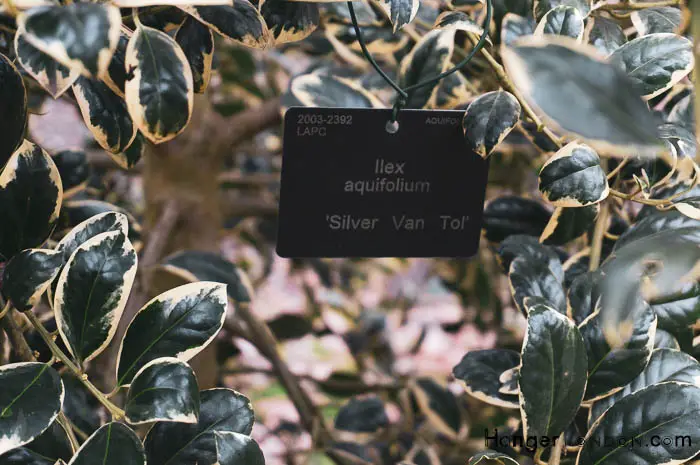 Secluded Mediterranean Garden at Kew
This Garden was born around 2007 to study and exhibit natural plants from the Mediterranean Habitat. Cypress Trees, Tuscan olive trees, Stone Pine trees, Cork Oak tree, Cistus Lavender and many more.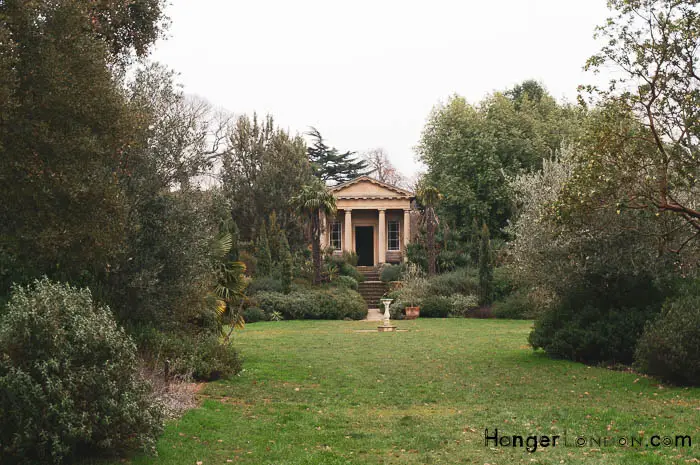 There is a very Romanesque looking building with pillars, known as King William's Temple which was a gift to Queen Victoria to commemorate William the IV and built 1837. Designed by Sir J Wyatville the architect the IV. Inscriptions on the portico columns, give the dates of major battles the English fought and won, during historic 1760-1815.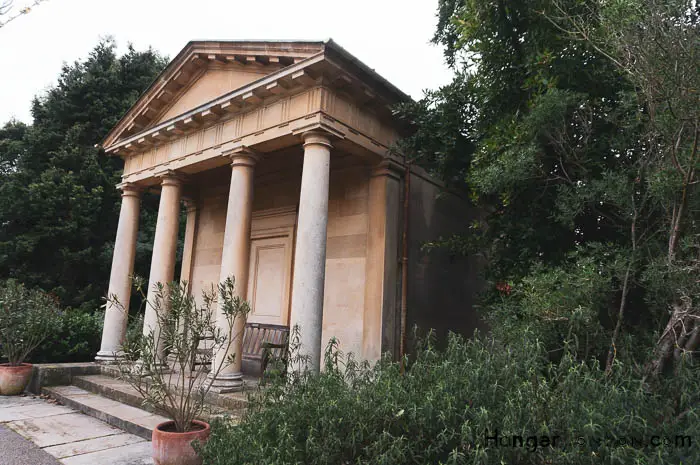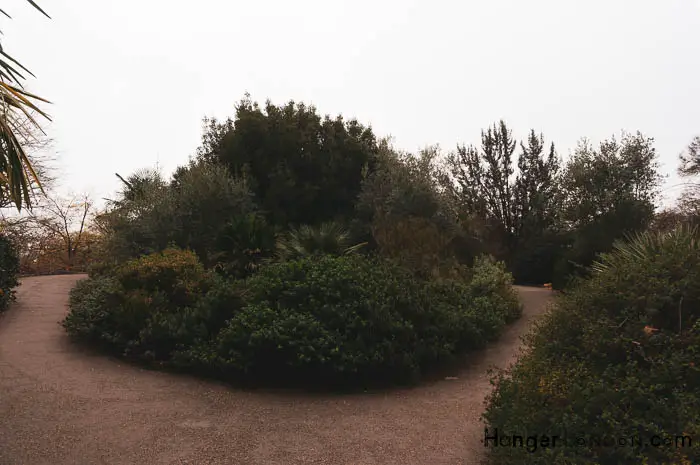 At the moment the Hamamelis tree, Commonly known as Witch Hazel is in bloom there. Which we feature below.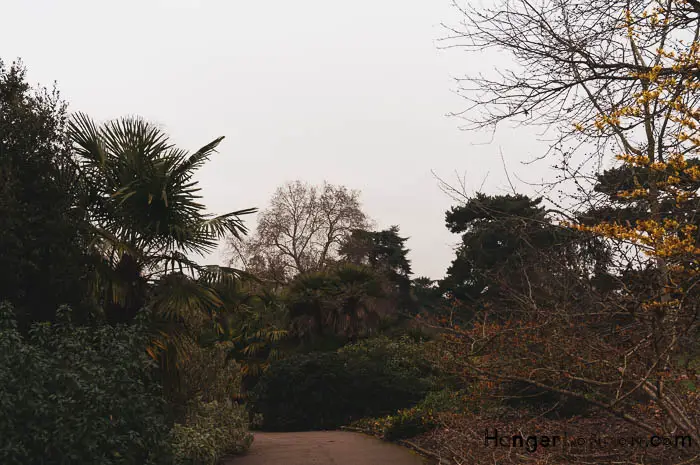 Witch Hazel Hamamelis shines bright in the winter sky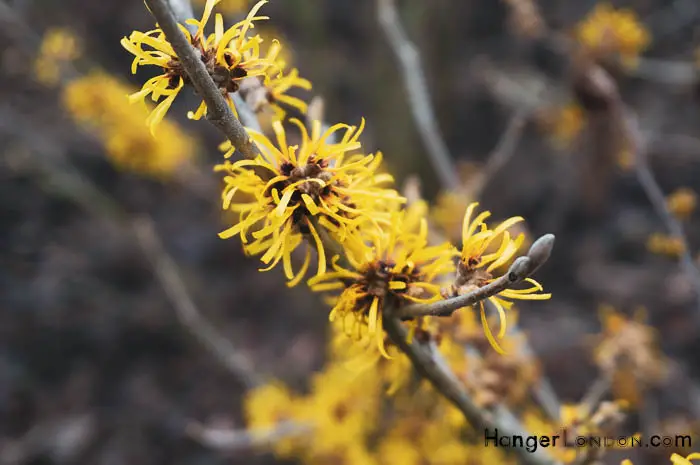 Part of Hamamelidaceae family. Deciduous shrubs with yellow, orange-red narrow petal flowers, the branches have no leaves. Ornamental trees, with a citrus type fragrance. The name stems from an old English Wiche Wice meaning "bendable".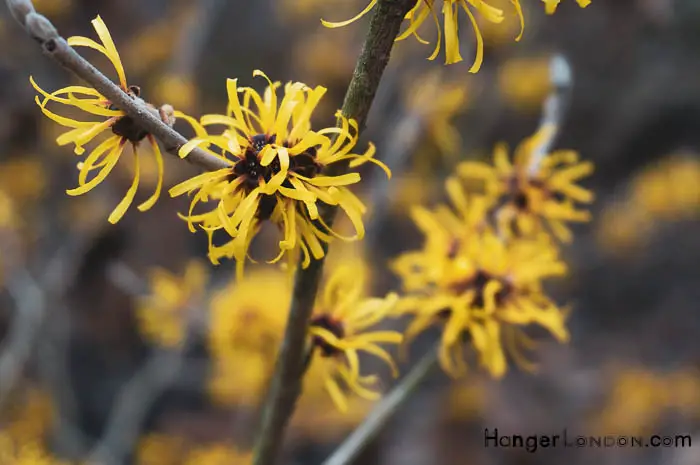 They use North American Hamamelis Virginiana for Astringent liquid used in skin and body preparations and herbalism. The parts used are the bark and its leaves. The properties flavonoids, tannins (hamamelitannin and proanthocyanidin). Thought to be good for anti-inflammatory, antiviral actions, and more recent studies confirming it has anti-radiation properties towards the sun and antioxidant properties. Many ancient and modern cultures have used Witch Hazel skin complaints and other health conditions.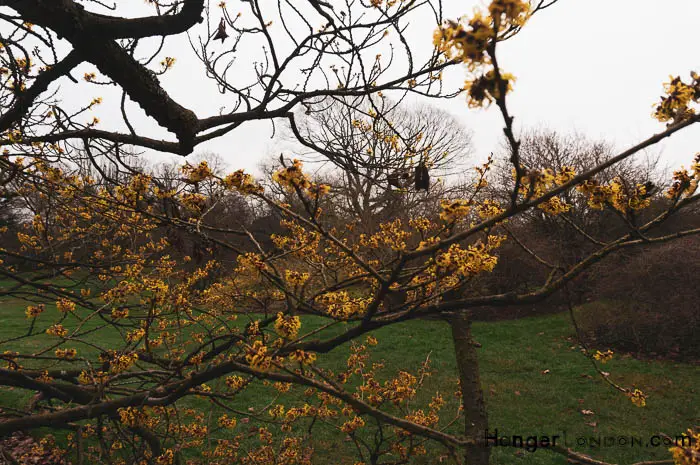 Hamamelis variation  " japonica is from Japan, whilst type Mollis is Chinese
A Cross of the Mollis and Japonica species. Just before the 1930s, the  Arnold Arboretum in America were growing oriental varieties of Hamamelis, but it wasn't till around 1945 that they discovered "Intermedia" A Cross of the Mollis and Japonica species.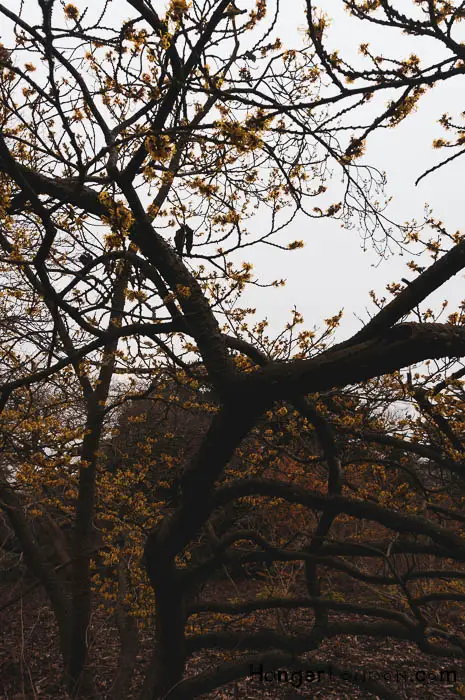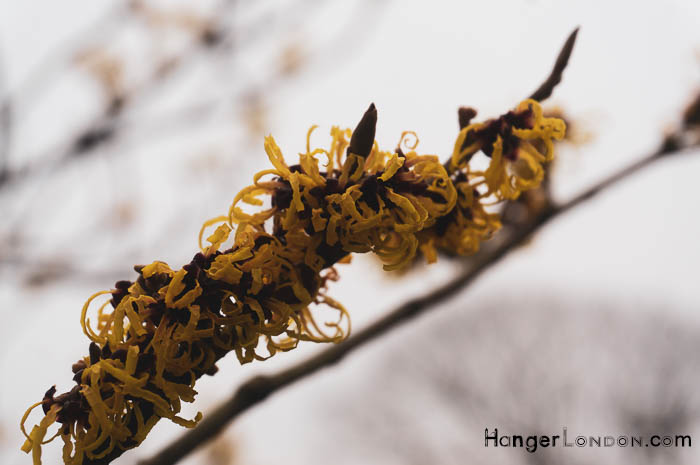 This variety of Hamamelis has a Royal Horticultural Award
An Arboretum in Belgium Kalmthout is where Jelena cultivar of this species began. Antoine Kort ran the Kalmthout botanical gardens before WW2 and had planted Japonica species var. flavopurpurascens of Hamamelis. The De Belder family, Diamond Merchants, took on the Nursery from 1952 and saved the rare trees and plants that would not have survived. De Belder Brothers expanded the plot to accommodate and protect more horticulture.
Hamamelis X Intermedia "Jelena"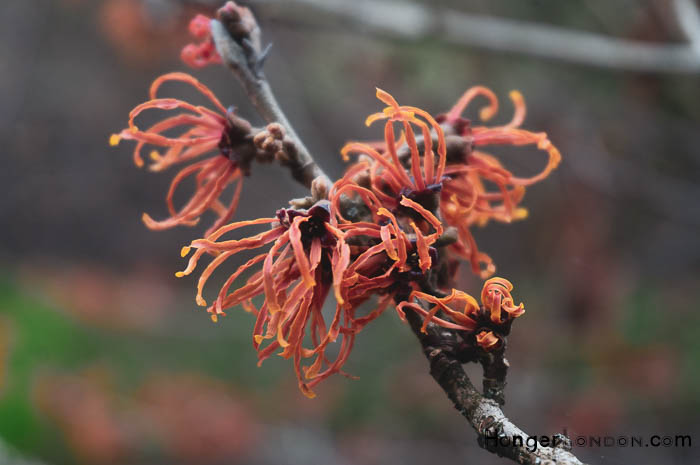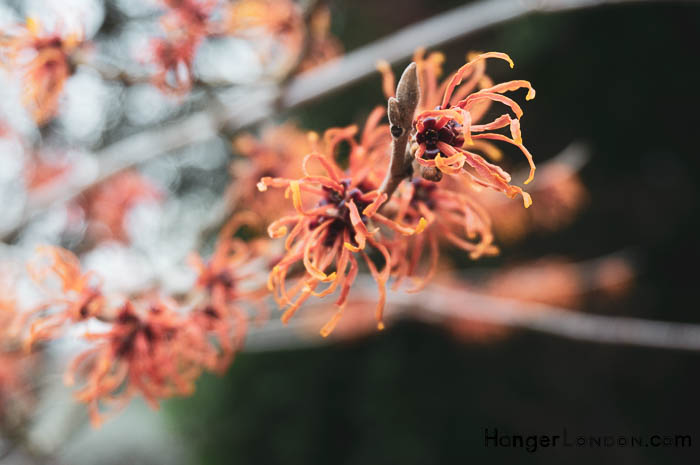 A botanical Slovenian student named Jelena Kovacic (Kovačič) came to work there. Rare woody shrubs were becoming an endangered species. That same year,  they set International Dendrology Society up to protect species like this. Jelena Kovacic took cuttings of these Hamamelis trees and suggested propagation from them rather than transplantation. Romance blossomed for the couple and they married. In January 1955 these cuttings had flowered and Robert De Belder named them after his wife Hamamelis x intermedia Jelena. The beautiful shrub entered the Royal Horticultural exhibition in London and given an award. Robert & Jelena de Belder went onto to create one of the best-known Arboreta in the world.
Hamamelis x intermedia 'Orange Peel'
Temperate Greenhouse, Kew Gardens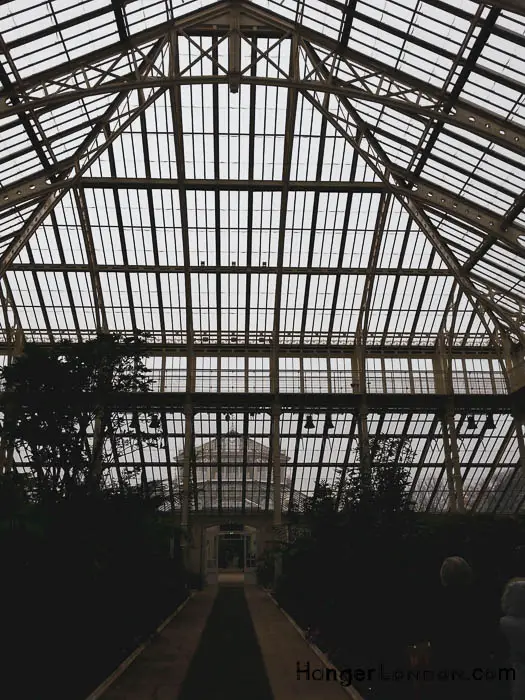 Jasminum – Jasmine fragrant
This is where you want some great tips from Alan Titchmarsh about this beautifully scented, delicate flower.  Part of the Oleaceae botanical family the same as olives. The name is thought to derive from Persian "Yasameen", "Gift from God".  The Plant can be an evergreen or where the leaves will fall deciduous.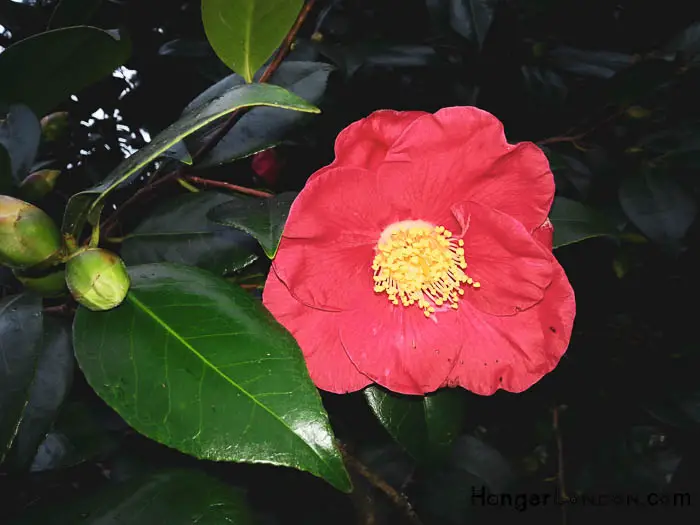 Where is Kew Gardens