Flat Iron Square is a vibrant and dynamic food and entertainment hub located in the heart of London. It is situated in the trendy and eclectic neighborhood of Southwark, just a stone's throw away from Borough Market and the famous Shard skyscraper. This innovative space is a haven for foodies and culture vultures alike, boasting a wide range of delicious food and drink options, as well as a diverse array of entertainment and cultural events.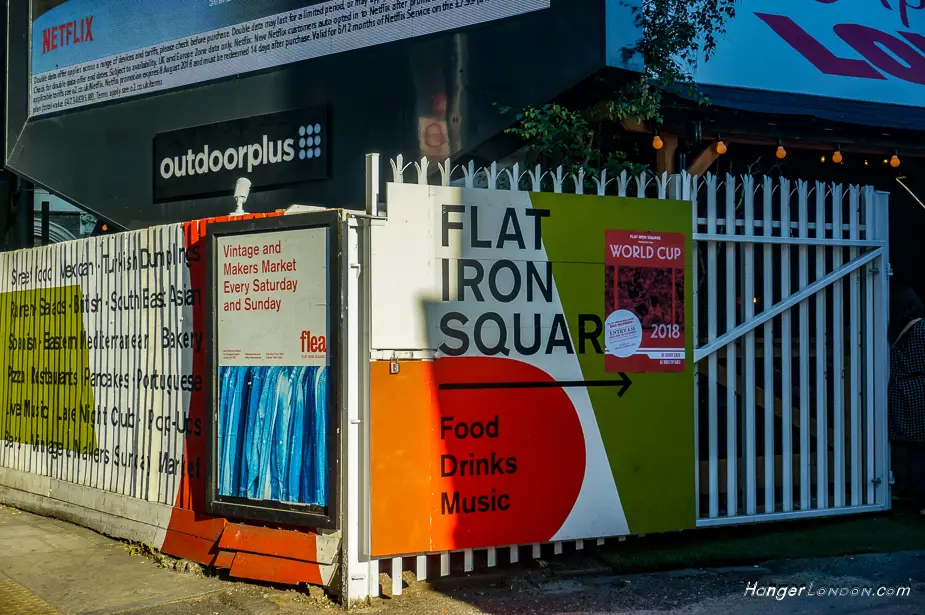 Flat Iron Square Opened in October 2016. The site occupies several Railway Victorian viaduct arches and lies just before the railway bridge crossing on Southwark Bridge Road. The Archways turn into the road on its left,  Flat Iron Square where Devonshire house backs onto them, a rescued white Victorian building that required a lot of restoration works and supporting structures to keep it alive.
One of the key draws of Flat Iron Square is its food offerings. There are numerous food stalls and restaurants to choose from, ranging from classic American burgers and fries to traditional Vietnamese pho and Japanese sushi. Whether you're looking for a quick bite to eat or a more leisurely dining experience, there is something to suit all tastes and budgets. And if you're in the mood for a drink, you'll find plenty of options here too, from craft beers and artisanal cocktails to fine wines and specialty coffees.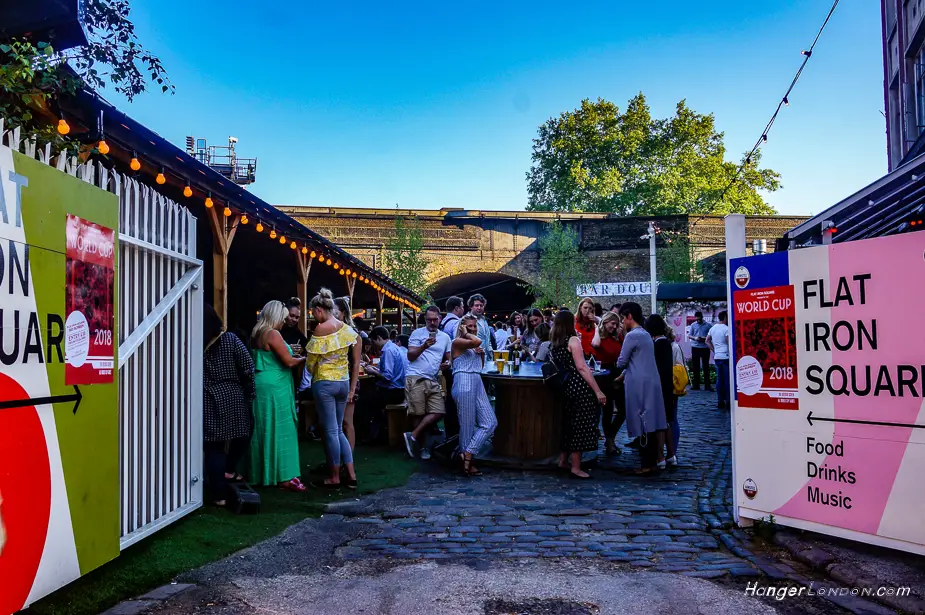 Different events run at the complex, Vintage flea market, pop up shops, themed events like Wellness events, and even an Oktoberfest.
But Flat Iron Square is much more than just a place to eat and drink. It also hosts a wide range of cultural events and entertainment, from live music performances and comedy nights to film screenings and art exhibitions. There is always something happening at Flat Iron Square, making it the perfect destination for a fun day or night out.Another great thing about Flat Iron Square is its relaxed and laid-back atmosphere. The space has been designed to be welcoming and inclusive, with plenty of seating areas and communal tables where people can come together and socialize. It's a great place to meet friends, make new connections, or simply soak up the buzzing atmosphere.
Flat Iron Square is a must-visit destination for anyone who loves good food, great entertainment, and a vibrant and diverse atmosphere. Whether you're a local looking for a fun day out or a visitor to London seeking out the best the city has to offer, you're sure to have a fantastic time at this dynamic and exciting destination.
Flat Iron Square Map
London SE1 1TD