Why Charlie Chaplin Returned to his Birth Town London
in 1952
Chaplin came to London on 23rd sept 1952, to promote his film "Limelight" which was set in Edwardian London. The film is considered by many, as autobiographical.  Limelight touched on themes from his childhood and his transitioning relationship with America. His own children appeared in the film. Chaplin traveled to Waterloo bridge, and then on to see Big Ben with his Wife and four children.
One Way Ticket
As Chaplin and his family left the USA for the London Premiere of the film, his travel rights were changed. The reason for this,  was because the American Attorney generall at that time revoked Chaplin's re-entry to the USA. There was an investigation into Chaplin's alleged behaviour and political views. Chaplin never lived in the USA again, and his studios and property were sold. It was not until the 1980s that the so-called evidence that was used at the time, against Chaplin became less substantial.  So this is why Chaplin, remained in Switzerland since the Ban had started.
Chaplin was from London
Charlie Chaplin was born in London Walworth in 1889. His real name was Charles Spencer.  It is thought he grew up on what is now East St with its famous street market. On the corner of this market and Walworth Rd, there is a plaque to mention him. His parents were music hall entertainers. He scraped by performing in the street for money. His father died when he was only 5 years old, his mother had health problems. He was sent to an orphanage. In his teens, he worked for performing companies doing comic and acting roles. He developed a tramp character and could draw upon his personal experiences of hardship and poverty. He lived in Brixton at one point flat 15  Glenshaw Mansions, Brixton Road, SW9 0DS. 1908-1910
Onto America
He went to America to perform and soon to produce and direct in the era of silent filmmaking. He was able to direct, produce, write, edit, create the music and starred in most of his films. Before the roaring twenties, he co-founded the distribution company "United Artists". Just after WW1 time, 1918 Chaplin was at the height of popularity.
Media attention throws scrutiny
 He became entangled with women and 4 marriages in his lifetime, to women as young as 16 and his age difference to theirs creating a large gap. He then became open to public opinion and scandal.   Further to this, Chaplin was then associated with controversial political views and was eventually forced to leave the USA. He lived then in Switzerland. Historically his films most celebrated are, "The Kid" 1921, "A Woman of Paris" 1923, "The Gold Rush" 1925, "The Circus" 1928 "City Lights" 1931 to name but a few. He was meant to have been nominated for a few awards circa 1929 which were changed at the last minute and he was instead given a "Special Award".
In 1972 he was awarded an Honorary  Academy Award, approx a year later the Music for Limelight also gained an award.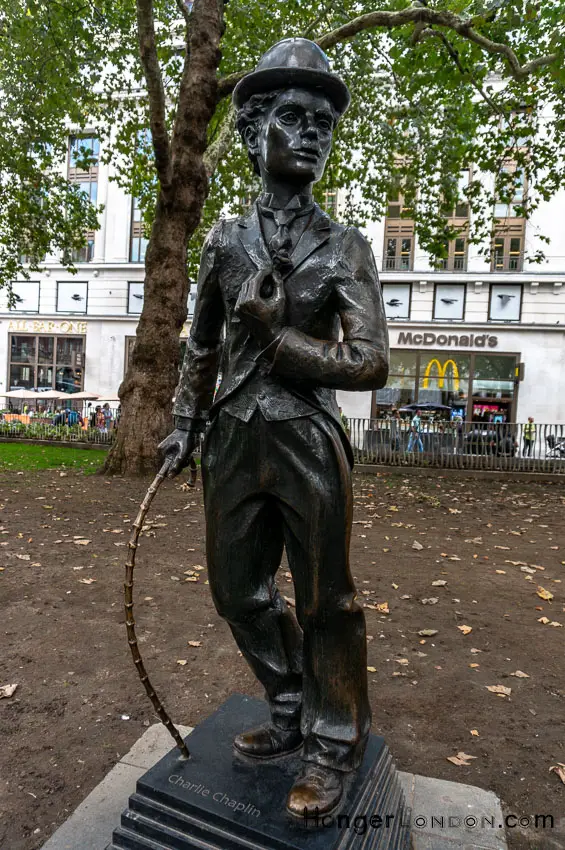 In 1975 Charlie became Sir Charles Chaplin, as he was given a Knighthood.
25th of December 1977 Charlie Chaplin passed away Switzerland.
Where is Walworth in London