Explore Winter Lights at Canary Wharf – Visual Art
Take a Look at the Winter Lights 2019, at Canary WharfWonderworld
Red Floating Rose
Canary Wharf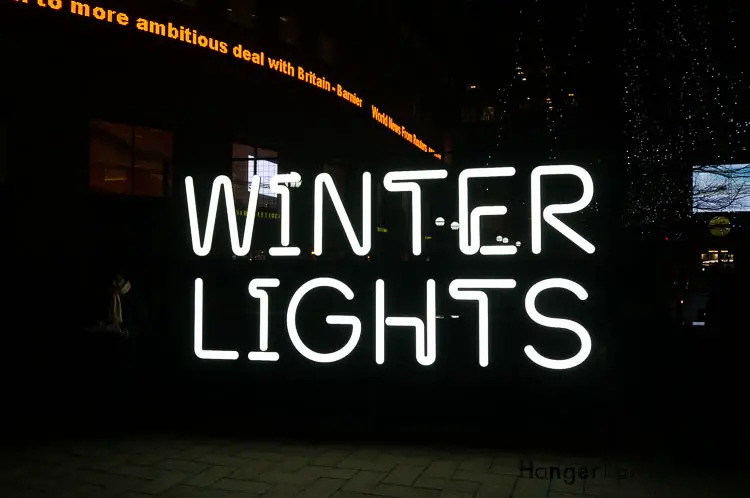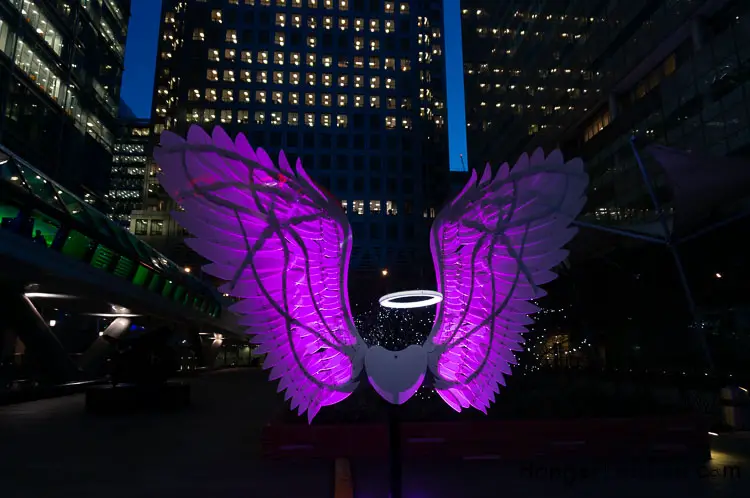 Angel of Freedom
Winter Lights
Red Hearts on a London Skyscraper
Winter Lights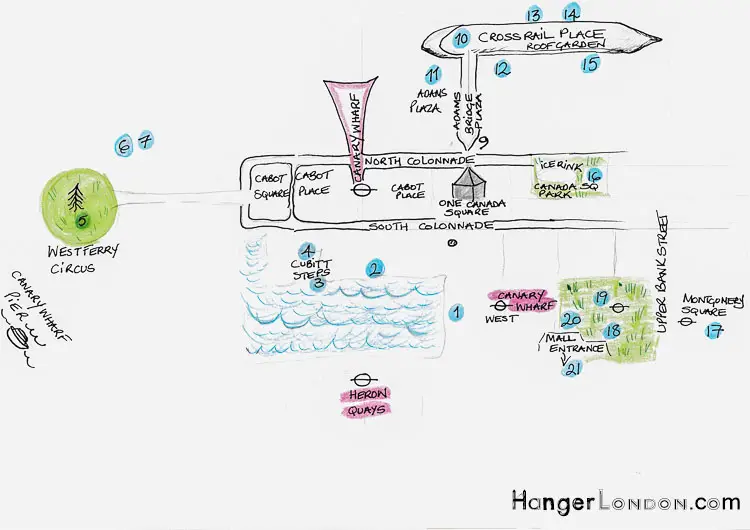 Map of Winter Lights
Canary Wharf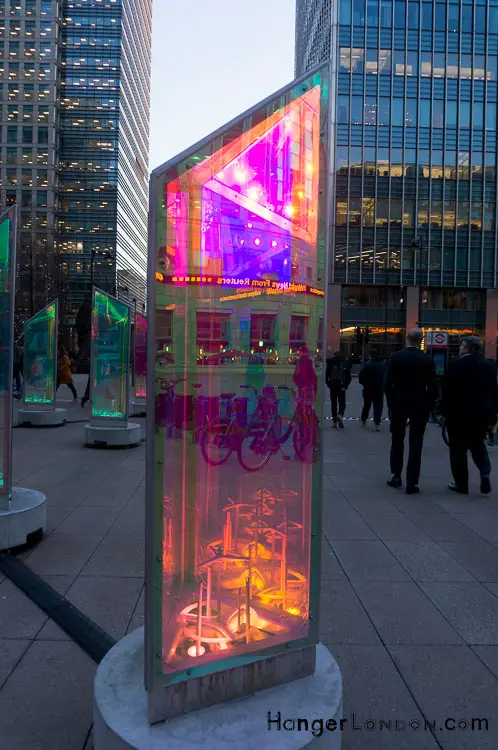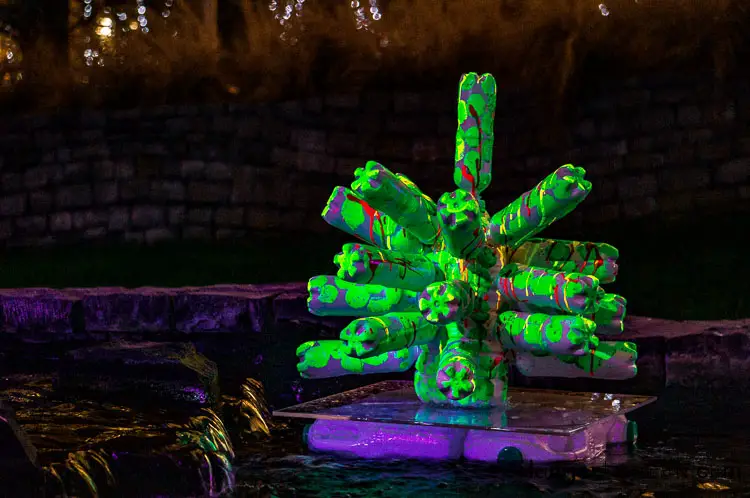 Floating Green Art
Canary Wharf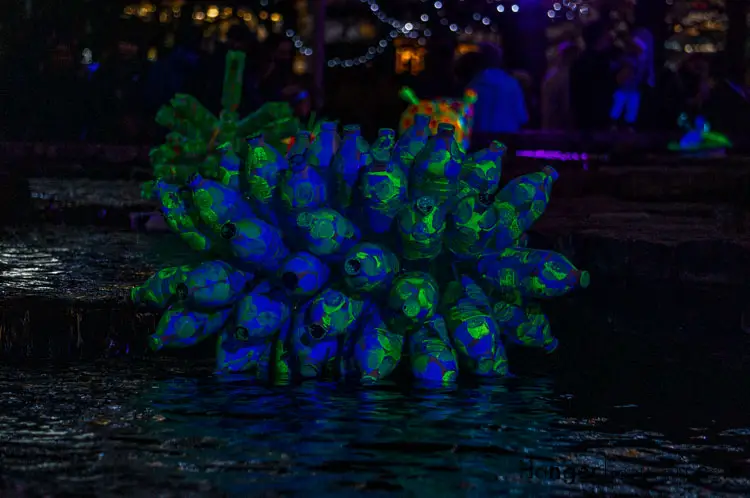 Floating Blue Art
Winter Lights
Sasha Trees by ADAM Decolight item 5
This company specialises in outdoor and indoor light installations, that give an emotive experience. Built from quality materials their innovative designs make them passionate front runners for any serious Christmas project. With the popularity and versatility in designs they decorate outside and inside shopping malls and public spaces to provide ambience and glamour that can be appreciated no matter what time of year. Thorough testing to make sure outdoor items withstand a variety of weather situations. Considering their home land Estonia has the ideal testing ground with its severe winters, along with neighbouring Baltic countries also showcasing their reliable designs . 
They won the competition to decorate the main Christmas tree in St Petersburg in 2013. International clients build part of their portfolio.
The Round garden at Westferry Circus infront of Canary Wharf Riverside pier, provides the platform for ADAM Decolight's Sasha Trees. The circular area has been turned into a technicolour dream forest of christmas trees that bejewel the winter night and make you forget the cold for a moment.
The company even have a 2018/19 Catalogue online that you can flick through to see what else they are capable of.
https://adam.ee/catalogues/2018-2019/
Winter Lights Canary Wharf, The Artists
1: PRISMATICA BY RAW DESIGN IN COLLABORATION WITH ATOMIC3, JUBILEE PLAZA
2. BIT.FALL BY JULIUS POPP, CHANCELLOR PASSAGE, MIDDLE DOCK
3. TWO HEARTS BY STUART LANGLEY, PROJECTION IN NEWFOUNDLAND PLACE, VIEWING POINT AT CUBITT STEPS
4. WHALE GHOST BY PITAYA, CUBITT STEPS
5. SASHA TREES BY ADAM DECOLIGHT, WESTFERRY CIRCUS
6. BLUE NEURON BY ZAC GREENING, COLUMBUS COURTYARD
7. TIME & TIDE BY PAUL & PUTE, COLUMBUS COURTYARD 8. HEOFON LIGHT MAZE BY BEN BUSCHE OF BRUT DELUXE, CABOT SQUARE
9. COLOUR MOVES BY ROMBOUT FRIELING LAB, ADAMS PLAZA BRIDGE
10. RECYCLISM BY OSKAR KRAJEWSKI /ART OF OK, CROSSRAIL PLACE, LEVEL 0
11. AURA BY RONAN DEVLIN, NORTH DOCK, ADAMS PLAZA
12. WE COULD MEET BY MARTIN RICHMAN, CROSSRAIL PLACE, QUAYSIDE LEVEL -1
13. VENA LUMEN BY FONTYS VENA LUMEN TEAM, CROSSRAIL PLACE ROOF GARDEN, LEVEL -1
14. ENCHANTED CONNECTIONS BY TINE BECH STUDIO, CROSSRAIL PLACE ROOF GARDEN, LEVEL 1
15. LAST PARADE BY ALEXANDER REICHSTEIN, CROSSRAIL PLACE QUAYSIDE, LEVEL -1
16. LIGHTBENCH BY LBO LICHTBANK, CANADA SQUARE PARK
17. SUBMERGENCE BY SQUIDSOUP, MONTGOMERY SQUARE
18. LIGHT, STONE, PAVEMENT BY RAOUL SIMPSON, JUBILEE PARK
19. FLOW BY SQUIDSOUP, JUBILEE PARK
20. FLOATING ISLANDS BY MÜRÜDE MEHMET, JUBILEE PARK
21. ANGELS OF FREEDOM BY OGE COLLECTIVE, JUBILEE PLACE